Dombrowski: Tigers would like to make Verlander a Tiger for his career
Tigers CEO wouldn't reveal their negotiating strategy. But if history holds, this winter would be the time to broach the subject of a contract extension.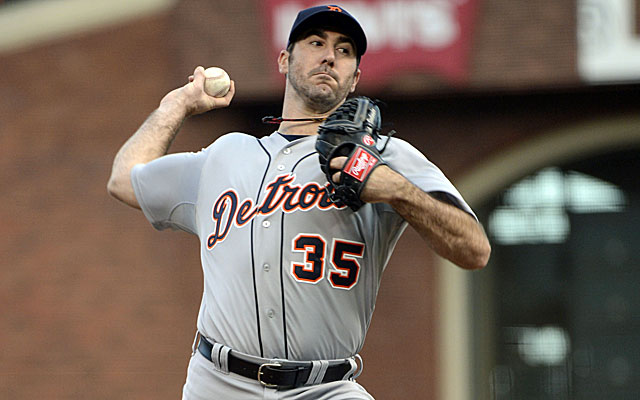 Justin Verlander has two years remaining on his $80-million, five-year contract. (US Presswire)
SAN FRANCISCO -- No surprise, the Tigers would like to make superstar pitcher Justin Verlander a Tiger for life, club president, CEO and general manager Dave Dombrowski said.
Verlander has two years remaining on his $80-million, five-year contract, and Dombrowski wouldn't say what the team's plans are now for contractual talks. But in answer to a question about whether they'd like to keep Verlander around, Dombrowksi answered, "For sure. We'd like to have him be a Detroit Tiger for his career.''
More World Series
Related links
While Tigers people won't discuss their contract strategy, when they locked up superstar Miguel Cabrera to a $152.3-million, eight-year deal they did it when Cabrera had two years to go before free agency rather than wait until there's a year to go. They figured it's much harder to keep a player who's only 12 months from free agency.
Of course, it takes two to make a negotiation. But every indication is that Verlander has loved his time in Detroit.
The situation might be a bit trickier in Verlander's case, as he is coming off another Cy Young caliber season -- he is expected to finish first or second after winning the Cy Young and MVP a year ago -- and possibly also because he is a pitcher, which normally could bring more durability issues. Verlander, whose salary is $20 million in 2012, '13 and '14, seems to be a freak in terms of durability, though, as he perennially leads the league in innings and strikeouts.
Dombrowski said they'd hold off talking about contractual situations until after the World Series. But he left no doubt where he stood generally on Verlander, who went 17-8 with a 2.64 ERA and 239 strikeouts during the regular season. He had three brilliant postseason starts, including the Division Series Game 5 clincher vs. the A's but was hit hard in Game 1 of the World Series, an 8-3 defeat to the Giants here.
"He's been tremendous as a pitcher and person in the game of baseball,'' Dombbrowski said. "He's grown up a Tiger. He's the leader of the staff. He's one of the best guys in the game. He's a great guy to have in the organization, and he means a lot to the city of Detroit.''
The Twins have already fortified the bullpen with Addison Reed, and now they want to address...

The Orioles likely want pitching, and the Indians have plenty of it

Halladay died in a November plane crash off the coast of Florida
The power-hitting outfielder is headed to Toronto

Martinez could add some power to a Boston lineup void of it

It's almost that time of the year again, time for the Tebow madness to return