Dominating Ventura gives Royals hope, but not so much for 2013
Yordano Ventura gave the Royals another reason to believe in their future with his fine debut Tuesday, but he can't help them to this year's playoffs.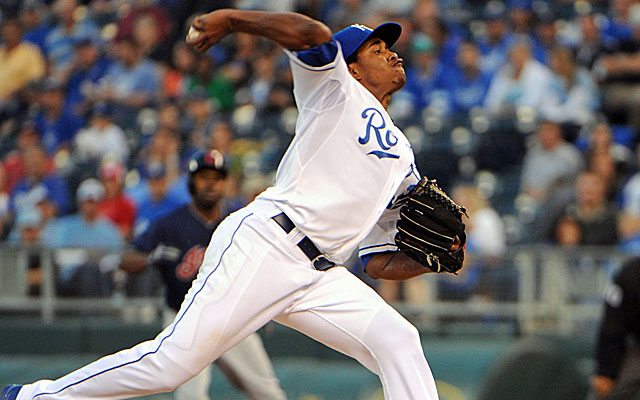 KANSAS CITY, Mo. -- Yordano Ventura isn't going to pitch the Royals into this year's playoffs.
But he might someday help them win a World Series.
The Royals really needed to win Ventura's major-league debut Tuesday to have any realistic chance this year. It's not the kid's fault that they didn't; the Indians rallied for their 5-3 win against the Royals bullpen.
But this Royals' September charge has always looked more like a prelude to 2014 and beyond than like a real run for now. If the focus is the future, then what Ventura showed Tuesday counts as a big success.
He's a 22-year-old right-hander who can "go get 100 [mph] any time he wants it," as one Royals official said Tuesday. He's also still erratic enough that his Triple-A numbers this year were good but not absolutely dominating.
"I don't know what was going on in Triple-A, with guys getting hits off him, but that was dominating stuff," Indians manager Terry Francona said. "I mean, he's got pretty special stuff."
The Royals limited Ventura's innings in the minors, in hopes that he might be able to help them down the stretch. They thought he might end up pitching out of the bullpen, but gave him Tuesday's start when Danny Duffy was scratched because of continuing tightness in his forearm.
The hope has been that Ventura might be able to join the rotation next year, that he might pitch well enough to be a fifth starter in the season when he'll turn 23.
The bigger hope is that he can turn dominating stuff into top-of-the-rotation success as he develops.
Even in an era where more pitchers throw hard, not many starters can maintain velocity as a game goes on. The ones who do that have a chance to be great.
There are no guarantees, and Ventura is hardly a finished product. But he has a chance, and the Kansas City fans seem to understand that.
They were into Tuesday's game with every pitch, and they gave Ventura standing ovations at the end of every inning, and a louder one when Royals manager Ned Yost came to get him with two out in the sixth.
He had hit triple-digits on the radar gun five times, including on his 86th and final pitch. He had allowed just one run on five hits in 5 2/3 innings.
He didn't provide a win, but he did provide hope.
"I'm pretty sure he's going to be around," Indians center fielder Michael Bourn said. "We'd better get used to facing him."