Dominicans win gold and bring joy to the World (Baseball Classic)
Team Dominican Republic loved this World Baseball Classic. And if you allowed yourself to, you might have loved watching them. Robinson Cano, Jose Reyes, Fernando Rodney and the rest played with a passion that we don't always allow them to show in the games that we care about.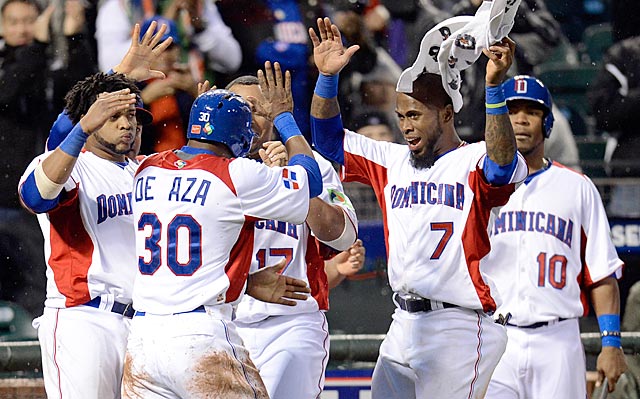 SAN FRANCISCO -- Someday, maybe we'll all love this event the way that Jose Reyes loves it now.
The way that Robinson Cano loves it.
Someday, maybe we'll all feel the way that Reyes, Cano and their 26 Dominican Republic teammates felt Tuesday night, the way that 10 million Dominicans back home and who knows how many million around the world felt after a Tuesday night that they won't soon forget.
More on WBC
Related links
More MLB Coverage
"This is the biggest win our country has ever had," said Juan Samuel, the longtime major-league player and Team DR coach.
The World Baseball Classic has plenty of faults. Just don't try to explain them to these players, or these fans, or to anyone who enjoyed watching Reyes, Cano and all the rest play with a passion that we don't always allow them to show in the games that we care about.
From start to finish, Team Dominican Republic brought a joy for the game to this tournament. And from start to finish, Team Dominican Republic dominated this tournament, winning all eight games that it played, including Tuesday's 3-0 championship game shutout of Puerto Rico.
"I hope people in the U.S. understand the way we play baseball," veteran reliever Octavio Dotel said after he and his teammates had celebrated by carrying a huge Dominican Republic flag from the mound out to center field. "This is how we play the game. We love this game. We have it in our heart. That's why we can't hold it in."
We don't always get it. We don't always accept it, and we don't always appreciate it.
Maybe that's our fault and not theirs.
There was plenty to appreciate about this Dominican Republic team, plenty to appreciate about these players. And there was plenty to think about as we watch them play for their major-league teams in the months to come.
Start with Cano, deservedly named the WBC's most valuable player.
He won't think of this tournament as a showcase for his currently-stalled contract negotiations with the Yankees or for his potential free agency next winter. But we sure can.
Cano was such an on-field force that Puerto Rico manager Edwin Rodriguez ordered him intentionally walked in the first inning on Tuesday night. He was such an off-field force that every Dominican Republic player mentioned his impact.
Each day during the tournament, after the team said a pregame prayer and manager Tony Pena gave a pregame speech, Cano would speak to his teammates. He became the type of leader that he has yet to feel comfortable being with the Yankees but perhaps the type of leader that he can one day become there -- or with his next big-league team.
Cano and Puerto Rico catcher/leader Yadier Molina were behind one of Tuesday night's nicer moments. When the Dominican team celebrated on the field after the final out, the Puerto Rican team stuck around. Soon after, the two teams gathered to exchange hugs and congratulations.
"If we won or they won, we were going to do it," Dotel said. "We wanted to show our people up there [in the stands] that we are friends, that we are brothers. With two Latin American teams, it makes it more exciting."
The Puerto Ricans were a good story in this WBC, just as the Netherlands team was, just as Team Italy was. But this tournament belonged to the best team in it, the team that went undefeated, something that Japan wasn't able to do in winning each of the first two WBC events.
"Dominican baseball is pretty good," Team DR general manager Moises Alou understated when it was over.
Alou had a strong lineup full of major-league stars, and he had a bullpen that went through the final two rounds of the WBC without allowing a single run. After Puerto Rico's Mike Aviles homered of Lorenzo Barcelo in the fourth inning of the final first-round game, the D.R. relievers responded with 25 2/3 consecutive scoreless innings.
"This has to be the best bullpen I've ever seen," Alou said.
The guys at the end of the game were just as passionate and just as demonstrative as the guys who were scoring the runs. Pedro Strop danced off the mound after each of the three outs that he got in the seventh inning Tuesday, and closer Fernando Rodney turned his postgame arrow-shooting celebrations into a major event.
And, of course, Rodney had the lucky plantain.
Laugh about it if you want -- many of his teammates did -- but the plantain symbolized this team just as Dominicans will say the plantain is a symbol of their country. Rodney's plantain, which he kept with him in the dugout and held up during the celebration, served as a reminder that even though these guys took winning seriously, they didn't take themselves that seriously.
"You see major-league stars acting like kids," Alou said.
And, really, what's wrong with that?
The passion fits this tournament, which at times becomes a series of one knockout game after another. Cano mentioned several times how different it is from playing a 162-game season.
The rewards, though, are similar.
Dotel, who won a World Series with the Cardinals, said the feeling on Tuesday was similar. Alou, with a gold WBC medal around his neck, said this has to be like winning a gold in the Olympics.
"The greatest feeling in my career," said Alou, who played 17 years in the major leagues.
"I'll never forget this," said Reyes, one player who does always allow his passion to show when he plays in the majors. "This is one of the greatest moments of my career and my life. This is going to be one of the greatest moments because I'm representing my country."
He loves it. They love it.
And if you allowed yourself to, you probably loved watching them.
Marcell Ozuna figures to be the next Marlins star on the move

Several relievers have signed in the last two days

Several teams are interested in the switch-hitting first baseman
Neshek and the Phillies are closing on a two-year contract

And the team that first drafted Cole is interested

This scout was SUPER into Jeter