Don Mattingly comes home as a visitor (and it's better this way)
Don Mattingly remains hugely popular in New York. But that doesn't mean Mattingly should have been -- or should be -- the Yankees manager.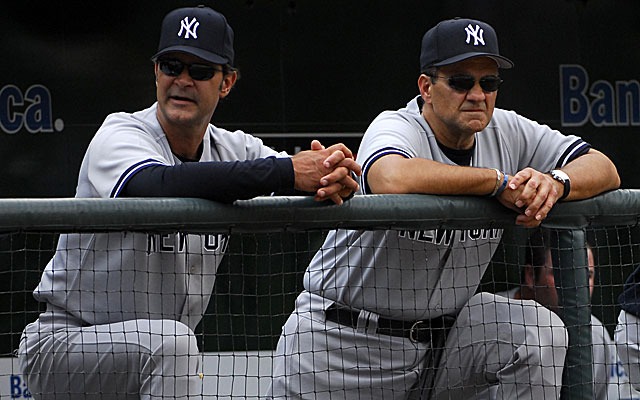 NEW YORK -- Don Mattingly looked right at home in Yankee Stadium, even though he still hasn't seen a game (let alone played in one) in this very stadium.
He looked right at home sitting on the podium with the Yankees backdrop behind him and the Yankees logo on the table in front of him, even as he sat there in his Dodgers uniform.
You see how comfortable he looks in front of the New York media, you see how many fans showed up in Yankees shirts with his No. 23 on the back for a Tuesday night game that ended up getting rained out, you hear Mattingly talk about how much he has always love New York, and . . . no, I'm not saying it.
I'm not saying Mattingly should be managing the Yankees instead of the Dodgers, because I don't believe it.
Reggie Jackson told colleague Scott Miller last week that "Don Mattingly should be a Yankee," and in the most general of terms, he's right. In the most general of terms, Mattingly is a Yankee, a point that will no doubt be proven when the Yankee Stadium crowd welcomes him home during Wednesday's day-night doubleheader.
Yankees manager Joe Girardi said Tuesday that he figures the only ovation that could possibly top Mattingly's would be the one Mariano Rivera gets when he comes in to save a game.
Girardi never gets an ovation like that, even though he was the guy who was picked (instead of Mattingly) as Joe Torre's successor way back in 2007, and even though he was the guy who led the Yankees to their most recent World Series title, in 2009.
Mattingly admitted Tuesday to a little disappointment when he lost out to Girardi, but he also referred to it several times as "a blessing." He said it would have been bad timing to become a manager for the first time right as he was going through a messy divorce.
"And the other thing was that it took me to LA," he said. "It's been a great blessing to me."
It will be a greater blessing if Mattingly ends up succeeding as Dodgers manager, something that's still very much to be determined. He took over for Torre at a difficult time in the franchise's history, in the final troubled days of the Frank McCourt ownership. Now he oversees a team that has dealt with enough injuries and ineffective performances that there was inevitable talk about him losing his job.
That talk seems to have slowed in recent weeks, but the Dodgers remain in last place. They're still not healthy, and still not effective.
Mattingly said Tuesday that the years of playing for the Steinbrenner Yankees probably helped him deal with the job-security questions.
"I kind of grew up with it," he said. "That still doesn't really prepare you for when it's you. You just weather it. You know it can't stay at that level. You either get fired or you don't."
And it doesn't really help if you're a franchise icon. Ask Larry Bowa how it ended in Philadelphia. Ask Alan Trammell how it ended in Detroit.
It's better for Mattingly that he's going through it with the Dodgers, and not with the Yankees. It's better for him that he's in a place where he's trying to establish himself simply as a manager, and not as an icon-turned-manager.
The questions still come up, in part because many in the New York media still love Mattingly as much as Yankee fans do (and it's easy to understand why, because Mattingly is one of those people who you like more the more time you spend around him).
He was asked it Tuesday, asked whether he could ever see himself returning to the Bronx as the home team's manager, rather than just as a visitor.
"I can see myself managing anywhere," he said. "I'm where I want to be. I love what I'm doing, even as tough as this year has been. I'm not going to say I want to be here or anywhere else.
"I like where I'm at."
It was a thoughtful answer, and a perfect answer. As much time as Mattingly spent in pinstripes, as many times as he heard the cheers from the Yankee fans, as strongly as he feels about the organization and the city, there's no way he hasn't thought about managing here someday.
Maybe he will. Maybe it will work.
It's better that he's not here now. It's better that he succeeds as a manager elsewhere.
Maybe even in Los Angeles.
Dioner Navarro still hopes to return someday

Christian Yelich's agent says his client's relationship with Marlins is 'irretrievably bro...

The free-agent market has been slow and one player is bracing for an even longer wait
The Mets didn't want to trade a young outfielder for an older one

Josh Harrison doesn't sound pleased Gerrit Cole and Andrew McCutchen have been traded away

The team's media contracts expire following the 2019 season