Don't ask Bobby V if he's 'checked out,' or he'll 'punch you in the mouth'
Red Sox manager Bobby Valentine took exception to a question that he has "checked out." He also said he hopes to return in 2013.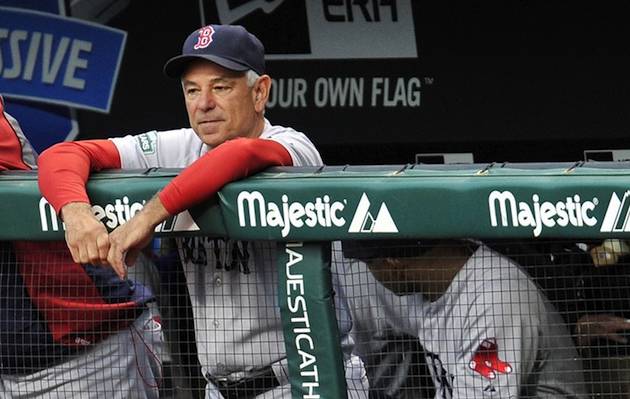 Bobby Valentine says he hasn't "checked out." (US Presswire)
Another day, another Bobby Valentine story.
Wednesday he told a radio host he'd "punch you right in the mouth" had the interview been in person, although Valentine later told the AP that he wasn't serious. He also said this season has been "miserable," but that he wants to return next season.
The question that got Valentine riled up was that if the first-year manager had "checked out" on the season. From WEEI.com, here's his response:
"What an embarrassing thing to say. If I were there right now, I'd punch you right in the mouth. Ha, ha. How's that sound? Is that like I checked out? What an embarrassing thing," said Valentine. "Why would somebody even, that's stuff that a comic strip person would write. If someone's here, watching me go out at 2 o'clock in the afternoon, watching me put in the right relief pitchers to get a win, putting on a hit-and-run when it was necessary, talking to the guys after the game in the food room -- how could someone in real life say that?"
Valentine was also irked about reports of his late arrival to Saturday's game in Oakland, again from WEEI.com:
"I shouldn't have to explain that. That pisses me off. Whoever wrote that knew what happened. They knew that my son was coming to see me for the first time in this lousy season and that I got to see him on the road, and that his flight was late, and that I was waiting at the airport in San Francisco for his flight  to come in, and that I sent the lineup in and reported to my coaches that I was going to be a little late," said Valentine. "For someone to say that I was late is an absolute disgrace to their integrity if they have any.

"When you said what you said, you should apologize to me for saying that I came late," he added. "I wasn't late. When you call in and say that you're delayed in traffic coming from the San Francisco Airport to the stupid Oakland Coliseum and that there's a traffic jam, then you're not late, no."
Valentine added that 4 p.m. for a 7:15 game isn't late and that Rays manager Joe Maddon gets to the ballpark  at 4 p.m. "every day." Now, I've covered my fair share of baseball games, but not nearly as many as some, but that didn't sound right to me. So I asked those I know who would know better than I. Hal McCoy, who has covered baseball for 40-some years, said a manager showing up at that time was beyond unusual. He did recall one Reds manager doing that, but only after it was known he wouldn't be back. Also, Marc Lancaster covered the Rays for the Tampa Tribune for several years. I texted him whether Maddon would ever show up at 4 p.m. for a 7:15 p.m. game -- "No chance," was the response.
You can hear the whole interview here:
It's really worth a listen -- and good news, if you're late but it's because of traffic, you're not really late. Just tell them Bobby Valentine says so.
For more baseball news, rumors and analysis, follow @EyeOnBaseball on Twitter, subscribe to the RSS feed and "like" us on Facebook.
The Nats will host the All-Star Game in 2018

The Orioles are looking to trade Machado heading into his walk year

The Cardinals have been linked for a while to the Baltimore star
Gallardo spent the first eight years of his career in Milwaukee

MLB revenues are at a record high right now, but teams aren't spending it on players

Chicago added Tyler Chatwood earlier this offseason but might not be done adding to the ro...