Don't look now, but the Yankees are suddenly back in the playoff picture
After spending much of the year hovering around .500, a hot streak has the Yankees back in the thick of the AL playoff race.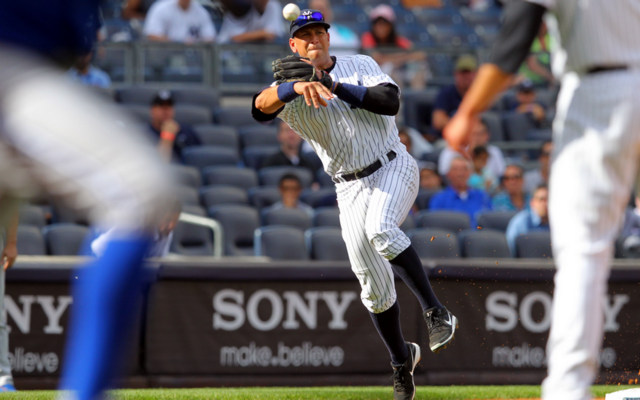 More MLB: Scoreboard | Standings | Probable Pitchers | Sortable Stats | Odds
Twelve days ago, on August 11, the Yankees were 10.0 games back of the Red Sox in the AL East and 7.0 games back of the second wild-card spot. On Friday, the team will head to the park just 6.0 games back of the division lead and 3.5 games behind a wild-card spot after essentially cutting their deficits in half in less than two weeks. Suddenly, the once dead in the water Yankees are back in the playoff race.
How did this happen? Well, winning 10 times in 12 games sure helped. The Yankees beat good teams (3-1 vs. Tigers and Red Sox) and bad teams (7-1 vs. Angels and Blue Jays) during this stretch, outscoring their opponents 76-49 during the 12 games. Their season run differential, which bottomed out at -25 on August 11, now sits at +2. They've played their best baseball of the season. That's pretty much what happened.
The ultra-dramatic narrative is Ryan Dempster's intentional plunking of Alex Rodriguez last Sunday fired up the team and led to this recent run of success. That's not what happened though -- the Yankees had won five of seven games before the incident. They were hot before Dempster took the law into his own hands. Don't get me wrong, the incident may have fired up the team and helped them continue their success, but it's not the reason they started winning.
No, the Yankees put themselves back into the playoff picture by doing something very simple: they added good players to the roster. Crazy, I know. In the span of 10 days, New York added Alfonso Soriano via trade and welcomed both Curtis Granderson and A-Rod back off the DL. To a lesser extent, they also added Mark Reynolds as a right-handed bench bat/platoon partner. Those other three guys are the key though.
First, here is how those three players have performed since rejoining the Yankees:
• Soriano: .276/.324/.571 with 9 HR, 28 RBI, 1.3 WAR in 25 games
• Granderson: .290/.421/.484 with 3 HR, 7 RBI, 0.7 WAR in 19 games
• Rodriguez: .281/.379/.421 with 2 HR, 6 RBI, 0.4 WAR in 15 games
All three have ranged from good to great, combining for 2.4 WAR in 59 games. Now here's the guys they replaced:
• Left Field: .223/.268/.330 with 10 HR, 36 RBI, 1.5 WAR in 102 games
• Designated Hitter: .207/.291/.353 with 14 HR, 44 RBI, -2.0 WAR in 107 games
• Third Base: .215/.272/.285 with 4 HR, 32 RBI, -0.6 WAR in 110 games
These aren't apples-to-apples comparisons because Soriano and Granderson have both split time in left field and at DH, Granderson has played a little right field, stuff like that. I think it gets the point across though. The guys they Yankees were running out there at these positions were terrible, and now the guys they're running out there aren't terrible. Before A-Rod returned, Yankees third basemen were getting out-homered by Cubs pitchers 5-4 for cryin' out loud.
During this 10-2 stretch, New York scored eight or more runs five times. Five times in 12 games after doing it five times in their previous 85 games (!). This is a team that struggled to score more than three runs in a game for a good four months, and now they just overhauled one-third of their lineup to give Brett Gardner (101 OPS+) and Robinson Cano (145 OPS+) some support. Other players have helped as well, like Eduardo Nunez (115 OPS+ in August) and Vernon Wells (144).
The Yankees still have plenty of problems, of course. CC Sabathia has a career-worst 4.83 ERA (83 ERA+) in 26 starts, including a 7.86 ERA in his last six starts. Phil Hughes has been consistently ineffective all year (83 ERA+). Derek Jeter is still hurt and Chris Stewart (68 OPS+) is still the starting catcher. Those storms are much easier to weather with legitimate above-average production from third base, left field and DH, however.
A 3.5 game deficit in the wild-card race is still rather daunting, especially with three teams to jump, but the Yankees do have a favorable schedule down the stretch. Twenty of their final 35 games are against the three AL East teams ahead of them -- including 13 against wild-card competitors in the Orioles and Rays -- while the other 15 are against last place teams. All those head-to-head games against AL East rivals mean the division title is not out of the question, though it is a long shot. The wild-card is much more realistic.
Considering how poorly the Yankees played in June and July -- 25-28 with a -24 run differential -- it's pretty amazing they even have a prayer at the postseason right now. They should be buried alongside the Blue Jays, Angels, Nationals and other disappointments. Instead, they've managed to stay in the race and figure to be playing meaningful baseball in September. I have to think the other AL contenders are kicking themselves for not burying the Yankees when they had the chance. The Bronx Bombers are a dangerous team right now.
Get your sports fans something that they'll wear all year

Get 15 percent off any order of more than $75 at CBS Sports Shop

The Twins need help in the rotation, and they may look to the trade market to find arms
Here are the bullet-points of what went down Tuesday regarding MLB and the Braves' punishm...

The owners need to ratify on the new system in place, but the takeaway here is Ohtani is coming...

A preliminary report National Transportation Safety Board has shined some light on details...