Don't pity depleted Braves; they have history of resourcefulness
Braves GM Frank Wren painted a rosier picture than one would think considering the team's spring of great pain. And looking at their past, maybe they can piece things together.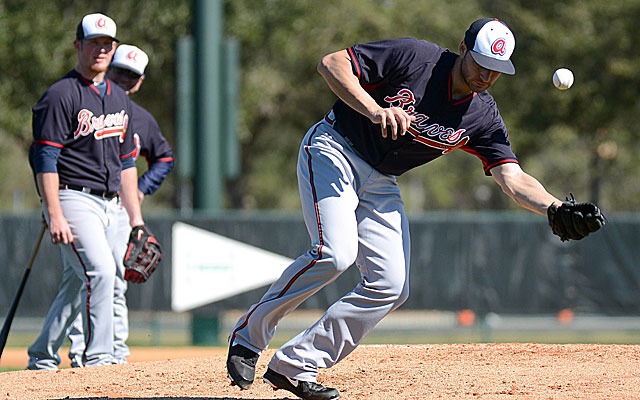 MORE: Spring Training | Scoreboard | Team previews
LAKE BUENA VISTA, Fla. -- The Atlanta Braves are a team known for making something out of virtually nothing. They consistently outplay their payroll and have a particular knack for picking up useful players on the $20,000 waiver wire. Perhaps the three things the Braves do best are draft, develop and scramble.
Indeed, they have created a few miracles in their day, and may need one or two more this year to have any chance of repeating as NL East champions.  Somehow, they have pieced things together in the past. But following their painful and depressing spring that saw two 20-something starting pitchers be lost for the season, they will have to create perhaps their greatest magic act of all.
Folks may forget, but just last year they shrugged off two big early blows. Similarly, they lost two top relievers for the year -- Jonny Venters and Eric O'Flaherty -- yet still assembled arguably baseball's most effective bullpen; they posted an MLB-best 2.46 pen ERA.
Now the issues are even tougher with the rotation seemingly decimated after scheduled opening day starter Kris Medlen plus Brandon Beachy both went down with year-ending elbow injuries. Both required Tommy John surgery, leaving them with a fairly unimposing rotation, at least to start, of Julio Teheran , Alex Wood , Freddy Garcia and David Hale , with vital free-agent pickup Ervin Santana expected to join them a couple turns in.
"Their starting pitching issues are a concern," one NL scout said. "They're going to need Santana and the middle men to pick up the slack."
The immediate reaction from most quarters is that the Braves are done as a contender, that "middle men" don't make for championships, and that through no fault of their own the've lost any chance to win games again, or to repeat as NL East winners.
"They've gone from a 92-win team to an 82-win team," said yet another rival scout, typical of the projections during a spring training that also saw yet another starting pitcher, lefty Mike Minor , sidelined with shoulder trouble.
Yet, as Braves GM Frank Wren laments the personal toll considering both 20-something starters are having their second Tommy John surgeries, Wren painted a fairly optimistic picture. "We're in good shape," Wren said.
What's more, he seems to mean it. The Braves' history has been to find a way, and while they were unfortunate to lose two key pitchers, they also feel lucky that such a fine starter as Santana was still available when they needed him. They are also lucky that Santana decided he'd like to switch to the National League, eschewing similar bids by the Blue Jays and Orioles (plus a three-year try by the Twins) before signing up with the Braves for $14.1 million.
That deal, made out of sheer necessity, put them squarely over the $100-million mark in player payroll after keeping that expenditure between $90 million and $100 million seemingly forever (at least six years). If that deal was a relief to Santana, who hit 95 mph his first time out Thursday against the Mets in Port St. Lucie, it was an even bigger one to the Braves.
The initial reaction is to think Wren is trying to put the best possible face on a very unhappy situation, now that Teheran is the opening day starter, followed by Wood, Garcia and Hale. But considering the Braves' history they can't be counted out.
Backup catcher Gerald Laird said he sees huge things coming for Teheran, one of many Braves recently locked up to a long deal, with his being for $32 million over five years.The crafty Garcia has been perceived as a Band-aid in his later years, while Wood and Hale have four career wins combined (Wood three, Hale one). 
The current plan calls for Santana to join the rotation the moment they need a fifth starter. Minor, who's said to be showing rapid return to health, is expected back by late April, and free-agent pickup Gavin Floyd by early May. It isn't optimal, but it could be worse. Right now, they are thankful to have brought back old hand Garcia, who keeps tricking folks, and Floyd, who may turn out to be a steal if he can bounce back from his own Tommy John surgery.
"Slowly but surely we're getting Santana, Minor and Floyd. Then we're back to pretty good depth and pretty good strength," Wren said. "By getting Santana, we were able to make the most out of a tough situation."
When Wren speaks optimistically, it doesn't seem like the usual spring smoke blowing.  This is a team, and an organization, with a history of making do.
Of course, it helps that the ninth-place finisher in the AL in ERA was sitting out there, unemployed, a victim of the draft-compensation rule that's weighed down free agency this winter. It was kismet, plus as Wren put it, timing and "mutual interest" that brought them together.
Santana, who managed to go 105-90 in the American League despite painfully weak run support at times, may thrive in the new league. This may turn out to be a better choice for him personally then going to Toronto or Baltimore in the AL East, where his lifetime ERA of 4.82 is much higher than his 4.19 overall mark.
It's been a rough spring all over, but nowhere has it been sadder than the Braves' rotation. To see two pitchers such as Medlen and Beachy have little choice but to opt for a second Tommy John surgery, which unlike the first one comes with no probability, much less a guarantee. "It's a tough one personally," Wren said. "There's an impact on the team, but there's also the personal impact. It's a game, but it's also a livelihood."
It's hard to know why the seemingly sudden rash of Tommy John surgeries. One estimate suggested there have been 60 throughout baseball over the last two years. Until this spring, the Braves were actually one of the luckier ones.
Putting aside the miracle that was the Maddux-Glavine-Smoltz era, even last year the Braves didn't need a sixth starter (excepting doubleheader games) until veteran Tom Hudson wrecked his ankle covering first base at Citi Field on July 24.
This time, there are already seven planned to start, assuming nothing more happens. But if the need arises, few teams can respond like Atlanta.
No team has been better at finding the hidden cost-efficient gem than them. Their waiver-wire pickups for $20,000 include David Carpenter , Anthony Varvaro , O'Flaherty, Jordan Shafer and Christhian Martinez. While they sometimes have missed on big expenditures ( Melvin Upton and Dan Uggla have been mostly disappointing so far), they are a trendsetter in plucking unwanted players off other rosters, to the point where they've maintained a consistent winner despite a middling payroll.
In the era of the pitching greats Greg Maddux, Tom Glavine and John Smoltz, the Braves perennially had the second highest payroll, usually behind the Yankees, if not the highest on occasion. But in recent years, half the teams have passed them by as they somehow kept the payroll below $100 million at a time player salaries have continued to explode.
"I think we focus a lot on places where we can make incremental improvements," Wren said. "Sometimes, we're not getting the biggest players. But if they're players we like. We like to make those additions."
They may need to be especially resourceful this year, as they appear to be in deep against a stacked Nationals team. But hey, the Braves have surprised us before.
L.A. manager Dave Roberts indicated that Puig's benching was related to more than one inci...

Manager Torey Lovullo said so on Monday
Let's see how SportsLine forecasts the race for MLB's 10 playoff spots

Monday kicks off the final week of MLB action. Let's take a look at everything that went d...

No other rookie in baseball history has hit more home runs than Judge has this year