Down 2-1 in NLDS, Braves have big pitching obstacles to overcome
The Braves took a beating in Game 3 of the NLDS on Sunday. Now they must overcome some pitching disadvantages in Game 4 and (if necessary) Game 5.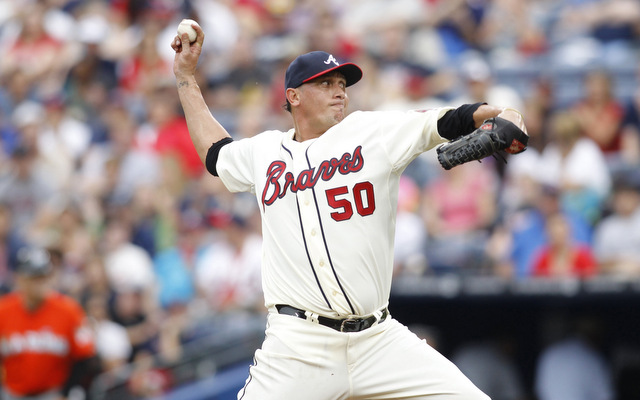 More: Game 3 box score | Game 3 quick hits | Who has the edge?
With their 13-6 loss to the Dodgers in Game 3 of the NLDS on Sunday night, the Braves are one loss away from a disappointing playoff exit after a 96-win regular season. Atlanta has lost each of their last seven postseason series (including last year's NL wild-card game) dating back to the 2001 NLCS. They're on the verge of making it eight straight.
Winning the next two games to steal the NLDS from the Dodgers certainly isn't impossible, far from it, but it is improbable. Not only has Los Angeles lost back-to-back games just five times (!) since mid June, but the Braves will also be at the pitching disadvantage in both Games 4 and 5. Here is a look at Atlanta's pitching plight:
Game 4: Freddy Garcia
The Braves acquired Garcia from the Orioles on August 23 just to serve as an extra arm in September. Someone to soak up innings while Julio Teheran got a breather and the postseason rotation was lined up. With Paul Maholm imploding down the stretch (and being left off the NLDS roster) while both Tim Hudson and Brandon Beachy suffered season-ending injuries, Garcia suddenly finds himself starting Atlanta's most important game of the season.
Now, the one they call Sweaty Freddy is no stranger to big games. He's been around a long time and has a 3.28 ERA in 10 career postseason starts, including a win in Game 4 of the 2005 World Series to clinch the title for the White Sox. Garcia won't get caught up in the moment or be overwhelmed by the pressure. He's done this before. He know how this works.
The real problem is that Garcia just isn't all that effective anymore, at age 37 and after a series of arm injuries (and surgeries). Of those 10 postseason starts, exactly one has come in the last eight years. He pitched to a stellar 1.65 ERA in 23 1/3 innings for the Braves in September, but he had a 5.77 ERA in 53 innings for the Orioles earlier in the year and a 5.20 ERA in 107 1/3 innings for the Yankees last season.
Maybe Freddy figured something out last month or maybe getting out of the AL East makes that much of a difference, but it's hard to bet on a soft-tosser who has had a better-than-average ERA only once since 2009. Garcia really knows how to pitch and the guy is as tough as they come on the mound, but that only goes so far.
Game 5: Clayton Kershaw
Even if the Braves manage to win Game 4 behind Garcia on Monday, the likely NL Cy Young Award winner awaits them in Game 5. Kershaw reminded everyone what he's capable of in Game 1 on Thursday, striking out a dozen while allowing one run on three hits in seven innings on the road. That came after leading baseball in ERA (1.83) and WHIP (0.92) in the regular season.
Kershaw is outstanding but he is beatable -- the Dodgers only went 19-14 in his 33 starts, believe it or not. Actually, I think I should say the Dodgers are beatable when Kershaw starts, not that he himself is beatable. The key to beating a pitcher of this caliber is to beat his teammates. The Braves will need their offense to get into the bullpen early and go to town on some relievers after Kershaw is out of the game, all while Kris Medlen keeps the score close. That's the formula they'll have to follow in Game 5.
But, before there can be a Game 5 there has to be a Game 4. As cliche as it is, Atlanta is very much in "one game at a time" mode. They have to do whatever it takes to win Garcia's start on Monday and worry about Kershaw when the time comes. The Braves are a great team in a bad spot, and it'll take some serious work to win their first playoff series in more than a decade.
Sunday's MLB roundup features the D-Backs clinching a postseason spot and the Mariners going...

The 2017 season has been, by far, the worst season of Cabrera's career

The Mariners were eliminated from postseason contention with Sunday's loss
Maxwell became the first MLB player to kneel during the national anthem Saturday

The Blue Jays are not expected to bring Bautista back next season

The Dodgers have already clinched the NL West title, so the D-Backs will be a wild card te...