Dreadful summer could lead to drastic changes for Marlins
The disappointing Marlins, who had one of baseball's best winters and one of the worst summers, could make drastic changes in their long-stable front office when this year is done. The moves could reach as high as the top of the baseball operations department, which Larry Beinfest has headed for the 11 years that Jeffrey Loria has owned the team.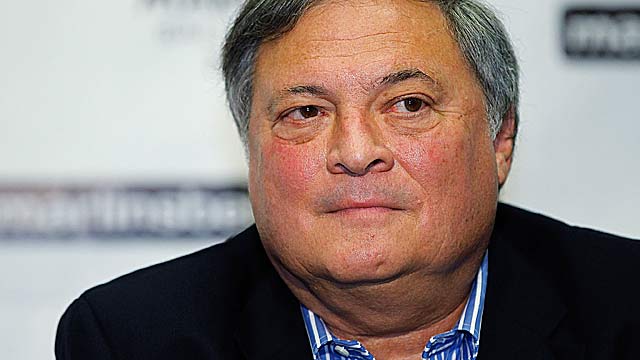 Marlins owner Jeffrey Loria might have to shake up his front office for the first time.
(Getty Images)
NEW YORK -- The winter was fun for the Marlins. The summer has been dreadful.

In the winter, the Marlins had new money, new players, a new ballpark and a new manager who was "a perfect fit," in the words of club president David Samson.

In the summer, the new players mostly failed, the new ballpark was almost never full and the new manager, well . . .

"I don't think any of us feel we're the perfect fit right now," Samson said Tuesday, before a 4-2 win over the Mets that improved the Marlins' record to just 50-60.


More on Marlins
Related links
What the Marlins tried didn't work, something they acknowledged by becoming a seller at the July 31 non-waiver trade deadline. They made four trades, and they wouldn't have minded making one or two more.

But the bigger changes could be still to come.

The strong belief around the Marlins is that this season's failures will lead owner Jeffrey Loria to shake up his long-stable front office. The moves could be drastic, and could extend to the top of the team's baseball structure, where Larry Beinfest could be replaced.

Beinfest has run the baseball operations department for all 11 years that Loria has owned the Marlins, first as general manager and more recently as president, baseball operations.

Loria declined comment Tuesday. Samson would only say that "we're all worried [about jobs], and we should be."

It appears that manager Ozzie Guillen will survive whatever moves are made, although nothing is certain and some Marlins people believe that there will be changes on his coaching staff. Guillen has three years remaining on a contract that pays him $2.5 million a season.

The Marlins' failures this year have been dramatic, and their problems going forward are very real. While Samson said they "expect to contend" in 2013, two scouts who cover the Marlins organization said Tuesday they think that's an unrealistic goal.

"They're the worst team in that [National League East] division, and they have nothing in Triple-A or Double-A that's going to change that," one of the scouts said.

But Samson said, "There is no rebuilding. There's retooling."

Retooling this roster won't be easy. Because of the big contracts handed out last winter, the Marlins already have $63.75 million committed to six players for next year. Of those six, the only one with significant trade value is pitcher Josh Johnson, and moving him would create a big hole at the top of the rotation.

With attendance below expectations this year at Marlins Park, and with even Marlins people acknowledging that it will likely fall next year, it's hard to imagine the payroll going up in 2013. The Marlins began this year with a $101.6 million payroll, and will end up paying less than that after the July trades.

It's not at all clear how much of this is Beinfest's fault. Many people around the Marlins believe that Loria himself makes all the major decisions on players.

As Samson said, though, "At the end of the day, he counts on us to help him win."

Many outside the organization have long believed that the Marlins front office has been a house divided, with Beinfest and his allies on one side, and Dan Jennings (who holds the title of vice president, player personnel) on the other. Some believe that Loria could choose Jennings to replace Beinfest.

Marlins people say it's still not clear how things will play out, but it is clear that this will be another interesting winter in South Florida.

It may not be as exciting as last winter, but it could be just as fascinating.

"They probably don't need an exciting winter," said one baseball man who follows the Marlins closely. "They need a productive winter. Quietly. Under the radar. No Showtime. No F-bomb counts.

"Just productive."

In other words, nothing like this summer.
CBS Sports HQ Daily Newsletter
Get the best highlights and stories - yeah, just the good stuff handpicked by our team to start your day.
Please check the opt-in box to acknowledge that you would like to subscribe.
Thanks for signing up!
Keep an eye on your inbox for the latest sports news.
Sorry!
There was an error processing your subscription.
The Nationals outfielder walked it off in front of his fans

Harper rallied to beat Kyle Schwarber in the final round

Happ is expected to be traded before the July 31 deadline
Snell changed his position on the rubber and it turned him into an ace

The Rockies slugger and first-time All-Star cut his strikeout rate quite a bit in 2018

Folty is one of many first-time All-Stars in D.C.