Drew gets contact lenses before Game 6, makes better contact
Stephen Drew made an offensive turnaround after an impromptu trip to the eye doctor.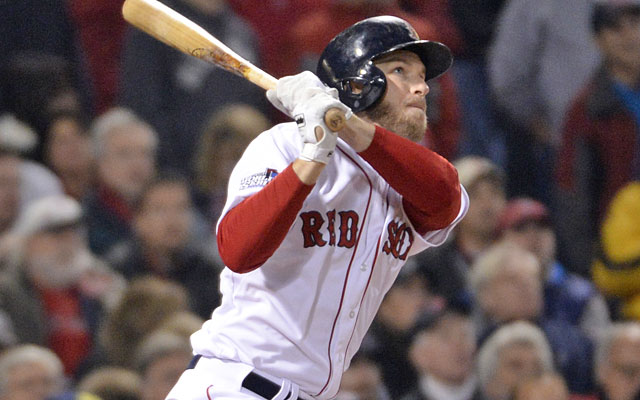 BOSTON -- Red Sox shortstop Stephen Drew wasn't ever in real in danger of being removed from the lineup because manager John Farrell deemed him too important defensively, but going into Game 6 of the World Series, Drew had only four hits in the postseason and he was worried.
So Drew made a quick trip to the eye doctor. The result was contact lenses, and he finally started making contact.
Drew, 4 for 50 in the postseason heading into the clinching game, hit three rockets in the Red Sox's 6-1 victory, went 2 for 4, including a home run, and finished the postseason 6 for 54 (.111). He also continued his flawless fielding, which was contrasted by the inconsistent shortstop play on the other side of the field.
Drew's offensive struggles in the postseason were a bit of a surprise since he posted a .777 OPS during the regular season, third best among shortstops with 450 plate appearances, behind Troy Tulowitzki (.931) and Red Sox castoff Jed Lowrie (.791). Drew hit .253 with 13 homers and 67 RBI. He is a free agent after the year.
Drew's homer in the clincher was reminiscent of brother J.D. hitting a grand slam for the Red Sox off Fausto Carmona (now Roberto Hernandez) in Game 6 of the 2007 ALCS, helping Boston get to the World Series.
But few knew the back story of Drew's trip to the eye doctor. As it was, he was said to have good vision. But the doctor still fitted him for contacts, by all appearances improving it.
Several players called for the netting to be extended down the base lines following Wednesday's...

Maria made landfall as a Category 4 on Wednesday

The players are trying to do their job and don't want to see anyone hurt
The child is receiving medical attention at an area hospital, the Yankees said in a statem...

Brantley has not played since August 8 due to an ankle injury

Plus the Red Sox can lock down a postseason spot and all you need to know from the world of...