Drug problem or not, MLB definitely has a drug talk problem
Drug talk was everywhere at Monday's All-Star workout and interview day. Baseball can't escape it, not now and maybe not ever.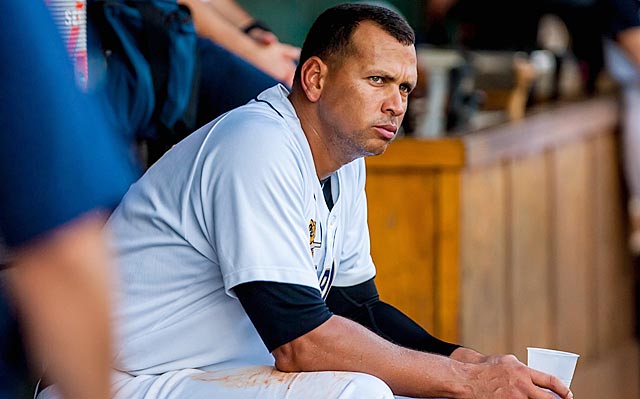 NEW YORK -- On the out-of-town scoreboard high above Citi Field's left-field seats, Major League Baseball thoughtfully posted every All-Star Game score from 1996-2012.
Every score but one.
In the world of MLB, the 2002 tie game in Milwaukee has simply vanished. Just as, according to Tim McCarver of Fox Sports, MLB has dictated that video of Pete Rose should never be seen again.
If only it were that easy to erase the words "performance enhancing drugs." If only it were that easy to tell us all when, where or if we were allowed to say, read or hear "Biogenesis."
Baseball may or may not have a new drug problem, but there's no doubt that baseball has a big perception problem, one that was only too obvious at Monday's All-Star workout and interview day.
Alex Rodriguez isn't here. Ryan Braun isn't here. Even Melky Cabrera isn't here this year.
And yet drug talk was everywhere.
The managers got asked about it in the press conference to announce the starting lineups. The players got asked about it during the afternoon interview sessions. Scott Boras was there, so he got asked about it, too.
Chris Davis, the Orioles first baseman who is baseball's 2013 home run leader, was asked about his own view that Roger Maris' 61 is still the legitimate home run record. And then he was asked about why anyone should believe in him as a "clean" home run hitter.
"I think there's no reason not to believe in me," he said. "I'm trying to give people a little bit of hope for the future."
I'd like to have some hope, but the future I see includes more and more talk about baseball and drugs -- not because the people in charge don't care about cleaning up the sport, but at least in part because they do care.
In truth, we'd talk about it a lot less if there wasn't effective testing and there wasn't investigating.
In a way, we've all put baseball in a bind. If no one ever gets suspended, we say they don't care. If anyone gets suspended, we say there baseball goes again, as dirty as ever.
It's not as dirty as ever. It's also not completely clean -- and neither is any other sport.
There's too much money involved, too much incentive to try to beat the system. Better testing and more thorough investigating definitely have scared some players clean. But better testing and more thorough investigating also means you get more suspensions.
At some point in the weeks to come, baseball will announce suspensions that will come out of the Biogenesis investigation. From everything we've heard and read, those suspensions will be unprecedented in scope.
One agent who doesn't (he thinks) have any clients involved predicted Monday that the Biogenesis suspensions will have a huge effect on the pennant races, even if the appeals process keeps any suspensions from taking effect until the end of the year. As he said, even the talk of pending suspensions will dominate the teams involved.
Nelson Cruz, whose name came up in the Biogenesis reports, dealt with wave after wave of questions about it Monday. He's under suspicion, but he's also an All-Star, as are Jhonny Peralta and Bartolo Colon, who were also reportedly named in the one-time clinic's records.
Colon failed a drug test and served a suspension last year, so it's hard to work up much sympathy for him when he has to deal with drug talk. The others may or may not be guilty.
But we're back into an era where we seem to feel free to suspect any player at any time, and the question baseball can't seem to answer is how to get out of it.
Baseball believes that the key is a strong testing system. Commissioner Bud Selig proclaims at every opportunity that MLB now has the most stringent drug-testing in professional spots, and baseball players regularly repeat the same thing.
"I don't understand why anyone would try to cheat," Davis said Monday.
But some always will. The potential rewards are too great. Just as some drivers will always exceed the speed limit and some taxpayers will always fudge on their returns, some players will reach for something extra.
So they test and they investigate, hoping that keeps the numbers down to a somewhat acceptable level. But how do they keep the drug talk down to an acceptable level?
Boras admits to being bothered by the constant talk, and he suggested that the problem now is how long the Biogenesis story has dragged on.
"There always has to be immediacy, so you don't have lingering clouds," Boras said. "The game needs to have boundaries. You can't have lingering doubts."
Boras told the story of going to Chicago last week to announce the signing of Kris Bryant, the power hitter from San Diego who the Cubs took with the second pick in the June draft.
"Every question was about Biogenesis," Boras said. "That should not be happening."
That did happen, and that keeps happening. Not every question Monday was about Biogenesis, but plenty of them were. Not everyone who watches Tuesday night's All-Star Game will have steroids and Biogenesis on their mind, but plenty of them will.
Baseball could avoid announcing any Biogenesis investigations in the days leading up to the All-Star Game. But just as MLB will never completely take drugs out of the game, baseball was never going to take drug talk out of the All-Star Game.
It won't go away.
Gardenhire is familiar with the American League Central

"Homer at the Bat" is being memorialized by its own show in a unique way this weekend

It's Clayton Kershaw against Jose Quintana at Wrigley Field in Chicago
Five months is mid-to-late March, so this could impact the 2018 season

Cubs manager Maddon becomes the first manager ever ejected twice in one postseason series

Closer Wade Davis pitched two innings in Game 4 to help force a Game 5