Dunn likely to retire after '14 season
After having been traded to a contender, new Oakland Athletics slugger Adam Dunn says this season is probably his swan song. Let's admire his career.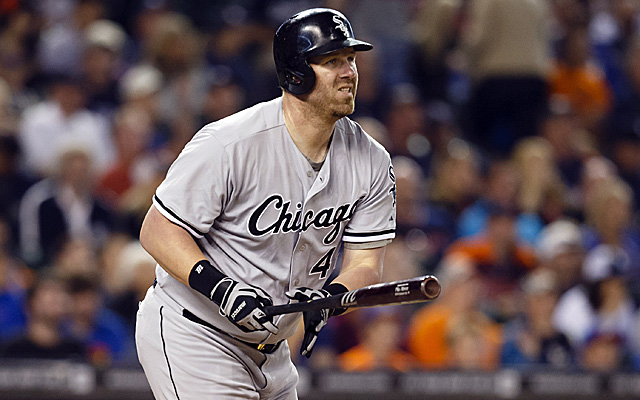 In his final interview with White Sox beat reporters before heading out to join the Oakland Athletics, Adam Dunn said that this season would probably be his final one in Major League Baseball (via Scott Merkin).
From a certain point of view, Dunn's retirement would come as a bit of a surprise. He's going to turn 35 in November and he certainly still would have some value as a designated hitter in the five-, six- or seven-hole for a contender. Plus, Dunn is sitting with 460 homers and would have a shot at 500 if he held on for a few more years.
Still, Dunn noted to reporters that he feels like "now is as good a time as any," pointing out his three young children.
So it looks like we'll be seeing the final month of Dunn's career, and it has been a good one. Though there's always a general stigma connected to low-average/high-strikeout guys, even the biggest naysayers should have noticed Dunn's career has been impressive.
I already mentioned the 460 career homers, which has him 36th in MLB history. His good batting eye has helped him draw more than 1,300 walks, giving him an impressive .365 career on-base percentage. He's also collected 1,617 hits, 1,158 RBI and 1,091 runs.
The two-time All-Star once had a string of four straight seasons with exactly 40 homers. In all, he'd hit at least 40 home runs in six different seasons. The only players to do it more often: Babe Ruth (11), Alex Rodriguez (8), Barry Bonds (8), Harmon Killebrew (8), Hank Aaron (8), Sammy Sosa (7) and Ken Griffey Jr. (7).
And yet, due to the strikeouts (Dunn has the third-most in MLB history behind Reggie Jackson and Jim Thome) and the .237 career batting average, Dunn is saddled with silly comparisons to Rob Deer from the simple-minded. Nevermind that Deer never hit more than 33 homers in a season while Dunn topped that figure nine times, right? Or that Deer right now has literally half the career homers that Dunn has. The Dave Kingman comparisons make a ton more sense, but Dunn walked so much more than his career OBP is 63 points higher than Kingman's. Dunn is/was better than Kingman on the whole.
In all, I still firmly believe that Adam Dunn is underrated due to the strikeouts and average stigma. He had a very good career and should be remembered as a great slugger. He's not even close to a Hall of Famer, but that's no insult. If there were a "Hall of the Very Good," Dunn's teammate Paul Konerko would be headed that way after the season. And I believe Dunn would have an excellent argument himself. I'd put him in that fictional place.
Kudos, Mr. Dunn, on an admirable career. Now good luck making the postseason for the first time.
The Dodgers have already clinched the NL West title, so the D-Backs will be a wild card te...

Check out all of Sunday's action, including a single-season record getting closer to falli...

Judge's 48 homers trail only McGwire's 49 in single-season rookie history
The Reds still have one of the best hitters in the game in Joey Votto and a rising star in...

Maxwell joins a growing movement across sports

The Yankees punched their ticket to the playoffs with a win over the Blue Jays on Saturday