Dustin Pedroia to have surgery to repair thumb ligament on Nov. 12
Red Sox second baseman Dustin Pedroia will have a ligament in his left thumb repaired next Tuesday.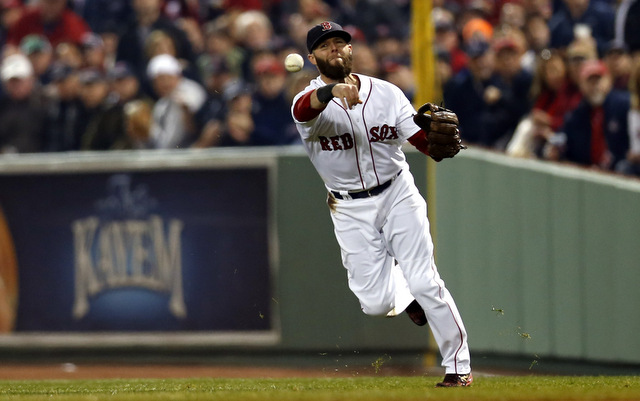 Dustin Pedroia will have surgery to repair a torn ulnar collateral ligament in his left thumb on Nov. 12, reports Jackie MacMullan of ESPN Boston. The Red Sox second baseman suffered the injury sliding into first base in the very first game of the season and played hurt all year.
"I guess because I played with [the injury] the whole year, it's made it a little tougher," explained Pedroia. "If they do the normal surgery, there has to be some good endings [of the ligament] to re-attach it. If there's not, we have to do it a different way."
An MRI performed on Tuesday indicated the procedure may be more complicated than initially thought. The doctor may need to take a tendon from his wrist to re-attach the thumb ligament. If so, Pedroia would be expected to miss 6-8 weeks. If not, then he would only miss 4-6 weeks. Either way, he would be expected back in time for spring trianing.
"Everyone pitches me away, which I absolutely hate," added Pedroia. "But when I hurt my thumb, I couldn't hit the ball in. So, they were actually doing me a favor pitching me away so I could slap at some balls."
Pedroia, 30, hit .301/.372/.415 (116 OPS+) with nine home runs and 17 stolen bases in a league-leading 724 plate appearances. Despite the injury, he played in 160 of the team's 162 regular season games and all 16 of their postseason games.
Several relievers have signed in the last two days

Several teams are interested in the switch-hitting first baseman

Neshek and the Phillies are closing on a two-year contract
And the team that first drafted Cole is interested

This scout was SUPER into Jeter

Stanton warned Marlins fans about the lean years that are forthcoming