Early fastball turns Robinson Cano into All-Star spectator
Mets ace Matt Harvey, who had hit only one of 501 batters faced this season, drills the Yankees' star with his third pitch of the All-Star Game. And so it goes for the Yankees' 2013 season. ...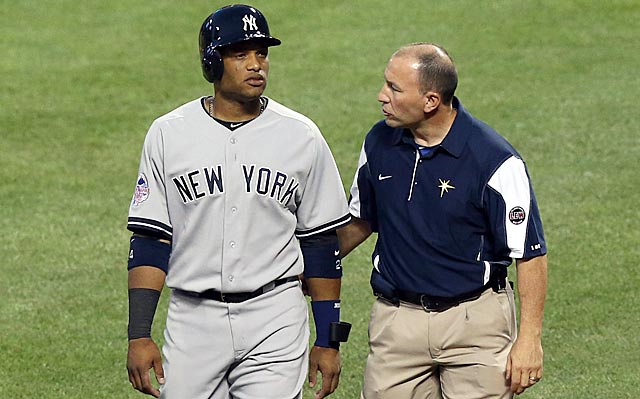 NEW YORK -- Take away the star-spangled introductions and the All-Star Game here Tuesday night looked ... exactly like a 2013 Yankees game.
At least, in the first inning.
Three pitches into the game, National League starter Matt Harvey drilled second baseman Robinson Cano with a 96 mph fastball in the right quadriceps.
Next thing anybody knew, just like Mark Teixeira, Curtis Granderson, Alex Rodriguez, Kevin Youkilis and Derek Jeter before him in this most painful of Yankees seasons, Cano was off for X-rays.
They were negative, and Cano hopes to be ready for the Yankees' second-half opener at Boston on Friday.
"I've been waiting for this moment a long time," a disappointed Cano said during the third inning. "It's any kid's dream come true. Home crowd. And then the [third] pitch of the game.
"It's part of the game. What else can you say?"
Officially, he has a bruise.
And officially, just like seemingly every other player on the Yankees roster these days, doctors advised him to ice his quad often over the next couple of days.
Harvey, one of the other New York hometown heroes on the night, immediately said something to Cano on the Citi Field field. No wonder: Harvey has hit only one of the 501 batters he's faced this season.
"My bad," Harvey told Cano.
"I said, 'No problem,' " Cano said. "I know he don't want to hit nobody.
"There's nothing you can do."
Cano actually stayed in the game for a little while, taking first base after he was hit by the pitch and attended to by AL trainers.
But after the next at-bat, Miguel Cabrera's strikeout, he waved to the AL dugout and exited the game with just one out in the inning.
That's when, no doubt, Yankees fans began to wonder how else 2013 can be torpedoed.
But alas, it was only Cano being cautious.
"I don't want to take my chances and make it worse," Cano explained.
By the fourth inning, Cano intended to do what everybody else in the Yankees universe -- and beyond -- figured on doing: waiting to see Mariano Rivera's final All-Star appearance.
"Of course," Cano said. "That's our goal."
The lefty starter is coming off a terrible season

After acquiring Ian Kinsler and Zack Cozart in recent days, the Angels are trending upward

Cozart's coming off a big season as the Reds' shortstop
The veteran slugger spent the last eight seasons with Cleveland

The Padres may be poised for an active winter

Yes, Bryce Harper is going to make a lot of money next winter