Early predictions on possible deals for top 10 free agents, including Hamilton, Greinke, Upton
One executive makes his early prediction on 10 potential free agents. The Hamilton guess is for an eye-popping $30 million a year.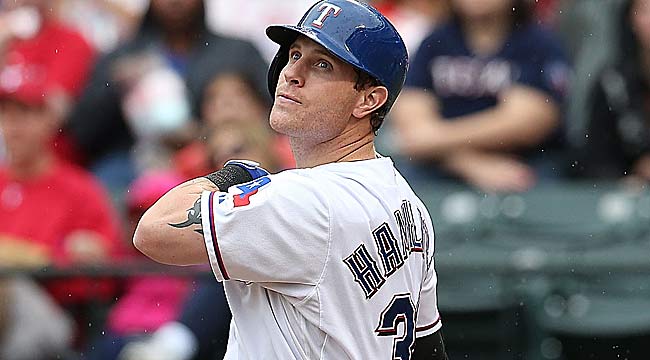 Josh Hamilton will likely have to settle for a five-year deal with the Rangers instead of 10.
(Getty Images)
It's never too early to look at the upcoming free-agent market (at least not here, it isn't).
As an opener, we asked one American League executive for his predictions on possible contracts for 10 of the best free agents and likely free agents.*
(*Jake Peavy is likely to become a free agent, as the White Sox don't plan to pick up his $22 million option as reported here; the same is true for Kevin Youkilis, as the White Sox also aren't planning to pick up his $13 million option.)
Here are his predictions, along with additional comments of my own.
1. Josh Hamilton, Rangers OF (Prediction: $150 million, five years)
That $30-million-a-year guarantee would represent a record, eclipsing Alex Rodriguez's $275 million, 10-year contract (though A-Rod also has $30 million in historic homer bonuses). Considering the talent, that guess may not be too far off. Hamilton is said to want to be paid like an elite player, and he probably will be, though it's hard to imagine him getting the length of the Joey Votto, Albert Pujols or Prince Fielder deals considering Hamilton's history. Even in another brilliant year (42 home runs, 123 RBI), he's had bouts with a sinus headache and chewing tobacco. The Rangers haven't been one of those teams to go for the crazy lengths, so he'd likely have to settle for five years to stay ("if that," one person in the know said about the Rangers intentions).  One thing that could hurt him is that the Dodgers don't appear to be in need of an outfielder.
2. Zack Greinke, Angels SP (Prediction: $125 million, six years)
The executive started with the idea that the Brewers already tried at least $100 million for five years, and went logically from there. Greinke always has his own ideas, and one person who knows him said a few months ago he believed the Braves, Angels and Cardinals were the best fits, though the Cards seem well-stocked for pitchers. The Dodgers are a threat to get anyone good, and Nationals GM Mike Rizzo tried to lure Greinke two years ago with a similar $100 million bid. So that's two for basically the same price he's turned down. One thing about Greinke we know: he won't go to a team unless he's convinced they are ready to win.
More on free agents
Related links
3. B.J. Upton, Rays OF (Prediction: $60 million, five years)
There's a debate about whether the Rays will make the qualifying offer of around $13 million, but execs believe they will since his very nice all-around season with 24 home runs and 30 stolen bases means he'll get at least four years elsewhere. Actually, five sounds about right. It's a pretty good center field market, though, with Michael Bourn and Shane Victorino also free agents.
4. Edwin Jackson, Nationals SP (Prediction: $55 million, four years)
He's better than his 9-10 record. Isn't he always better than his record, which is now 69-70 for his career. The 162 strikeouts and 1.18 WHIP are more emblematic of this durable still-under-30 pitcher. The Nats shouldn't hesitate to make the $13-million qualifying offer, as he's anxious to get a multiyear deal after turning down $27 million for three years from the Pirates to take $11 million for one. At this point, that sounds like a terrific decision. Though, I don't see him matching the exec's prediction, as there were similar early guesses last year that turned out to be too high.
5. Kyle Lohse, Cardinals SP (Prediction: $45 million, three years)
Lohse has quietly entered the Cy Young picture with a 15-3 record (it could be even better as several games were blown by the bullpen), and2.71 ERA. The aim could be for a deal to beat C.J. Wilson who got $75 million for five years. But since he's a couple years older, the guess here could prove more realistic.
6. Jake Peavy, White Sox SP (Prediction: $25 million-$30 million, two years)
Peavy returned after an unusual shoulder surgery and reclaimed is old form, although the exec said his iffy history would keep the term short. Still, the salary has to be quite high for any potential top-of-the-rotation starter. It isn't hard to envision the Dodgers making a play for the pitcher who starred 90 miles down I-5 in San Diego for years. That would give them the two most prominent ex-Padres since Tony Gwynn.
7. Shane Victorino, Dodgers OF (Prediction: $25 million, two years)
Victorino has talked aloud about wanting to stay in L.A., though with Carl Crawford due back by early next season it doesn't seem like the perfect spot for him. Publicly, Dodgers people aren't ruling it out, though maybe they are being kind. The Nats, Mets, Braves, Phillies and Giants all could be better fits, though Victorino will have to lower his sights after originally seeking a five-year deal. One aside: He is represented by the Levinsons' ACES agency, which is currently under MLB investigation.
8. Hiroki Kuroda, Yankees SP (Prediction: $12 million, one year)
Kuroda's first foray East (the Eastern part of the United States) has been a smashing success, as he's been the Yankees' most consistent pitcher, going 14-10 with a 3.26 ERA. There should be a lot of interest. Maybe even his old team, the Dodgers, will want him back now that they have an owner with big bucks. Despite the age, a two-year deal isn't out of the question.
9. A.J. Pierzynski, White Sox C (Prediction: $10 million-$12 million, two years)
The exec referred to Pierzynski as "a poor man's Russell Martin," but I see that as selling Pierzynski short, even if he is several years older than martin. I could see him being rewarded with a bigger deal after a huge offensive season (26 home runs, .829 OPS). One question: Does his unpopularity hurt him? (It certainly seemed to in the players' All-Star vote, but this is business.)
10. Kevin Youkilis, White Sox 3B  (Prediction: $8 million-$10 million, one year)
He's been a Godsend for the White Sox even though his batting average is actually lower in Chicago than Boston (.226, from .233). Of greater importance, his South Side OPS of .788 is closer to his career norm, he's provided many big moments, and let's not forget that he replaced Brent Morel (who wasn't hitting before getting hurt) and Orlando Hudson (who isn't even a third baseman). The White Sox also love how he's fit into the clubhouse. Word is, they see the $13-million option as steep, though, and plan to buy him out for $1 million instead. That wouldn't preclude him staying, just at a lower salary.
Boston wants to add two big bats to their lineup, not just one

Even more relievers signed on the final day of the Winter Meetings

Keep tabs on the top 50 free agents right here
The league is not happy Ohtani's medical information leaked

Kansas City and Baltimore were quite busy at the Rule 5 Draft

Piscotty's mother was diagnosed with ALS earlier this year