Early rumors link Francona to the Tigers, Indians (though he isn't talking about teams)
Ex-Red Sox manager Terry Francona said he loves his TV job, doesn't want to address any rumors and would only be interested if the "right'' situation presented itself.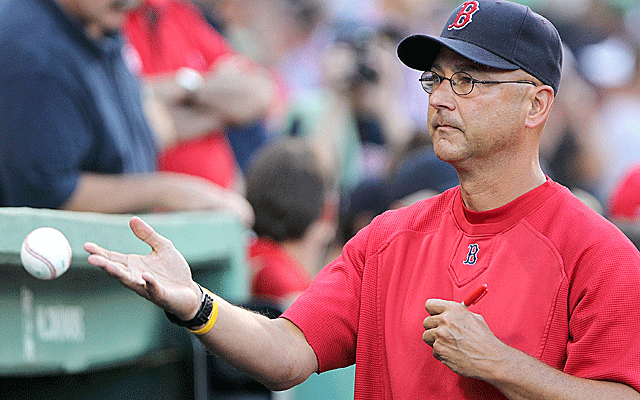 With two World Series titles, Terry Francona should draw strong interest for open managerial jobs.
(Getty Images)
Former Red Sox manager Terry Francona figures to be a hot name as a managerial candidate this winter, and his name is already making the rounds in insider circles as a possibility to manage either Detroit or Cleveland, if either of those teams should have an opening.
Realistically, there's a good chance Francona's name will be connected to most teams where there's even a hint of change in the air. The one team that can be ruled out is the Red Sox, who seem certain to make a change one year after firing Francona; neither Francona nor Boston's bosses is probably ready for a reunion.
It's no surprise Francona's name is being linked to potential openings, if only in a speculative manner, as he is the most accomplished manager not currently working in that capacity, provided Tony La Russa and Joe Torre remain retired. Not too many managerial candidates have multiple World Series championships on their resume.
Francona didn't want to address any specific rumors out of respect to his current employer ESPN and especially the managers currently in the jobs. In a brief phone interview Wednesday, he said, "I work for ESPN and love it. As I've always said, if the right job came open I'd have to think about it. But I'm really uncomfortable talking about any jobs.''
Francona is receiving excellent reviews for the job he's doing as a TV analyst, but as he suggested, certain opportunities may interest him. He didn't specify say what makes a job the "right'' one beyond having the right relationships.
Presumably though, a two-time World Series winner such as Francona is a better fit for a contending team than a rebuilding one. Last winter Francona interviewed for the Cardinals job that went to in-house candidate Mike Matheny, but he didn't shop himself around other places.
The new rumors don't necesarily mean the Tigers and Indians are about to make a change. But if they do, insiders believe those two teams could have an interest. (Though it's questionable whether the Indians could even afford Francona.)
The Tigers with their star-laden roster could make the most sense for Francona should they and the legendary Jim Leyland decide to part ways. Leyland's contract is up after the year (he preferred to go year to year), and if the Tigers don't make the postseason a change is a possibility. Francona, who coached one year in Detroit under Buddy Bell, was uncomfortable to address any specific situation but he was especially uncomfortable to respond to any question about the Tigers' situation, as Leyland is one of Francona's best friends in the game.
The Indians are a natural rumor for Francona since both he and his father played as Indians and Manny Acta's status appears pretty iffy, even after a vote of confidence. But it isn't certain how anxious Francona would be to do some rebuilding. The Indians make more sense than, say Houston, but the chances to win immediately isn't as good as it is some other places.
There's an outside chance the Angels' job could become available, as there's said to be tension within their hierarchy, though it remains hard to imagine the Angels letting Mike Scioscia leave. Francona has spent his whole career in the East and Midwest, save for his years as a star player for the University of Arizona, but the Angels' job would be seen as attractive to almost anyone.
The Grapefruit League and Cactus League seasons started on Friday

Data will be collected and then used to determine whether humidors are necessary in 2019

Spring training play began on Friday, and the Stoneman Douglas tragedy was on the mind of MLB...
Baseball players forced to take pictures usually lead to fun for all of us

One of the most celebrated programs in baseball is looking to continue its run

A closer look at the teams in the Cactus League and Grapefruit League