Easy call: The Hall of Fame case of Greg Maddux
Greg Maddux was one of the best pitchers in the history of the game. So, yes, he should be in the Hall of Fame.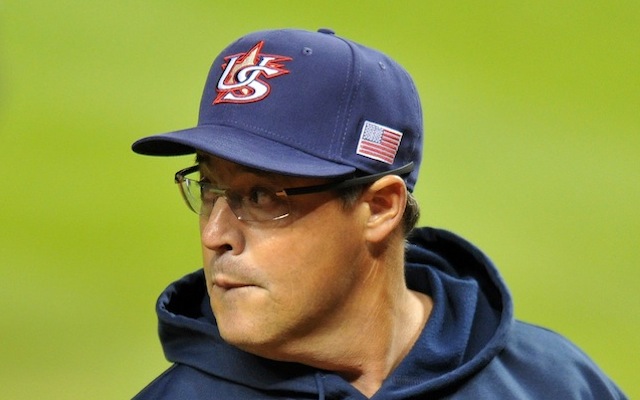 Hall of Fame cases: Luis Gonzalez | Moises Alou | Lee Smith | Fred McGriff | Don Mattingly | Jack Morris | Rafael Palmeiro | Sammy Sosa | Edgar Martinez | Jeff Kent | Alan Trammell | Larry Walker | Mark McGwire | Tom Glavine | Frank Thomas | Mike Piazza |Mike Mussina | Curt Schilling | Craig Biggio | Tim Raines | Jeff Bagwell | Roger Clemens | Barry Bonds
The results of the BBWAA Hall of Fame vote will be revealed on Wednesday afternoon, so let's break down our final candidate for 2014, the great Greg Maddux ... 
The bare essentials
Across parts of 23 major-league seasons with the Cubs, Braves, Padres and Dodgers, Maddux went 355-227 (.610) with an ERA of 3.16 (132 ERA+). Maddux has to his credit four Cy Young awards, and on five other occasions he finished in the top five in the balloting. As well, he made the All-Star team eight times and also won 18 Gold Gloves (the most ever). Maddux ended his career 10th on the all-time strikeouts list (3,371) and 13th on the all-time innings list (5,008 1/3).
The case for induction
The case for Maddux is plainly unassailable. According to WAR, he's one of the 10 greatest pitchers in baseball history, and that ranking squares with more conventional assessments of his worth. In terms of career value, well, those 355 wins and that 34th-best ERA+ of all-time make the argument. In terms of peak value, well, those four Cy Youngs were all consecutive.
Of course, there's so much more … Maddux had 18 seasons of 200 innings or more. Eighteen. Despite the period he played in -- an offensive era in which starting pitchers generally didn't finish games -- he ranks in the top 100 all-time for shutouts.
Speaking of the top 100 all-time, here's a list of some notable indicators and where Maddux ranks for his career: pitcher WAR (8th), wins (8th), W-L% (94th), WHIP (56th), innings (13th), strikeouts (10th), games started (4th), shutouts (71st), K/BB ratio (24th), ERA+ (34th), putouts as a pitcher (1st) and assists as a pitcher (11th). 
Care to argue against all of that?
Of course, the Hall of Fame is about more than the numbers, and on that front Maddux's human appeal bears mentioning. The frumpy right-hander was no one's idea of an ace from central casting. He didn't throw hard, and he didn't have jaw-dropping break on his pitches. What Maddux did was methodically diminish hitters with a full repertoire, jewelry-appraiser's precision and subtle late movement. The result, for the batter, was so often weak contact or a baffling strikeout. That Maddux didn't look like he should be able to do what he did for more than two decades only added to his allure.
Was there a quintessential Greg Maddux outing? Sure, you could point to one from his uber-dominant stretch in the mid-1990s, but, in keeping with his improbable nature, it may be his Aug. 13, 2006 start against the Giants. Maddux, 40 years old at the time and in a late-career stint with the Dodgers, faced down a lineup that included Barry Bonds, Moises Alou and Ray Durham. He conjured up the following line: 
8 IP, 2 H, 0 R, 4 K, 0 BB, 68 pitches, 50 strikes
It took him 68 pitches -- 50 of which were strikes -- to get through eight frames (HT: Andrew Simon, for reminding me of this outing). That ruthless efficiency typified his career. 
Beyond all that, Maddux benefits from never having even the faintest associations with PED use, which is certainly relevant given when he pitched and given the preoccupations of the average BBWAA voter. 
Oh, and the singular Greg Maddux could hit a little bit, too. 
The case against induction
Real talk forthcoming: There's no plausible case against inducting Greg Maddux.
If you're reaching, you can take the Ken Gurnick route and penalize Maddux for playing in the era in which he played (while at the same time casting your only "yes" vote for a player whose career overlapped quite a bit with Maddux's). Failing that, you can argue against Maddux on the grounds no one has ever been a unanimous choice for the Hall. That, however, is equally wrongheaded.
Like I said, there's no whiff of a hint of a rumor of a reason for not voting Greg Maddux into the Hall of Fame. 
There's no reason to run over the cases for and against Bonds, so let's have fun instead

The coveted right-hander would certainly be a fit in Milwaukee

We rate the best mustaches from random baseball cards because, why not?
Colon wants to break a Dennis Martinez record

The Twins have been rumored to be interested in Darvish all winter

Rolen is one of the best third basemen of all time, but you wouldn't know it based on this...