Eight clubs known to be involved in R.A. Dickey trade talks
No surprise the Mets' asking price is high.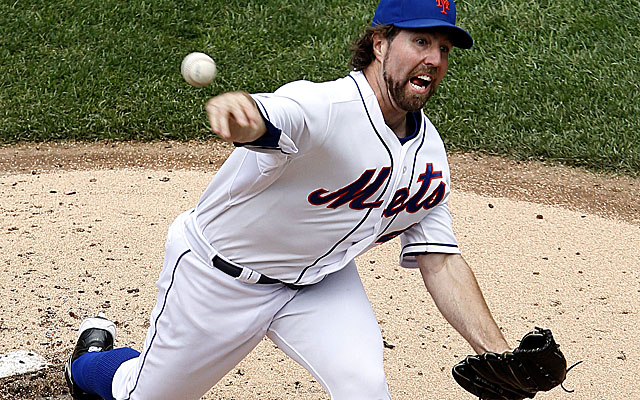 Even as at least eight teams eye Dickey, the Mets are still negotiating a two-year extension. (Getty Images)
NASHVILLE, Tenn. -- The Mets have talked to at least eight teams regarding a possible trade for NL Cy Young winner R.A. Dickey, and according to sources, they include the Royals, Orioles, Rangers, Dodgers, Diamondbacks, Red Sox, Blue Jays and Nationals. Of the eight, the Nats are least likely because the Mets prefer to trade outside the divison.
While trade talks are ongoing, Dickey and the Mets are also working on a two-year extension, a negotiation that is at two months and counting. The Mets were able to do a club-record eight-year, $138 million extension with David Wright in less time.
Teams have suggested Mets GM Sandy Alderson is naming high prices -- one cited by ESPNNewYork.com was Red Sox outfield prospect Jackie Bradley Jr. and shortstop prospect Xander Boegarts -- but the Mets understand the sky-high value on starting pitchers and Dickey's extra premium as a Cy Young winner making a paltry (by Cy Young standards) $5 million in 2013.
The Mets are most interested in catching and outfield help back in trade, but Alderson is open to any talent and generally looking for the best available.
The Royals have top outfield prospect Wil Myers but are thought to have rebuffed the idea of Myers in a Dickey trade, preferring to deal a package of younger prospects instead. The Blue Jays have young outfeilder Anthony Gose and available catcher J.P. Arencibia. The Rangers probably have the strongest farm system of the teams involved.
The Grapefruit League and Cactus League seasons started on Friday

Data will be collected and then used to determine whether humidors are necessary in 2019

Spring training play began on Friday, and the Stoneman Douglas tragedy was on the mind of MLB...
Baseball players forced to take pictures usually lead to fun for all of us

One of the most celebrated programs in baseball is looking to continue its run

A closer look at the teams in the Cactus League and Grapefruit League