Ellsbury joins big group of players to wear Red Sox, Yankees garb
Jacoby Ellsbury has gone from one arch rival (Boston Red Sox) to the other (New York Yankees). He's far from alone. In fact, there's a very impressive grouping of talent in MLB history to play for each franchise.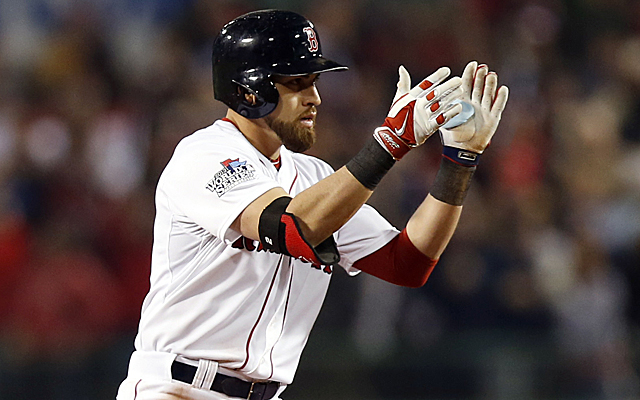 More: Ellsbury, Yanks agree to seven-year, $153M deal
So here we are again: A big-name player from one side of the vaunted Yankees-Red Sox rivalry has ended up with the other side. Last year at this time it was Kevin Youkilis shifting to the Yankees after spending the majority of his career with the Red Sox.
That wasn't nearly as big a deal as this one is, though. Jacoby Ellsbury is in his prime and coming off a season in which he garnered some MVP support. He's one of baseball's premier table-setters, coming off a season in which he led the majors with 52 stolen bases and was the leadoff man throughout the playoffs for the eventual World Series champions.
Those World Series champions were the Red Sox, but Tuesday evening news broke he was signing with the Yankees.
So, amidst cries of him being a "bloody turncoat," "greedy" or any other fanboy-type outrage, let us look back to a little project we put together last year at this time. It was the 10 best players to ever wear both Yankees and Red Sox uniforms.
The date was Dec. 11, 2012 and my esteemed colleague Dayn Perry was the author of said article. Definitely click through and read the full post if interested, because we aren't going to copy-and-paste our work here.
What we will do is see if Ellsbury may ever make the the list. 
Here's the top 10, in countdown fashion:
10. Sparky Lyle
9. David Wells
8. Carl Mays
7. Luis Tiant
6. Elston Howard
5. Waite Hoyt
4. Red Ruffing
3. Wade Boggs
2. Roger Clemens
1. Babe Ruth
So, yeah, Ellsbury doesn't make that list -- especially with the likes of Johnny Damon and David Cone left off it. Let's focus on Damon since both he and Ellsbury were center fielders at the time of switching teams.
Ellsbury's only 29 and already has two rings for the Red Sox, in addition to an MVP runner-up. Damon was only a two-time All-Star in his entire career, was 31 when shifting to the Yankees and never garnered serious MVP consideration while winning one ring for each team.
Let's say, for the sake of argument, Ellsbury puts up a few more seasons like he had last year while ignoring the absurd power production he had in 2011, since he's unlikely to come close to that again. Let's also realize his injury woes have stemmed from freak injuries instead of being lingering muscle-types that point to fragility.
It's probably not a leap to see Ellsbury being a three- or four-time All-Star (he has one so far) with two top-10 MVP finishes (he has one so far) in his career in addition to maybe(?) three rings -- including having won rings for both the Yankees and Red Sox. He's also a prolific base-stealer and should continue to be for the next several years, something Damon really wasn't.
Simply, it's not difficult to imagine that Ellsbury's combined Red Sox and Yankees careers will top those of Damon. I could point to WAR and note Ellsbury's already ahead of the game when it comes to Boston and New York years at this point, too. Because he is.
The point is that, in looking at the players we previously listed who played for both franchises, Damon was one of the last names left out of the top 10 and Ellsbury has a very realistic shot to end up a better help to both franchises.
So, yes, five to seven years down the road, we may well have a different top 10 -- one that includes Ellsbury. Then again, we may not. Argue at will.
Mark Appel was one of the players being moved about on Monday night

Garrett Cooper is the answer to a trivia question

We still don't know if Ohtani will be jumping to the majors yet
Kinsler is a free agent next winter

Opening Day will be Thursday, March 29 -- the earliest opening day in MLB history

The World Series champion and big-time wrestling fan was on hand Sunday night