Ellsbury on return to Fenway Park: 'I haven't really thought about it'
Jacoby Ellsbury returns to Fenway Park on Tuesday for the first time joining the Yankees. Is he worried about the fan reaction? Apparently not.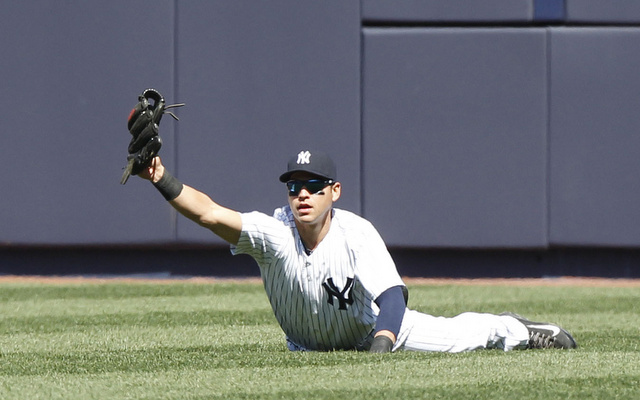 More MLB: Power Rankings | Expert Picks | Latest news & notes | Fantasy news
The Yankees and Red Sox open a three-game series in Fenway Park on Tuesday night, and there is no shortage of juicy headlines if you're a fan of such things. Masahiro Tanaka vs. Jon Lester, Derek Jeter's last first series of the year in Boston, and, of course, Jacoby Ellsbury's return to Fenway.
Ellsbury signed a seven-year, $153 million contract with the Yankees over the winter, but only after reportedly rejecting two offers from the Red Sox: five years and $100 million, or six years and roughly $120 million. That's according to Gordon Edes of ESPN Boston. Obviously Ellsbury made a wise decision testing the market, but is he worried about the reaction when he returns to Fenway Park as a member of the rival Yankees?
"I haven't really thought about it too much," he said. "We'll see what happens when the time comes. You can't think about what they're going to do. In this game, you can really only focus on what you can do, not worry about all that other stuff that you can't control. We'll see what happens. I gave the organization everything I had for a third of my life. Nine years in an organization, drafted by them, came up and won two World Series. I left it all on the field."
The quote comes courtesy of Chad Jennings of the Journal News. Very diplomatic response. You can tell Ellsbury has been through the big market media gauntlet and knows how to avoid causing a stir with his mouth.
Of course, Ellsbury is far from the first player to return to Fenway Park after signing with the Yankees. Hall of Famer Wade Boggs did it more than 20 years ago and he was received rather warmly after winning five batting titles and six on-base percentage titles with the Red Sox (not to mention the 1986 AL pennant):
Johnny Damon left the Red Sox for the Yankees eight years ago, and while he didn't have anywhere close to the individual success as Boggs in Boston, he helped the team break the curse and win their first World Series in 86 years. His reception wasn't very friendly:
Ellsbury helped the Red Sox win two World Series and he had an MVP caliber season with them in 2011. He was also a homegrown player, like Boggs and unlike Damon. What will the fan reaction be when he takes his first at-bat? When in doubt, assume the Red Sox faithful in Fenway Park will boo the Yankee.
Colon wants to break a Dennis Martinez record

The Twins have been rumored to be interested in Darvish all winter

Rolen is one of the best third basemen of all time, but you wouldn't know it based on this...
Neither Josh Donaldson nor Brian Dozier have talked about a new contract extension

Francisco leads the Dominican Winter League with seven home runs

Thome deserves enshrinement and here's why the case against him does not hold up