Emerging Myers looks to become Wil the Thrill again for Tampa Bay
Following a nightmare August, Rays rookie Wil Myers looks like he's put the pieces back together again in September. Hoping to chase down Boston in the AL East, the Rays will need every one of those pieces. ...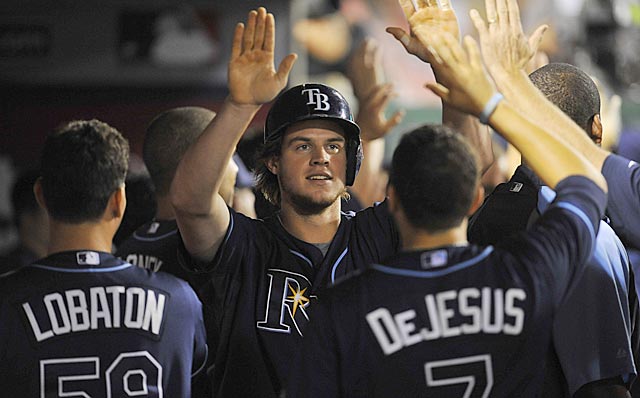 ANAHEIM, Calif. -- Mike Trout and Bryce Harper pretty much ruined it for everyone last summer, didn't they? Every phenom for the next few years, that is.
News flash: It ain't that easy, kids.
One month ago, folks were discussing whether Wil Myers, whom Tampa Bay summoned from the minors on June 18, could wind up winning the American League Rookie of the Year award with the least number of games ever played by rookie winner.
Then came August, and .209/.317/.314 over 24 games. A grand total of 29 strikeouts and only 13 walks. Two home runs and 12 RBI.
Yeah, let Myers tell you something about diamond struggles.
"It's different than struggling in the minor leagues," says Myers, whose three-hit night Wednesday included smashing two home runs against Angels ace Jered Weaver. "It's a different type of struggle because there's so much emphasis on winning here.
"It's tough not getting the job done, especially with runners in scoring position. In the minor leagues, it's just about you.
"Now, I was struggling and hurting the team. It was tough, especially in August. You see the [AL East] lead slipping away and Boston taking over."
Before August, Myers surely knew more about, say, how to build an Indy race car than he did about slumps. Kansas City's third-round pick in 2009, Myers, 22, has been on the express elevator to the penthouse ever since. Slumps? Inconveniences suffered by others.
The few times Myers went anywhere near one in the minors, it passed more quickly than a sunrise.
Part of his August included an 0 for 22 nightmare.
"I was struggling so bad," he says. "I've never done that. Ever. Even when struggling in the minor leagues.
"I had to put it aside that I was struggling, but that's a tough situation to be in."
He wasn't alone. It seemed as if 90 percent of the Rays lineup went AWOL by month's end. But that didn't make t any easier. Since the day he first picked up a baseball, Myers mostly has been a leader, not a follower.
Even as the youngest player on whatever field he was playing on.
Whether the slump affected other parts of his game or whether he's just a little ragged toward the end of his longest season, it's tough to say. But he misplayed a couple of balls in the outfield in Oakland over the weekend, and he committed a rare baserunning miscue against the A's on Sunday.
"I can see where his confidence has been dinged a little bit," manager Joe Maddon says. "There's no doubt about that. I can see it's taken a little bit of a hit. That's good, though. It needs to happen at some point.
"This game will teach you how to fight through adversity. We've all been there, and the point is to try to show up like you had just won yesterday, like you went three for four yesterday, like you made all the right decisions yesterday. Just show up the same way, man, and you're going to have a good day today."
Even as they've turned into winners over the past several years under Maddon, the Rays remain a proving ground. They develop young talent in the minors, and they depend on it in the majors. There is a learning curve. Rarely are they a team of finished products.
Myers looked like one, for a time this summer. Over his first 42 games, the kid hit .340 with eight homers, 30 RBI and a .392 on-base percentage. Trout and Harper last year, Myers' first month this year. ...
"Both those guys are really good," Myers says. "I've seen Harper a little, but I've played against Trout over the years. In low A ball, when I was still catching, I'd hate him because every time he came up, he'd frickin' get a hit. And then I'd hate it when he stole on me.
"Trout had a great year last year, and he's doing even better this year. He's the best player I've ever played against."
Undoubtedly, there are those who say that about Myers, too. Things just take time, is all. Few players ever have developed as quickly as Trout.
"He has the proverbial five tools to play this game," Maddon says. "He has not been overwhelmed by being here.
"He's meeting with his first struggles right now, there's no question about that. But this guy, when he hits the baseball, he meets that elite level of hitting the ball hard. And he's a very good baserunner. He has great instincts on the bases."
Says Rays outfielder Matt Joyce: "I think he's handled it as well as you can. Your first big-league slump is the hardest one to go through."
Signs are beginning to appear that maybe he's weathered it. He cracked two doubles here Tuesday, his first multi-hit game since Aug. 20. Then came Wednesday's power show against Weaver.
"It's really starting to come around now," he says. "I was really concerned with my swing and what was going on."
Boiled down to the most basic problem, he wasn't seeing the ball well.
The expanded problem was that he lost the feel for the proper placement of his hands, which led to him worrying about that, which led to his head not being in proper position for him to see the ball. You know, the usual in slumping hitters. Domino effect.
For a moment, it appears as if the dominos have been put back into place. His swing has returned to a thing of beauty in Anaheim. Just in time for the Rays, for whom each September victory will be essential. They need him. Badly.
"You have to battle," Joyce says. "I told him: 'I can't wait to see what you do in September.' "
Will Tanaka or Upton try their luck in free agency again in the offseason?

Pujols smacked his 610th career home run Tuesday night

Who will be the wild cards? Who will be most healthy? Who will be hot? This could be fun.
The story of a game that had 22 innings, one run, one mascot ejection and so much more

Plus Adrian Gonzalez and J.D. Martinez reach milestones and everything else from Tuesday b...

The Cubs had run out of bench players, so Anthony Rizzo moved across the diamond