End of an era in baseball in sight as Yankees' losing streak continues
We knew these banged-up and recycled Yankees would have a different feel. But the more names manager Joe Girardi writes into an increasingly fluid lineup, the harder it hits home: Without Jeter and Co., the Yankees will be just another team.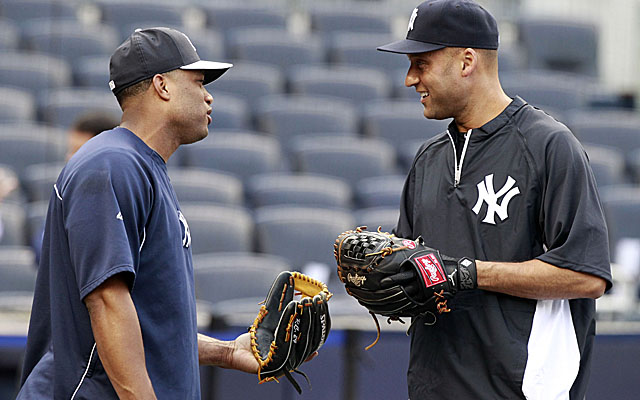 ANAHEIM, Calif. -- Somewhere in Tampa, Derek Jeter has resumed baseball activities.
Which is fortuitous timing, because somewhere in California, the New York Yankees are ceasing theirs.
Did you see that lineup they trotted out while losing their fourth consecutive game -- this one 5-2 to the Angels -- on Friday night?
Did you see that 18-inning loss to the Athletics on Thursday afternoon?
What is most striking about watching these overachieving, try-hard Yankees is how downright normal they look these days. There is no magic. No glitter.
No intimidation.
Yes, much of this is understandable given their injuries.
But this is more. This is what the end of an era looks like. It is on display nightly.
This isn't to say the Yanks can't -- or won't -- win again.
But without Jeter and, soon enough, Mariano Rivera and Andy Pettitte and Alex Rodriguez , they are just another team. (Albeit, in home pinstripes, just another very well-dressed team.)
You watch the Yankees these days ... and they could be the Pittsburgh Pirates. Or the Seattle Mariners. Anybody.
You look out at the field ... and there is no Jeter or A-Rod. There is Pettitte only every fifth day. Rivera remains worth the price of admission, but he never has been around for the bulk of most evenings, anyway.
You write their lineup down on your score sheet ... and you find yourself researching some of those names. Adams? Neal? Huh?
These are the Yankees?
As for those who are here, Robinson Cano has little supporting cast. Mark Teixeira may or may not start hitting again like the Tex of old as he recovers from a wrist injury.
On nights when Teixeira, Ichiro Suzuki , Vernon Wells , Travis Hafner and the rest don't hit, of course, things look particularly bad. Which, lately, has been more often than not.
In the Oakland marathon Thursday afternoon, the Yankees stranded 11 runners in extra innings. The heart of their lineup combined to go 0 for 28 with 12 strikeouts. Teixeira was 0 for 5, Hafner 0 for 8, Kevin Youkilis 0 for 7 and Wells 0 for 8.
Breathtakingly, according to the Elias Sports Bureau, it was the first time in modern major-league history that four starters in consecutive lineup slots went hitless in a combined total of 28 or more at-bats.
It also was the first game in Yankees history in which four different players whiffed at least three times each. Bronx Bummer.
The 18-inning game sent the creaky Youkilis back onto the disabled list for the second time in less than three weeks with a recurrence of his back issues. And it begat a Friday night lineup in Anaheim that included Jayson Nix , Reid Brignac , Andy Romine, Thomas Neal and David Adams .
Surely, some TV executives somewhere are clamoring for reruns of The Golden Girls instead of the Yanks.
As manager Joe Girardi quickly points out, his club remains seven games over .500 (37-30). They are surviving.
But win, lose or play 18 innings, the aura is gone. Cano doesn't do it. Neither does Teixeira, and neither will Granderson.
Jeter is the iconic heart of one of the greatest runs in Yankees history. You watched his every move. You couldn't take your eyes off of A-Rod, either, alternately for his brilliance or his train-wrecked-ness.
There is no must-see TV here. And there especially won't be when Jeter, Rivera, Pettitte and A-Rod soon qualify for Old-Timers' Day instead of the postseason roster.
The Athletics now have spanked the Yankees in seven consecutive games in Oakland.
The Jeter Flip play in the 2001 playoffs in the Oakland Coliseum is a distant memory, both literally and symbolically.
Friday night was the Yankees' first game against the Angels without Jeter in the lineup since April 26, 2003.
Though he was cleared Thursday to resume baseball activities, the Captain, recovering from that stress fracture in his ankle, remains a ways away.
"I think he has to go through the sprinting and all of that and not have pain," Girardi says.
Jeter almost certainly will not return before the All-Star break. And nobody can say for sure how soon afterward we might see him.
"I'm not putting a time on it," Girardi says. "Spring training is six weeks, and we don't know if he's at the point of Feb. 15 and he's ready to go.
"He'll be here when he gets here. That's the best thing I can say."
Jeter turns 39 later this month. Rivera is retiring after the season. Pettitte, who surrendered four runs on a season-high 11 hits in Friday's loss, celebrates his 41st birthday Saturday.
The candles are stacking up.
But the Yankees are not burning brighter.
Despite an awful month, the Dodgers are again NL West champions

The record of 38 previously belonged to Hall of Famer Frank Robinson

The report also says that Jeter had outgoing president David Samson do the firing
This wasn't a traditional hidden ball trick, but the Blue Jays pulled it off

The Tigers essentially fired Brad Ausmus on Friday, but things are going to be ugly for a...

The club made the announcement on Friday