EOB All-Stars: The 'All-35-and-Over' team
Earlier Thursday, we looked at the 25-and-under team, now it's time for the 35-and-over. Hint: 25-and-under team was WAY better.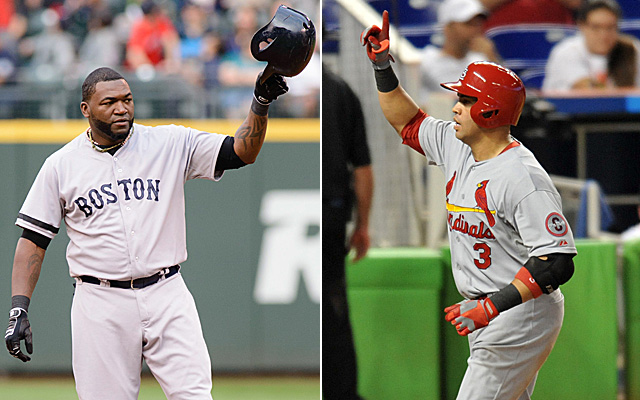 More MLB: Scoreboard | Standings | Probable Pitchers | Sortable Stats | Odds
To go with the All-25-and-Under All-Stars posted earlier Thursday by my esteemed colleague Mr. Perry, let's check in on the players age 35 and older this season.
What about the guys in the middle? Well, 26-34 should be the prime years. Some players are late bloomers, some arrive early and some begin their decline early. Generally speaking, however, that's the prime.
Anyway, if there's any question about whether the game in 2013 is an old man's game or a young man's game, allow this team to set those questions to rest. It's definitely not 2001 anymore.
[Note: No offense to any fans with the "old man" comment. I'll be 35 in just over a month. "Old" is relative to being an MLB player.]
Catcher: A.J. Pierzynski, Rangers
Pierzynski and Jose Molina are the only backstops over 35 who play with any regularity. Both work well with pitching staffs, so the bat is what matters here and that's an easy choice (Pierzynski hitting .281/.317/.438 with eight homers and 31 RBI entering Thursday -- Molina was at .259/.314/.342 with two homers and 12 RBI).
First base: Lyle Overbay, Yankees
Heading into the season, I would've thought this would easily be a Paul Konerko pick. Instead, Konerko has struggled and is now injured. So it's Carlos Pena, Todd Helton or Overbay. With 11 homers and 40 RBI, Overbay amazingly gets the nod.
Second base: Marco Scutaro, Giants
The late bloomer is getting it done at age 37 as he eyes career highs in average (.315) and OPS+ (123). The other legitimate option -- if you can call him that -- was Mark Ellis, so this was a no-brainer. 
Shortstop: Miguel Tejada, Royals
No, he doesn't play short anymore, but there are no regular shortstops age 35 or older. My only other realistic choice would be Nick Punto. We're gonna be bad here defensively no matter what, so let's go with the better bat (Tejada is hitting .292 with more power and a similar on-base pecentage to Punto). 
Third base: Michael Young, Phillies
He can still swing it, as Young brings a .289/.346/.416 line into Thursday's action. Aramis Ramirez (first choice) or Eric Chavez (second) might have been the pick here if either were healthy.
Left field: Alfonso Soriano, Cubs
In 84 games, he already has 10 stolen bases. He hadn't hit double digits since 2008. He also has 22 doubles and 15 homers after a recent power barrage.
Center field: Carlos Beltran, Cardinals
Yeah, I moved him to a position that he hasn't played in several years. As I mentioned with Tejada, we're gonna be bad defensively with guys over 35, so let's load up on offense. Beltran certainly brings that, as he's hitting .309/.347/.534 with 19 homers and 52 RBI heading into Thursday.
Right field: Raul Ibanez, Mariners
Ibanez is only seven homers from Ted Williams' single-season record (29) for home runs by players age 41 or older. With an obvious lack of speed and defense, we need all the power we can get. Marlon Byrd, Ichiro Suzuki and Torii Hunter were also considerations at each of the three outfield spots, but, again, I'm going straight power with this group.
Designated hitter: David Ortiz, Red Sox
Obviously, this is a position that includes several older hitters each year, but Big Papi is hitting .331/.412/.636 with 19 homers and 65 RBI in 73 games this season and is among the best designated hitters of all time. [Note to fans of Edgar Martinez, Frank Thomas, Jim Thome, etc., I only said "among the best."]
Right-handed starting pitcher: Bartolo Colon, Athletics
Hiroki Kuroda is having a really solid season while the likes of A.J. Burnett, Tim Hudson, Bronson Arroyo, R.A. Dickey, Jake Westbrook and Ryan Dempster are still productive, but Colon is 12-3 with a 2.69 ERA this season for the first-place A's.
Left-handed starting pitcher: Andy Pettitte, Yankees
My only other option was Barry Zito.
Setup man: Scott Downs, Angels
Now that Joaquin Benoit and Koji Uehara are closers, the path is clear for Downs, who, at age 37, has a 1.42 ERA in 25 1/3 innings. He also has stranded 20 of the 26 runners that he's inherited -- the best strand percentage of his career. Some of the other options were Javier Lopez, Joel Peralta and Jason Frasor.
Closer: Mariano Rivera, Yankees
If there's one thing that ages well, it's a relief pitcher. While several other positions above were either easy or required a position change, here's a list of the closers whom I had to choose from: Jason Grilli, Joe Nathan, Benoit, Uehara, Fernando Rodney, Kevin Gregg, Rafael Betancourt, Grant Balfour and Rivera. Feel free to pick anyone you wish, but as long as I have a choice, I'm always picking Rivera. Maybe even after he's retired.
---
Congrats to the 25-and-under team for having a far superior unit. In fact, let's use the lineup method to illustrate:
25-and-under
35-and-over
Scutaro
Beltran
Soriano
Ortiz
Ibanez
Young
Pierzynski
Overbay
Tejada
SP: Colon
The World Series champions aren't complacent

Stanton swiped at his old team on his way out

Your one-stop shop for all things MLB Winter Meetings-related
Matt Harvey could be on his way out of New York

The Nationals are looking to improve on the edges of their roster

Ellsbury is due at least $68 million over the next three seasons