EOB Q&A: MLB Draft expert Chris Crawford
Let's set the tone for Thursday's MLB draft by having a chat with an aficionado on that very subject.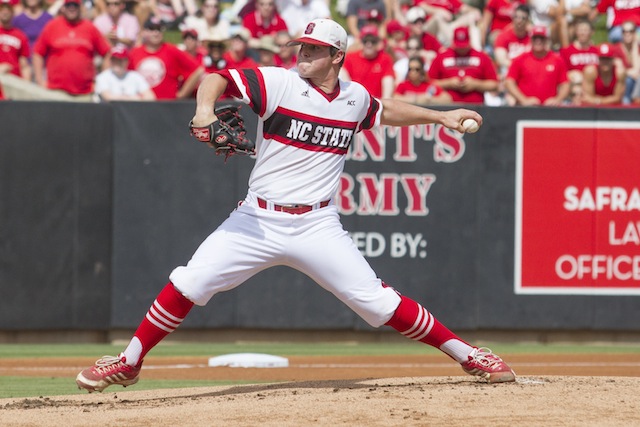 More MLB: Power Rankings | Expert Picks | Latest news & notes | Fantasy news
Chris Crawford is the author and founder of MLB Draft Insider.com and his most recent venture, DraftToTheShow.com. He also frequently contributes to the ESPN Insider MLB Draft blog and can be found on twitter at @crawfordchrisv. Speaking personally, I can say Chris's depth of knowledge when it comes to the Rule 4 draft (i.e., the draft that begins Thursday) is just about unsurpassed. If you care at all about the MLB draft, then you should check out his stuff and give him a follow. 
Even though it's an exceptionally busy time of year for him, Chris made time to field a few questions from Eye On Baseball on the subject of Thursday's First-Year Player Draft. Let's jump right in ...
Eye On Baseball: First question ... How does the strength of this year's draft class compare the last year's and to recent ones in general? 
Chris Crawford: I really liked this class coming into the year, in fact, I thought it had a chance to rival the strong class of 2011 because of the quality on top and better quantity in the middle than the 2012-13 classes.
Now, I'm not so sure. This is one of the worst groups of collegiate hitters I've seen since I started covering the draft, particularly in terms of hitters from the right side. I think the overall depth is slightly better than 2013 on paper, but because so many of the "famous" prospects struggled, it's one of the more volatile classes of the past five-ten years.
EOB: At what point does the quality of the class drop off for you? I.e., does this one stack up in terms of first-round talents and then lack depth? 
CC: There's a couple of pivot points in this draft. If the draft were to go in order of my board -- and it almost assuredly won't -- the biggest drop points would be at No. 4 for the Cubs after Brady Aiken (Cathedral Catholic HS, San Diego), Tyler Kolek (Shepherd HS, Texas) and Carlos Rodon (NC State). After those "big three" the talent drops precipitously, with all due respect to guys like Nick Gordon (Olympia HS, Orlando), Alex Jackson (Rancho Bernardo HS, San Diego) and Bradley Zimmer (San Francisco). After those names, things get very muddled, and I'm not sure if I'd give a true "first-round" grade to more than 10-15 names this year.
EOB: What's the case for NOT taking Rodon no. 1 overall?
CC: If you would have asked me this question a year ago, I would have said the only thing that could keep Rodon from being the No. 1 pick were concerns involving cash. Now, there's a few cases against it. On the surface his statistics look fine, but the reality is that his fastball command has been below-average, and the filthy slider has been closer to a 65 pitch than the 80 offering we saw last season. Add in the exorbitant pitch counts of the month of April plus the quality spring efforts of Aiken and Kolek and you see why Rodon isn't a lock -- maybe not even the favorite -- to end up in Houston.
EOB: Any idea as to what's behind the decline of his stuff?
CC: I think it has something to do with how much stiffer his delivery is. When there's less fluidity in the delivery, it's more difficult to command anything down and the slider suffers as a result, as well. It also could have something to do with how hard he was worked as a sophomore, but that's a little less conclusive than the delivery.
EOB: So if you're the Astros, is Aiken or Jackson or Kolek your pick instead?
CC: If I'm Houston, I'm taking Aiken. I think the pure stuff is comparable, and his feel for pitching and command for a 17 year old is too impressive for me to pass on. I'd also consider Tyler Kolek, but this isn't the year a prep-right hander goes first overall for the first time.
EOB: As a general question regarding amateur arms, would you rather see a plus/projectable changeup as a second pitch out of a draft prospect or a plus/projectable breaking ball? 
CC: That's a great question. Personally I go breaking ball because it's a tougher pitch to develop than a change. It's not a "you have it or you don't" thing, but it's not far from that. You sure aren't complaining about either one, though.
EOB: I get the impression you're not quite as high on Alex Jackson as some are. Is that accurate? If so, then why?
CC: I have Jackson fifth on my board, and I don't think he'd be horrible value for either the Cubs, Twins or Mariners as a top six pick. I just don't see how you can take him over Rodon, Kolek or Aiken unless you are a hundred percent positive that you're going to leave him behind the plate. Most tell me that's not very likely to happen, though, so while I think he's the best offensive player in this class, I can't justify taking him with a top three pick.
EOB: So what's your top 10 heading into Thursday's draft?
CC: 1. Brady Aiken; 2. Tyler Kolek; 3. Carlos Rodon; 4. Nick Gordon; 5. Alex Jackson; 6. Bradley Zimmer; 7. Grant Holmes, RHP, Conway High School; 8. Aaron Nola, LSU; 9. Sean Newcomb, LHP, Hartford; 10. Touki Toussaint, RHP, Coral Springs Christian High School. 
EOB: What makes you push Gordon ahead of Jackson? Ability to stick at a premium position?
CC: Exactly. Gordon is an outstanding defender at shortstop -- he reminds many of Cleveland prospect Francisco Lindor -- and while he doesn't have Jackson's power, the hit-tool is close, and he has sneaky power from the left side. If you're giving me the option of upside at shortstop or right field, I'll take shortstop every time.
EOB: Let's shift gears a bit ... Who's a pitcher and a position player who qualify as sleepers in your opinion?
CC: It's tough to pick just one for both sides, but since you're forcing me, I'll go with shortstop Ti'Quan Forbes (Columbia High School, Missouri)  on the positional side and right-hander Grant Hockin (Damien HS, California) for the pitcher. Forbes is one of the youngest position players in the draft (he won't be 18 until late August) and he's a very good athlete who doesn't have a stand out offensive tool yet, but could be above-average with both his bat and glove; with plus speed to steal bases, as well. Hockin is still more projection than finished product, but he's already 89-92 mph with his fastball and with plus arm strength and a low-effort delivery; there's a chance for more along with an above-average slider and developing change. Both these guys have a lot of volatility, but if everything goes right in their development they could be steals in the second to third round.
EOB: OK, lightning round to finish up ... What's a scouting department that, in your opinion, has a lot to prove in this draft?
CC: I'd go with Milwaukee. The current system -- sans Jimmy Nelson and to a lesser extent Tyrone Taylor -- is in shambles, and with two picks before round two starts, they need to hit on both to help the process of turning the worst farm system in baseball into something respectable.
EOB: Any team that you're especially curious to see how they handle this draft?
CC: I'm going to cheat, but three come to mind, for completely different reasons. Cubs are the one that interests me the most, because they desperately need pitching, and if the "big three" go in order, there isn't a pitcher who makes sense. Toronto having two picks in the top 11 and knowing how differently they handle the draft from some other clubs make them very interesting, and Seattle because this team needs immediate help in their system, and also their front office is anything but a lock to return, so the pressure to take something that could help them in 2015 is intriguing.
EOB: Final two questions ... 1) If you had to assign this entire draft class a letter grade heading in, what would it be? 2) Will we have an international draft within the next 10 years?
CC: 1) I'd go C+, passing, but couldn't go into the B range. Just not enough hitting. 2) I hear conflicting reports on this all the time, so I'm just going to play it safe and say no. My personal opinion is that I hope not, because I don't think the draft should exist at all (yes, this is a conflict of interest), but it wouldn't shock me if they implemented it and tried to spin it as "competitive balance." Here's hoping they leave it alone, though.
deGrom is set to become a free agent after the 2020 season

Perkins missed most of the last two seasons due to injury

Jonathan Singleton was suspended after a third positive test for a drug of abuse
Rodriguez will join Jessica Mendoza and Matt Vasgersian on the "Sunday Night Baseball" boo...

Jeff Wilpon talked about payroll on Tuesday, and it won't make any Mets fan happy

Yelich's agent recently asked the Marlins to trade him before the spring