Ernie Banks hoping to bridge gap between Cubs, Sammy Sosa
The Cubs franchise leader in home runs, Sammy Sosa, continues to be estranged from the team. Franchise icon Ernie Banks is hoping to put an end to that.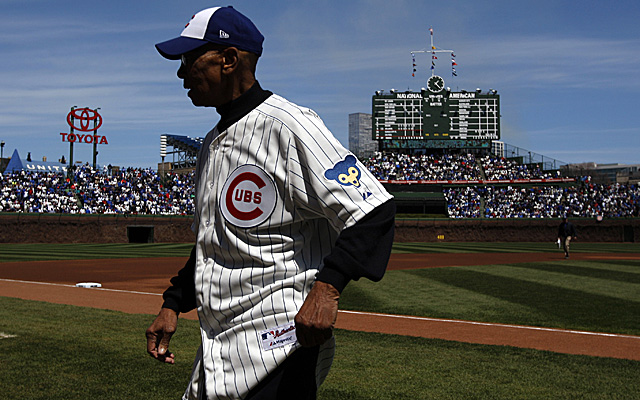 More MLB: Power Rankings | Expert Picks | Latest news & notes | Fantasy news
Mr. Cub, Ernie Banks, has taken it upon himself to be the one who reunites the Cubs with estranged Slammin' Sammy Sosa, according to the Chicago Tribune.
Interested parties might recall that exactly one week ago Wednesday, the Cubs had a pregame celebration for the 100th "Birthday" of Wrigley Field. The festivities included introductions of some Cubs (and Bears, even) greats from the past that had some moments of glory in Wrigley.
Not included: All-time Cubs home run leader Sammy Sosa, who put together quite a few memorable highlights in Wrigley Field of his own.
There was some backlash at the time and the Cubs responded with the following:
"There are some things Sammy needs to look at and consider prior to having an engagement with the team," said team spokesman Julian Green. "Sammy Sosa was a Cub that left his indelible print on this franchise, but as it was said by (owner) Tom Ricketts before, he hoped there is a time when Sammy can be back and be with the franchise."
And this is where Ernie Banks, one of the most respectful and diplomatic Cubs in history -- in addition to being the franchise icon -- has decided to intervene. In terms of some things Sosa needs to "look at and consider," many seem to construe this as a reference to rampant speculation that he used PEDs. Here's Banks' response, via chicagotribune.com:
"He can admit to that (steroid use)," Banks said. "We had Barry Bonds, Mark McGwire ... a lot of guys ... Alex Rodriguez. They admitted to doing something that is not right. But I don't know if Sammy ever admitted to that. (Sosa) is quite a guy. He did a lot for this organization. And nobody could answer (why he was not at the celebration). I wanted him to come. And later on it came out that Sammy wanted to come. Nobody invited him."
It's hard telling what will come of his efforts, but the 83-year-old Banks definitely has his heart in the right place, as usual.