Ervin Santana endured tough market, but in the end bet big on himself
Santana is that rare person who's willing to take less guaranteed money. And he did so to get a second crack at a free agent market that wasn't completely kind.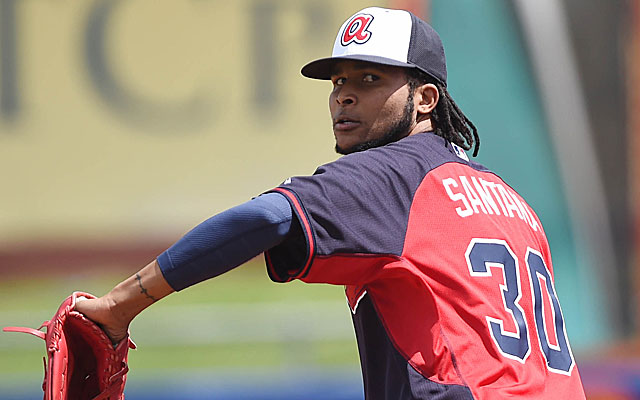 MORE: Spring Training | Scoreboard | Team previews
LAKE BUENA VISTA, Fla. -- One general manager lamented that while big-league players have to have supreme confidence in themselves to make it this far, almost none are willing to bet on themselves by taking a shorter deal for good money.
Ervin Santana is the exception. Santana bet on himself. And he bet big.
While he could have gotten a three-year contract -- the Twins seemed ready to give one, and perhaps the Orioles would have, too -- Santana preferred to take the one-year deal in the end, and bet that he could put together a big season then try free agency again after the year.
"I trust myself. I trust my stuff," the always affable Santana said Friday at Braves camp. "And I know I'm healthy. That's why I took one year."
Santana, who sigend a one-year Braves deal for $14.1 million, the same amount he turned down from the Royals at year's end in the form of a qualifying offer, looked healthy in his first start Thursday against the Mets. Scouts say he was clocked at 92-95 mph, which is a good sign he's fit and ready to go. While a couple sliders were flat and his location wasn't perfect, which is to be expected, catcher Gerald Laird, Laird noted, "The fastball had life, and the ball came out of his hand well."
Santana didn't get what he expected in free agency following a nice season in KC, where he went 9-10 with a 3.24 ERA, so he took what amounted to a do-over. Presumably he could have guaranteed himself up to $20 million more by taking a three-year deal. But he isn't looking back.
"I'm happy," Santana said.
He seems just as relieved after a free-agent market he found much more difficult than anyone expected.
In the end he had chances to go to Toronto or Baltimore for similar money, but after nine years in the American League, he liked the idea of seeing how the other half lives in the NL. He also gets the benefit of a serious contender after some years of sparse support (in Anaheim one year, the Angels didn't score for him his first five starts, a record), and in KC he posted a losing record despite a top-10 ERA.
Santana is a patient man, but he said perhaps not quite as patient as Stephen Drew and Kendrys Morales, two more fine players who remain free agents in search of deals commensurate with their abilities. Santana, a terrific gentleman, made the tough choice to make a big life change about a week before he signed. He went with his longtime agent and close friend Jay Alou when Alou resigned the Proformance agency not long before he went with Atlanta.
Proformance has a good reputation over the years, and Santana said he lunched with players union chief Tony Clark in Scottsdale soon after he made the switch. He said Clark didn't try to talk him out of leaving his longtime agency but rather simply listened to the reasons he made the surprise late switch.
His strategy seemed to change, too, as he began to focus more on one-year deals.
He never expected to be a free agent so long, not after the year he had.
"It was very difficult, very tough, not only for me but for everyone in free agency," he said.
One frustration he had was folks continually bringing up 2012, when Santana struggled. "They always rememeber the bad year," Santana said with a smile.
The other issue, of course, was the dreaded draft choice. Attachment of a draft choice to his free agency hurt Santana, he knows, and it's hurt the other free agents who are excellent players but perhaps fall short of superstar status in free agency. "Everybody's not happy about it," Santana said.
Santana sees something being done to change that rule when the CBA is up in 2016. But that won't help him after this year, when the Braves will have the chance to extend him that same qualifying offer.
That's OK by him, he said. he thinks he can repeat his fine 2013 season, or maybe even better it.
"I'll do it again, and see what happens. That's it," Santana said.
Santana is doing everything he can to write a happy ending. He worked out hard in the Dominican and in Scottsdale, Ariz., throwing no fewer than 17 bullpen sessions on his own. When he got here, he threw a pen and two simulated games, and was ready to go here. Well, almost.
The Braves, decimated this spring by starting pitching injuries, fortunately need only four starters the first time through. But they will need Santana before mid-April rolls around to join the unexpected foursome of Julio Teheran, Alex Wood, Freddy Garcia and David Hale.
Said Santana, "When they need me, I'll be ready."
Francisco leads the Dominican Winter League with seven home runs

Thome deserves enshrinement and here's why the case against him does not hold up

The Twins have already fortified the bullpen with Addison Reed, and now they want to address...
The Orioles likely want pitching, and the Indians have plenty of it

Halladay died in a November plane crash off the coast of Florida

The power-hitting outfielder is headed to Toronto