Ervin Santana has big trade value, but hot Royals will likely keep him
Ervin Santana could be one of the hottest names on the trade market. But with a 20-12 record since June 4, the Royals likely won't sell.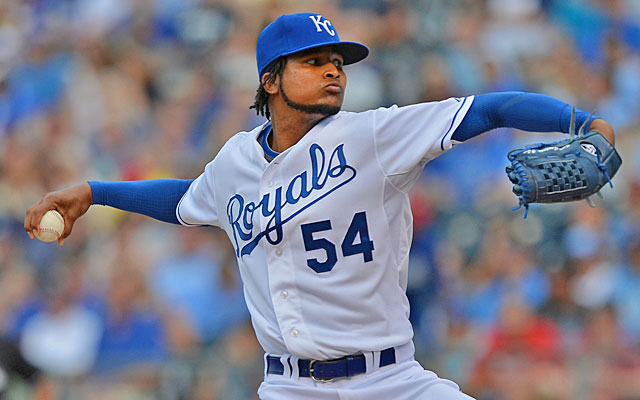 NEW YORK -- Even in a July trade market heavy on starting pitchers, buying teams hope for more.
And not just for Cliff Lee.
The name you hear just as much is Ervin Santana, with one scout saying, "He might be better than [Matt] Garza." If only the Royals were willing sellers, Santana would instantly become one of the hottest names on the market.
"He's got electric stuff," rotation mate James Shields said.
Shields wasn't advocating a sale. He's one of many Royals who would make the case that the club's strong play of late -- the Royals own baseball's best record over the last 36 days, at 20-12 -- is proof that this team can contend.
With back-to-back wins over the Yankees the last two nights, the Royals are just a game under .500 and just five games behind the first-place Tigers.
"We've got a good shot, that's for sure," first baseman Eric Hosmer said.
But the Royals also have a tough upcoming schedule -- they're eight games into a stretch of 20 straight games against teams with winning records. If they fall far out of the race, general manager Dayton Moore would likely listen to offers for Santana.
"It's hard to predict," Moore said. "We're going to focus on putting our best team on the field, now and in the future."
The Royals definitely haven't ruled out re-signing Santana, who is eligible for free agency at the end of the season. At this point, they would be very likely to make him a qualifying offer, meaning they would get draft-pick compensation if he signs elsewhere as a free agent.
And, of course, there's value for the Royals in finishing with a strong second half, even if they don't make a real run at the Tigers or at a wild-card spot.
The price for Santana would be high, even if the Royals do listen.
In any case, Santana has restored his own value, and fully justified Moore's decision to trade for him last October. Santana was coming off a poor 2012 season (5.16 ERA, a major league-high 39 home runs allowed), and the Angels didn't consider him worth the price of a $13 million 2013 option.
The Royals did (especially with the Angels kicking in $1 million), and pitching coach Dave Eiland went to work figuring out why Santana had regressed so badly from what was once All-Star form.
"What I saw on film was that he didn't always finish over the front foot, and everything was up in the zone," Eiland said. "So we worked on it. He's worked hard, and he's very good at making adjustments on the fly."
The result is a 2.90 ERA (better than Max Scherzer, who will likely start the All-Star Game for the American League). Santana is averaging 6.9 innings per start (also better than Scherzer).
And while it might seem he has benefitted from the big park in Kansas City, he actually has a better ERA on the road, and has allowed 12 of his 16 home runs at home.
"It's been very good for me," Santana said. "Health-wise, it's been good. And everything has been down. I elevate when I want to.
"It's a lot different this year."
Santana only smiles when it's mentioned the Angels could have used him this year. He won't bite at a question on a possible trade, either.
"I don't know," he said. "I'm not worried about it."
Moore's decision to overhaul the Royals rotation has worked out well. With four starters who were acquired by trade over the last 12 months (Shields, Wade Davis and Jeremy Guthrie, in addition to Santana), the Royals have cut their rotation ERA from 5.01 last year (26th in the majors) to 3.99 this year (16th).
They have more help coming, with scouts reporting that Danny Duffy is looking good at Triple-A Omaha.
The result is the best 87-game record the Royals have had in a decade, and at least an outside shot at contending this year. Santana is part of that, and could be part of an even better Royals team next year -- but there still is a chance he could wearing a different uniform next month.
Teams in need of a top starter can still hold out hope. They'll just need the Royals to lose a lot of games this month.
Francisco leads the Dominican Winter League with seven home runs

Thome deserves enshrinement and here's why the case against him does not hold up

The Twins have already fortified the bullpen with Addison Reed, and now they want to address...
The Orioles likely want pitching, and the Indians have plenty of it

Halladay died in a November plane crash off the coast of Florida

The power-hitting outfielder is headed to Toronto