Escobar has issues, but someone will want him
Even before Yunel Escobar got in trouble this week by writing a homophobic slur on his face (earning a three-game suspension), the Blue Jays had tired of him. They offered him in trade talks in July, and they'll certainly do the same this winter. Despite all his issues, someone will want him.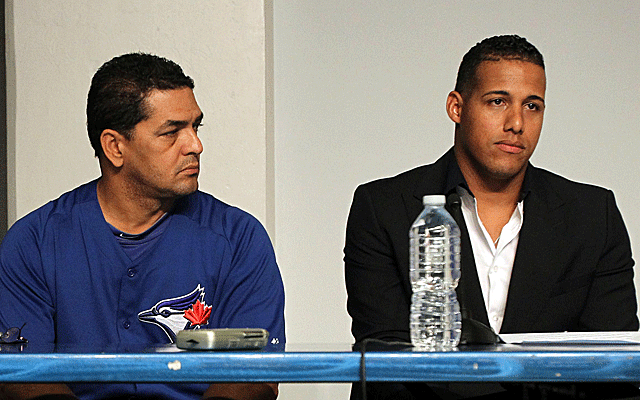 The Blue Jays had already grown tired of Yunel Escobar (right), as they had tried to trade him in July.
(US Presswire)
The Braves tired of Yunel Escobar two years ago. The Blue Jays tired of him this year, long before he stupidly found his way into the news this week.

They tired of him because of what he did -- and didn't do -- on the field, and not because of what he wrote on his face.

They were ready to trade him in July, made it known that he was available. They didn't get an offer they liked then, but the feeling was that he'd be available again this winter.
More on Yunel Escobar
Related links

He'll be available now. You can be sure of that.

Someone will want him. You can be sure of that, too.

Too many teams need shortstops. There aren't enough good ones to go around.

Already, we know that the Diamondbacks will be looking. They admitted as much after they traded Stephen Drew, and general manager Kevin Towers told reporters then that they'd have no choice but to look for a trade, because the free-agent market for shortstops is so weak.

The Tigers figure to be looking, too. They have a $6 million option on Jhonny Peralta for 2013, but Peralta's defensive shortcomings at short seem to become more obvious by the day.

Would the Tigers take a chance on Escobar, thinking that he could be helped by the positive Latin American presence in their clubhouse? They might.

Remember, the Tigers were the team that rushed to put Delmon Young back in their lineup earlier this year, after Young was accused of using an anti-Semitic slur. Young's seven-day suspension came from the commissioner's office, rather than from the Tigers.

The Blue Jays issued the Escobar suspension themselves, although it was handed out in cooperation with both the commissioner's office and the players' union.

The Blue Jays don't need Escobar. They have a fine young shortstop, 23-year-old Adeiny Hechevarria, who has spent the last month moving around the infield but should take over full-time at short next year.

The original plan was that Escobar might move to second base, and Blue Jays people joked that they didn't want to be the one to tell him.

That was before they tired of him, just as the Braves did two years back. The Braves traded him to the Jays for Alex Gonzalez, and the Jays were widely celebrated for making a great deal.

It doesn't look so great now. Toronto won't be Escobar's last stop.

But someone else will want him. You can be sure of that.



Boston wants to add two big bats to their lineup, not just one

Even more relievers signed on the final day of the Winter Meetings

Keep tabs on the top 50 free agents right here
The league is not happy Ohtani's medical information leaked

Kansas City and Baltimore were quite busy at the Rule 5 Draft

Piscotty's mother was diagnosed with ALS earlier this year