Escobar's agent: Tampa is a great fit for Yunel, Oakland may not be
Yunel Escobar's agent Alex Estabean made clear he hopes Oakland does not complete a trade for the talented shortstop after it claimed him.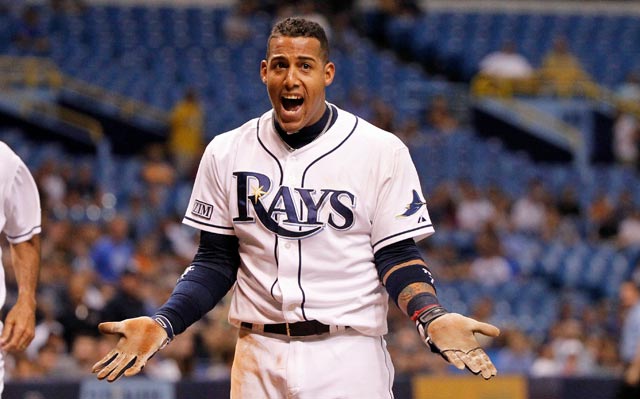 Rays shortstop Yunel Escobar's claim on revocable waivers by Oakland has raised some concern in the Escobar camp, which apparently prefers he stay in Tampa Bay where he felt he had finally found a home.
"I am very concerned with Yunel having been selected on waivers by Oakland," Escobar's agent, Alex Esteban, told CBSSports.com on Sunday night. "While I believe Oakland is an excellent organization, I don't feel that it is the best organization for him."
Escobar has seemed to get along swimmingly in St. Pete after some rough moments in previous stops in Atlanta and Toronto. He happily signed an extension that will pay him $13 million total in 2015 and '16. While Escobar, who makes $5 million this year, isn't having his best season, it should be no surprise the aggressive A's, whose starting shortstop Jed Lowrie is out with an injury, claimed him.
Oakland could certainly use Escobar, and since Lowrie is a free agent after the year, he definitely fits -- though Mark Topkin of the Tampa Bay Times late Sunday characterized the chances for a trade as less than likely, meaning the Rays will probably retain him. Regardless, Escobar evidently prefers not to go; he was seen as somewhat quirky in his previous stops but fits nicely with the Rays
"Yunel feels very comfortable with [Rays manager Joe] Maddon," Esteban said. "I think in today's stat-driven game we forget that players are people, and not numbers on a page. Before making a move on a player, clubs would be best served in assuring the player is compatible with their club. I'm not sure that has been done in this case."
With waiver moves there often isn't the time or inclination for much investigation, but in this case it's possible the chances for a deal just aren't great, anyway. Ken Rosenthal of Fox Sports first reported that Oakland had won the claim.
Escobar is seen as a fine two-way talent, but this year his offensive numbers are down a bit, as he is hitting .250 with four home runs and 31 RBI.
How should the Astros play it when one of their two aces isn't on the mound against the Do...

The former big-league infielder also worked as GM of the Puerto Rico national team

The Indians pitching coach would be getting his first MLB managerial job
In the last several years, lots of droughts have ended in MLB

The most likely scenarios are Dodgers winning in five or six games

Despite a seven-game ALCS, the Houston rotation lines up nicely for the World Series