Ethier, Dodgers agree on an $85-million, five-year extension
Andre Ethier will stay with the Dodgers five more years rather than test the free-agent market.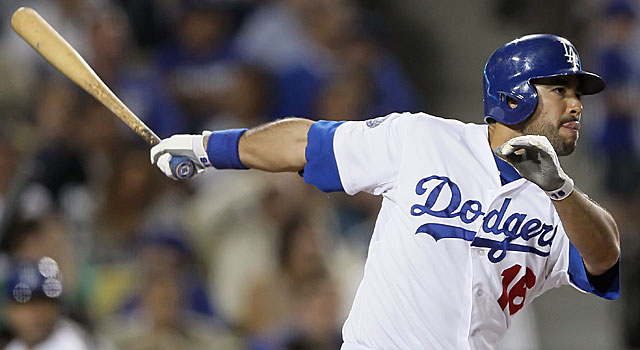 Andre Ethier leads the NL with 52 RBI and has 10 home runs for the first-place Dodgers.
(Getty Images)
The Dodgers and Andre Ethier are in agreement on an $85-million, five-year contract extension.

Ethier's new deal includes a sixth-year vesting option that could bring the deal to $100 million.

An announcement is forthcoming. News of the deal was first reported by CBSSports.com.

The deal, the third largest in Dodgers history after Matt Kemp and Kevin Brown, willl be worth $100 million if the sixth-year option vests based on plate appearances in 2017 or 2016-17. The plate-appearance threshold is one he has reached each year since 2008.

The Ethier deal is the first big one for the new Dodgers regime led by Mark Walter, Stan Kasten and Magic Johnson. It is not believed to include a no-trade clause.

The deal, also the third highest ever for a right fielder (after Manny Ramirez and Jayson Werth) will pay Ethier $13.5 million in 2013, $15.5 million in '14, $18 million in '15 and '16 and $17.5 million in '17. The 2018 option is worth $17.5 million, with the club paying $2.5 million if the option doesn't vest. Ethier is represented by Nez Balelo of CAA Sports.

Ethier was said to have been non-commital about returning to the Dodgers before the new Guggenheim Partners group bought the team in spring training. The day the new group came in Ethier said he was open to working out an extension. The sides have been working on it quite some time.

Ethier would have been eligible for free agency after this season but now will remain a Dodger through at least 2017. Ethier leads National League with 52 RBI and has 10 home runs and a .292 batting average for the first-place team.

The Dodgers now have two of their "big three'' players locked up. They signed Matt Kemp to an eight-year, $160-million extension last winter. The Dodgers wanted to keep intact its star positional tandem. Clayton Kershaw, the team's other big star, is signed through next year and eligible for free agency after the 2014 season.

The Dodgers have cut their payroll each of the last two winters, from $110 million in 2010 to $100 million in 2011 to $90 million this year. The new ownership group is committed to winning and is expected to expand the payroll from $90 million, a low total for a big-market team. The Guggenheim group paid $2.15 billion for the Dodgers, completing that deal with Frank McCourt in late March.

The free-agent market for outfielders remains fairly robust even after the Ethier signing. Josh Hamilton leads a group that also includes Michael Bourn, Melky Cabrera, B.J. Upton, Shane Victorino, Nick Swisher, Carlos Quentin and Torii Hunter.


Where might the Orioles third baseman land?

Kinsler will slot in at second base for the Angels

The Marlins got a better return for Ozuna than Stanton or Gordon
The two teams are going about things in very different ways

The Marlins are indeed in teardown mode under new ownership

The Marlins still have more attractive pieces