Evan Gattis has 10 HRs (and a great story), but no spot in Braves lineup
There are two dozen players in the big leagues with double-digit home runs. Twenty-three of them play every day. Then there's Evan Gattis.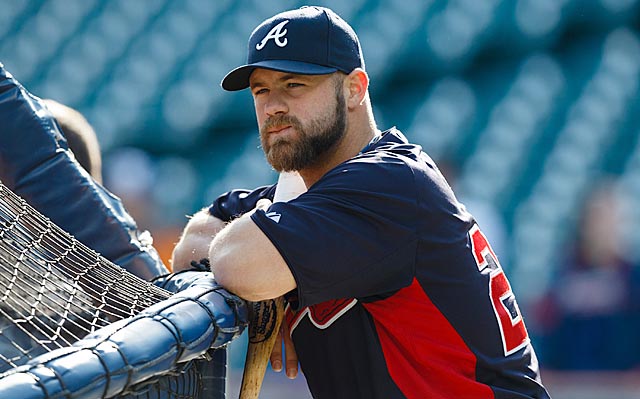 NEW YORK -- The Braves have a guy on their roster who is hitting home runs at a better rate than Miguel Cabrera.
Fredi Gonzalez has put him in the lineup once in the last 10 days.
I was tempted to ask the Braves manager, "Do you want to win?" But Evan Gattis already used that line on Gonzalez.
That was back in spring training, when Gattis wasn't sure the Braves were going to keep him on the opening-day roster. Gonzalez came to him trying to calm his nerves, and Gattis responded by suggesting if the Braves really wanted to win, they ought to prove it by taking him to the big leagues.
They did, and Gattis started hitting home runs. He has 10 of them in only 121 at-bats (Cabrera has 14 in 184 at-bats), and a bunch of them have been big ones.
His spot on the roster is so safe that Gonzalez said Friday, "Before he gets sent down, I'll go down."
He just can't get in the everyday lineup.
As of Friday, there were 24 players in the big leagues with double-digit home run totals. The other 23 play every day.
Gattis can barely get one start a week.
He said he understands why. He said he's not planning to break out his "do you want to win?" question on Gonzalez again.
"No, I get it totally," Gattis said. "I try to help when I can."
Gattis got starts in the first month of the season because Brian McCann was on the disabled list, and then because Jason Heyward was on the DL. But now everyone's healthy.
Gattis is versatile. He can catch, he can play first base and he can play left field. But McCann catches on most nights (and Gerald Laird catches Julio Teheran). Freddie Freeman plays first base. Heyward and Justin Upton hold down the two corner outfield spots.
"Can he play second base or center field?" one Braves person asked facetiously, not needing to add that Dan Uggla and B.J. Upton are the two Braves regulars who aren't hitting.
The Braves came to Citi Field this weekend with a six-game winning streak. You could say they're proving they can win without Gattis, except for the pinch-hit home run that won a game last Saturday and the pinch-hit home run that tied a game the Braves went on to win on Tuesday.
Gonzalez guaranteed again Friday that he will be able to get Gattis enough starts. He said Gattis will play Monday and Tuesday in Toronto, thanks to American League rules that will allow him to use Gattis or McCann as the designated hitter. He pointed out that there are plenty of left-handed starting pitchers in the National League East, and he said he'll use Gattis to give Freeman and Heyward a few days off.
"It's also nice having him on the bench," Gonzalez said. "You don't even have to match him up against a left-hander or right-hander. You just send him up there and tell the opposing manager, 'You figure it out.'"
Gattis leads the majors with three pinch-hit home runs, one short of the Braves record for a full season (set by Tommy Gregg in 1990). He has seemed to be able to handle the role, something he attributes in part to spending time as a DH over the winter in Venezuela.
Braves hitting coach Greg Walker said it helps that Gattis has a fairly simple swing. Walker believes that Gattis' strong start is sustainable, because of that swing and because Gattis has already shown the ability to adjust.
"I just don't see a whole lot changing," Walker said.
The only thing changing is that people are starting to believe in Gattis as more than just a guy with a great backstory. It's true that he was out of the game for nearly four years, true that he went through drug rehab, true that he worked for a while as a janitor before getting back in.
It's also true that he can really hit.
"Just a physical beast," Walker said.
He hit some home runs in the minor leagues, and showed enough promise that the Braves strongly encouraged him to play winter ball. He started hitting more home runs in Venezuela, acquired a nickname (Oso Blanco, for white bear) and attracted enough attention that Braves people began suggesting he could be their left fielder.
I heard that in December, and tweeted it at the time. I didn't totally believe they'd do it, so I didn't write more about it then. And, of course, they ended up filling the left-field spot by trading for Justin Upton.
Upton has hit 14 home runs. But you know who has more RBI than him this month? Evan Gattis.
And he can't get in the lineup.
Do they want to win?
CBS Sports HQ Daily Newsletter
Get the best highlights and stories - yeah, just the good stuff handpicked by our team to start your day.
Please check the opt-in box to acknowledge that you would like to subscribe.
Thanks for signing up!
Keep an eye on your inbox for the latest sports news.
Sorry!
There was an error processing your subscription.
Here's what you need to know about Tuesday's Midsummer Classic

Everything you need to know about this season's All-Star Game

The NL has hosted the last three All-Star Games, including 2016 when the AL was the designated...
MLB has had a relationship with the charity for 10 years and has generated $43 million in...

The DH could be coming to the NL sooner than later

Heavy rain is expected in the afternoon, though it'll be all clear by game time