Even after misstep, Sean Doolittle on pace for history
Sean Doolittle of the A's blew a save Saturday, but he's still on pace to make history this season with 56 strikeouts and just one walk.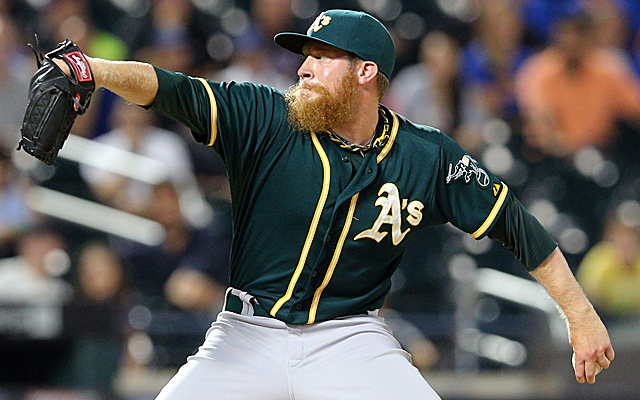 More MLB: Power Rankings | Expert Picks | Latest news & notes | Fantasy news
Oakland Athletics closer Sean Doolittle coughed up a lead Saturday, allowing one earned run on two hits in the ninth inning in Miami. It was newsworthy because it marked the first time in 25 outings that Doolittle allowed a run to cross the plate.
In fact, the outing was an incredible outlier in terms of how Doolittle has worked this season.  The 27-year-old lefty is doing things few in MLB history have ever done.
As things stand right now, Doolittle has 56 strikeouts and one walk. That's no typo, I'm sure of it. In 39 innings, the good Doctor has only offered up one single, solitary walk while punching out 12.9 batters per nine innings.
Given that the A's are not even halfway through the season, Doolittle's K/BB pace is astounding (113 K, 2 BB). Even if we prepare for a step back and set the parameters to 80 strikeouts and 10 walks, only seven times in MLB history has a man ever done such a thing:
Dennis Eckersely, 1991, 87 K, 9 BB
Doug Jones, 1997, 82 K, 9 BB
Rafael Betancourt, 2007, 80 K, 9 BB
Rafael Betancourt, 2010, 89 K, 8 BB
Koji Uehara, 2011, 85 K, 9 BB
Jonathan Papelbon, 2011, 87 K, 10 BB
Koji Uehara, 2013, 101 K, 9 BB
So the closest thing we've ever seen compared to what Doolittle is doing now is Uehara last season. And Doolittle is doing it better.
Get this: The only two times in MLB history a pitcher has had at least 18 strikeouts per walk (minimum 30 innings pitched) came via Hall of Famer Dennis Eckersley. In 1989, he had an 18.33 ratio and in 1990 it was 18.25. Doolittle's this season is 56.00. That's insanity and I'm sure Elaine Benes would agree it deserves an exclamation point or two.
Doolittle's run that just came to an end was even more insane.
From April 29 through June 27, he appeared in 24 games, allowing zero runs on six hits and one walk in 26 1/3 innings. He struck out 42. Opposing hitters managed a .072/.082/.096 line against him. That is downright laughable.
The lefty ranks as the top reliever in baseball by Fangraphs WAR. Opponents are hitting .159/.164/.239 against him. Essentially, the opposition is rendered a version of a meek opposing pitcher in the batter's box when Doolittle takes the hill. On a day that follows a blown save of his, it's worth remembering just how rare his slip-up is this season.
The Nationals are looking to improve on the edges of their roster

Ellsbury is due at least $68 million over the next three seasons

Wright was arrested at his home Friday
The former Tigers teammates were voted into Cooperstown by the 16-person Modern Era Commit...

The Yankees still have room for a good-sized signing even after Saturday's trade with Miam...

St. Louis gets some much needed help for their bullpen