Even at Fenway, Mariano Rivera gets a standing O
Mariano Rivera got another standing ovation Saturday, this time from Red Sox fans.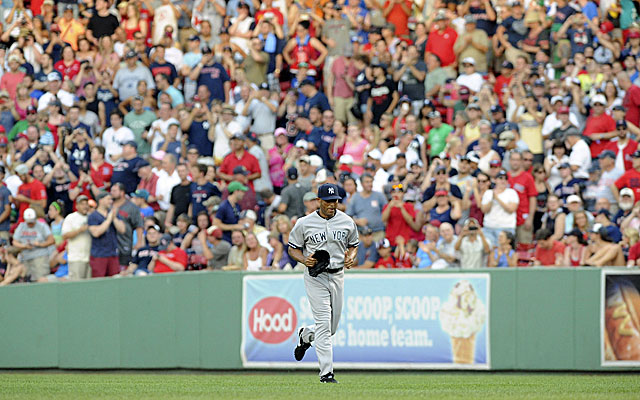 BOSTON -- Even at Fenway Park, Mariano Rivera gets respect.
Not many Yankees do, not here. But as Rivera jogged in from the bullpen Saturday to pitch the ninth inning, the Red Sox fans stood and cheered. They cheered even louder as Rivera's name was announced over the public address system.
Rivera got the final three outs of the Yankees' 5-2 win over the Red Sox, for his 31st save of the season.
"It's kind of like appreciation, I guess," said Rivera, who also noticed fans cheering when he jogged out to the bullpen in the middle innings of Friday night's game. "But it's great that they do that."
Rivera is getting cheers everywhere this year, and was the focus of the best All-Star moment in many years last Tuesday night at Citi Field.
It was unusual enough to see Mets fans so ready to honor a Yankee. But Red Sox fans?
Yes, even Red Sox fans.
Rivera obviously has quite a bit of history with the Red Sox and with Fenway Park. He had blown saves in both Game 4 and Game 5 of the 2004 ALCS, which started the Red Sox on the way to their historic comeback in the series.
Red Sox fans cheered Rivera when he came to Fenway for the first time in 2005, and when he responded by tipping his cap, he helped create a bond that is unusual for a Yankee player.
"I respect the organization," Rivera said. "I always love to pitch here. We've played big games here."
Saturday's game won't go down as one of the biggest. But in some ways, the Rivera tribute made it memorable.
Walker was a tremendous all-around player, but Coors Field undoubtedly inflated his career...

A beardless Wilson says that he tried to outrun the police on the second day he had his driver's...

The Diamondbacks outfielder was not impaired, he was just going way too fast
MLB can unilaterally implement rule changes, which will also include limits on mound visit...

If the MLBPA wants to repair MLB's salary structure, it should push for more money for young...

Fans aren't happy Gerrit Cole and Andrew McCutchen have been traded away