Everyone wants an Earl Weaver (but good luck finding one)
Earl Weaver, who died early Saturday morning at age 82, was the rarest of baseball rarities. He was a franchise-defining manager, not only helping the Orioles to become winners but making them into the team that Baltimore fondly remembers.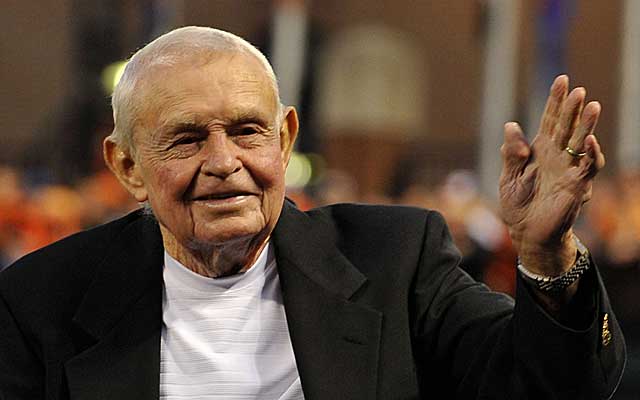 Orioles legends function last year. (US Presswire)
Every franchise needs an Earl Weaver.
Few will ever find one.
It's hard enough to find a manager who can win. It's hard enough to find a manager who can last (although it sure is easier to last if you win).
But where do you find a franchise-defining manager?
More on Earl Weaver
Related links
Where do you find an Earl Weaver?
When the Orioles returned to relevance last summer, we liked to talk about how Baltimore was "back" as a baseball town. What we really meant is that it felt a little bit like those years when Earl was in the dugout.
It even became popular in Baltimore to talk about how Buck Showalter could sometimes remind you of Weaver. There are similarities.
It's no offense to Showalter to say he's not Earl Weaver.
Who is?
Weaver has been out of the Orioles' dugout since 1986, but in some ways he never left. His name and number are on a plaque in the Camden Yards home dugout, and last summer a Weaver statue joined those of many of his former players.
He needed those players. Of course he did. No manager wins without great players.
But they needed him, too. The Orioles needed him. Baltimore needed him.
Weaver died early Saturday morning at age 82, so you'll hear plenty of talk today about how many games his teams won. And they did win, with five 100-win seasons and four World Series appearances.
You'll hear plenty of talk about how he was ahead of his time in his understanding and use of statistics. And he was, keeping track of numbers long before a computer made it easy or others made it fashionable.
You'll see tapes of Weaver arguing with umpires. And oh, yes, he argued.
He argued with players and reporters, too, although his ex-players (and the reporters who covered them) spend a whole lot more time praising Weaver than they ever spent complaining about him.
He was a character, and I mean that in the very best of ways, because the very best of baseball managers tend to be characters. If it's not a job requirement, it's at least a major plus.
They win, but they also entertain. They don't distract from the players (except when it's needed), but they shape the franchise more than any one player can.
The Orioles are Jim Palmer and Cal Ripken, Brooks Robinson and Frank Robinson. But the Orioles are also Earl Weaver. And when they talk about The Oriole Way, in a large sense they're talking about Earl's Way.
They still quote him in Baltimore. They always will, as long as the Orioles are playing.
We talk so often about how hard it is to find a true No. 1 starter or how hard it is to find a real leadoff hitter.
But where do you find a franchise-defining manager?
Forty-five years ago, the Orioles found one. On Saturday, they lost him.
In a way, though, he'll never be gone.
Will J.D. Martinez be Boston's next target?

Could catcher J.T. Realmuto be the next Miami player to be traded?

If the slow-play for Martinez, Hosmer and Arrieta sounds familiar, it should
The Nats will host the All-Star Game in 2018

The Orioles are looking to trade Machado heading into his walk year

The Cardinals have been linked for a while to the Baltimore star