Ex-MLBer Clark says Albert Pujols used PEDs; trainer says not so
Former slugger and current talk-radio host Jack Clark has some interesting things to say about Albert Pujols. And Justin Verlander.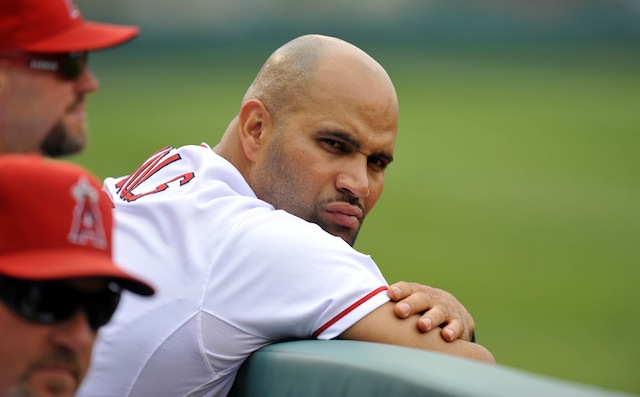 More MLB: Scoreboard | Standings | Probable Pitchers | Sortable Stats | Odds
Former major-league slugger Jack Clark (340 home runs across parts of 18 seasons) is these days a talk-radio personality, and in keeping with the traditions of the medium he's making some pointed accusations at Albert Pujols of the Angels.
As Dan Caesar of the St. Louis Post-Dispatch writes, Clark recently responded to his co-host's stated belief that Pujols has been a "juicer" as follows:
"I know for a fact he was. The trainer that worked with him, threw him batting practice from Kansas City, that worked him out every day, basically told me that's what he did."
To hear Clark tell it, in 2000, during his days as Dodgers' hitting coach, Pujols's former personal trainer, Chris Mihlfeld, "had told me what he was doing with 'Poolie' — threw him batting practice, worked him out, shot him up, all that stuff."
Clark went on to provide some background on his discussions with Mihlfeld:
"I had asked him about conditioning and working me out, what he would do for me, and he asked me whether I had ever thought of taking some steroids. ... He just told me that he wanted me to get started on steroids and he had some other guys that were doing it. He told me that's how he's conditioning this guy that he met out of high school and college and he looked like he was going to be a star, keep an eye on him.''
The "guy that he met of high school" would be Pujols, at least according to Clark.
Pujols's agent, Dan Lozano, declined to comment on Clark's accusations. Pujols himself has previously denied using performance-enhancing drugs. As for Mihlfeld himself, he provided the following written statement to CBS News:
"I haven't even talked to Jack Clark in close to 10 years. His statements are simply not true. I have known Albert Pujols since he was 18 years old and he would never use illegal drugs in any way. I would bet my life on it and probably drop dead on the spot if I found out he has. As before once again both Albert and myself have been accused of doing something we didn't do."
Mihlfeld at the end of his statement references the fact that his name was once falsely reported to have been redacted from a federal affadavit concerning Jason Grimsley, a former MLB relief pitcher allegedly linked to PED distribution and a former client of Mihfeld's.
Unlike a lot of half-cocked assertions on this topic, Clark's accusation is at least based on a conversation he claims he had, although, as noted above, Mihlfeld strongly disputes Clark's version.
At the same time, Clark goes pathetically off the rails in his discussion with Caesar when he raises suspicions about Justin Verlander of the Tigers based on velocity loss (Verlander hasn't lost velocity) and former MLBer Shawn Green based on a visual diagnosis of "bacne" (countless things besides steroid use can cause bacne, to state the obvious).
Developing, I'm sure.
CBS Sports HQ Daily Newsletter
Get the best highlights and stories - yeah, just the good stuff handpicked by our team to start your day.
Please check the opt-in box to acknowledge that you would like to subscribe.
Thanks for signing up!
Keep an eye on your inbox for the latest sports news.
Sorry!
There was an error processing your subscription.
Hernandez also said the Dodgers lost because they 'sucked'

The slick-fielding shortstop has been an offensive weapon for the last six weeks

Jhoulys Chacin shut the Dodgers down for 5 2/3 innings in Game 3
The postseason is underway and the World Series starts Oct. 23

The NLCS starts Oct. 12 in Milwaukee

It's been a postseason to forget for the Dodgers' catcher