Examining free agent power hitters by batted ball distance
When it comes to simply hitting the ball a long way, some free agents have shown better trends than others.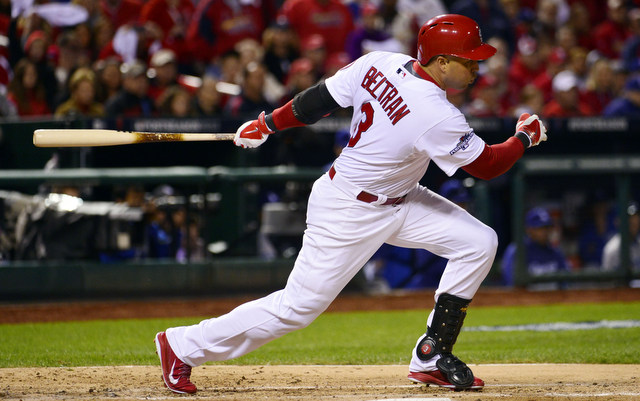 Power is in short supply around baseball these days. Offense has declined around the league and the ability to hit the ball out of the ballpark has become a hot commodity. Guys who hit home runs, regardless of the rest of their skillset, consistently get paid on the open market.
Power does not last forever, however. A player might have been a consistent power threat early in his career, but by time he hits free agency, usually in his early-30s, the ability to go deep might be on the decline. Teams often wind up paying for what a player has done rather than what he will do in the future.
There are a number of ways to measure power, whether it be simple home run totals or slugging percentage or something a little more in-depth like isolated power. Another way is batted ball distance, or how far the player hits the ball on average. If a guy stops hitting the ball as far as he once did, his home run total figures to drop. As an example, here is a look at Adrian Gonzalez's batted ball distance over the last few seasons: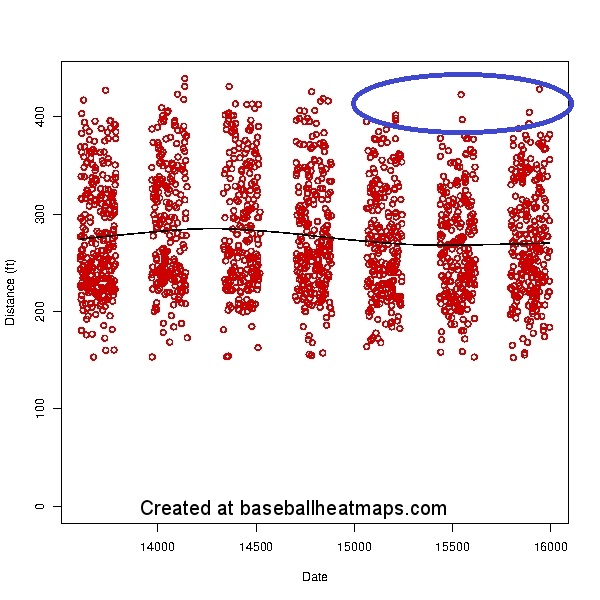 The data comes courtesy of the indispensible Baseball Heat Maps. The vertical clusters are years, so from left to right you're looking at 2007 through 2013. Each red dot is a batted ball, specifically a fly ball, line drive, pop-up or home run. Anything hit in the air, basically. The black line in the middle is the average distance. Easy enough, right?
I added that blue circle to highlight something, specifically that Gonzalez hasn't been hitting those super-far fly balls these last three years. Notice his average fly ball distance (the black line) has slipped a bit during this time as well. This is notable because three years ago, during the 2010-11 offseason, Gonzalez had right shoulder surgery, his front shoulder while hitting. There's evidence that an injury to the front shoulder impacts a hitter's power, and, sure enough, Gonzalez is showing the symptoms.
Obviously that is a special case because of the surgery. I cherry-picked Gonzalez as an example because his situation helps explain how batted ball distance can be a useful tool. Let's do something similar for the top power-hitting free agents. Here are the six free agents who have hit the most home runs since 2011 with their batted ball distance charts.
Curtis Granderson, 91 HR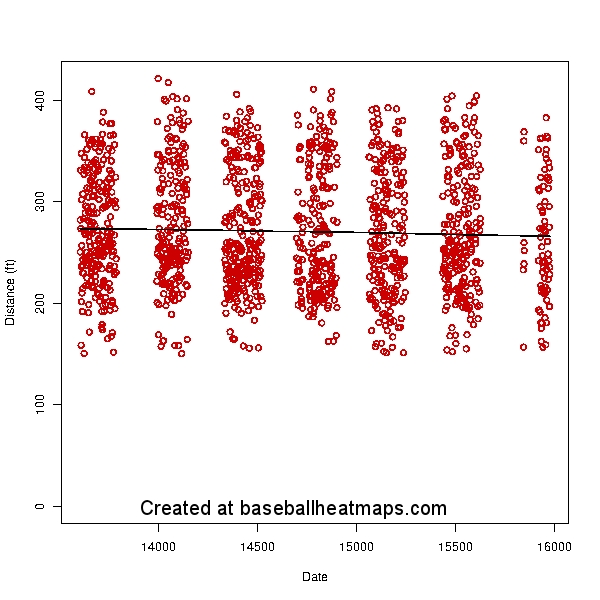 Granderson missed more than 100 games this past season due to injury and he still leads the free agent class in homers over the last three years. That's what happens when you go deep 41 times in 2011 and 43 times in 2012. It's worth noting he's not just a product of Yankee Stadium's short right field porch either -- over the last three seasons he's hit 49 homers at home and 42 on the road.
As you can see from the chart, Granderson's batted ball distance has not changed since the data started be recorded in 2007. There's a very (very) slight decline in average batted ball distance from 2007-13 despite the injuries this year, both of which involved broken bones in his hands and arms. There are reasons to be concerned about giving Granderson a multiyear deal at age 32, but his power and ability to hit the ball a long way is not one of them.
Robinson Cano, 89 HR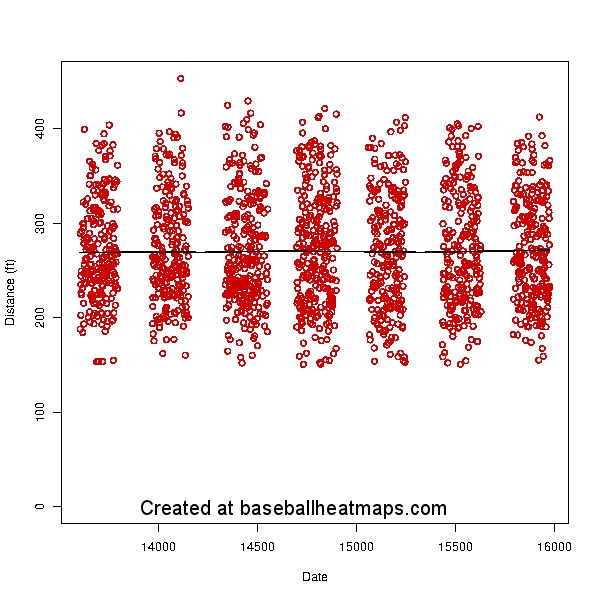 Again, we see no significant year-to-year change in batted ball distance. Cano, who just turned 31 last month, was hitting the ball as far at 30 as he was at 24. He's an elite player for a reason. No worries here.
Mark Reynolds, 81 HR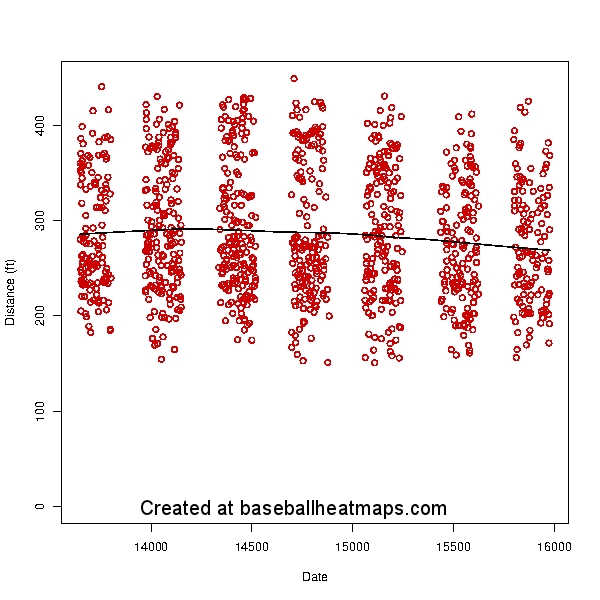 Okay, now we're talking. The 30-year-old Reynolds has shown a noticeable slip in batted ball distance -- both yearly average and maximum distance (notice the general lack of red dots at the top from 2011-13 compared to 2007-10) -- the last few years, which has coincided with a decline in production at the plate.
During his 44-homer season in 2009, Reynolds averaged 294.7 feet when hitting the ball in the air. That dropped to 288.4 feet by 2011 and 274.3 feet by 2013. Reynolds is going to have to settle for a one-year contract this winter anyway, but it's hard to ignore that pretty much his only redeeming quality is trending in the wrong direction.
Nelson Cruz, 80 HR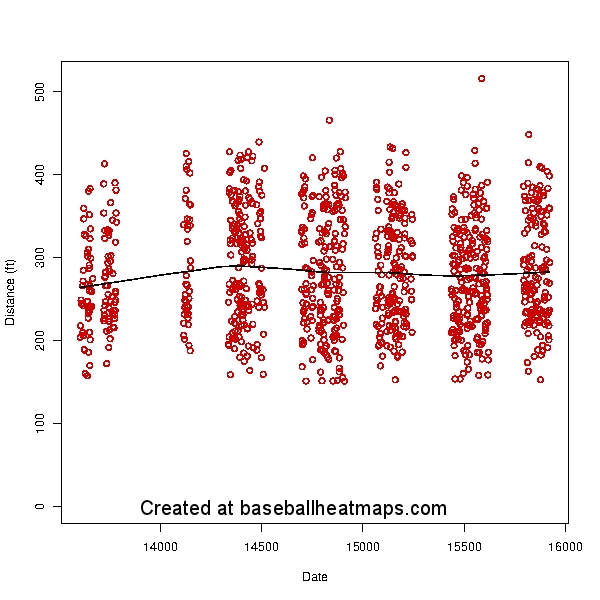 First things first: that 500-something-foot blast in 2012 was not a home run, or at least not a home run that was caught on video. I must have been a foul ball. Pretty crazy.
Secondly, Cruz did not become an everyday player until 2009, hence the lack of data for 2007-08. His batted ball distance has held fairly steady since 2009 with a very slight uptick this past season. There is the whole Biogenesis/performance-enhancing drug suspension thing to consider, but based on this information, there are no major red flags. Cruz was hitting the ball far when he broke into the league full-time in 2009 and he was hitting just as far when he got suspended in 2013.
Carlos Beltran, 77 HR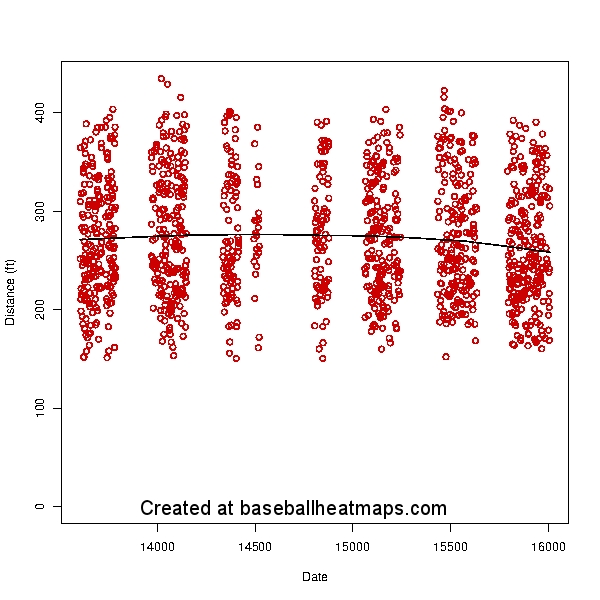 Like Reynolds, Beltran has seen the distance of his various airborne batted balls decline in recent years. He has a good excuse though -- Beltran will turn 37 in April and is at (beyond, really) the age when you'd expect to see something like this. His average batted ball distance was 272.7 feet as recently as 2011. This past season it was 262.4 feet. Beltran is reportedly seeking a three or four-year contract this offseason and that's scary enough as it is for a guy his age. Add in the declining batted ball distance and there's an even greater reason to worry.
Mike Napoli, 73 HR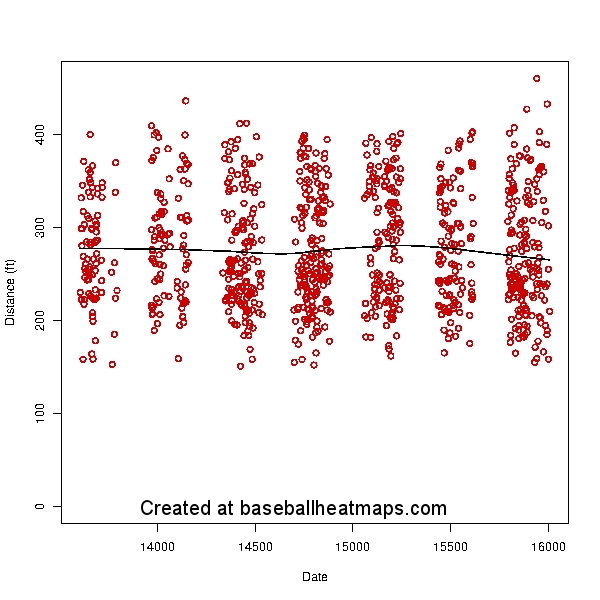 Napoli didn't get a chance to play regularly until 2009. His batted ball distance has wavered over the last half-decade and it's worth noting he's battled a bunch of injuries over the years, including right shoulder surgery in 2008 -- his back shoulder when hitting -- and a degenerative hip condition in 2012-13. Napoli's average batted ball traveled 272.6 feet in 2009, 288.4 feet in 2011 and 271.6 feet in 2013. He's going to get a multiyear contract this winter, but there's some unpredictability here.
* * *
These six guys have all hit at least 10 more home runs than every other free agent position player over the last three seasons (aside from Paul Konerko, who hit 69 homers and is likely to retire). All except Reynolds are a lock to receive a multiyear contract this winter, but a few of them have shown declining skills when it comes to the straight-forward task of hitting the ball far. A slip in power may be forthcoming and no one wants to be left holding the bag when that time comes.
The lefty starter is coming off a terrible season

After acquiring Ian Kinsler and Zack Cozart in recent days, the Angels are trending upward

Cozart's coming off a big season as the Reds' shortstop
The veteran slugger spent the last eight seasons with Cleveland

The Padres may be poised for an active winter

Yes, Bryce Harper is going to make a lot of money next winter