Examining Jeff Kent's Hall of Fame case
Let's continue taking a look at the players on the Hall of Fame ballot in 2014. Up this time is a hard-hitting second baseman.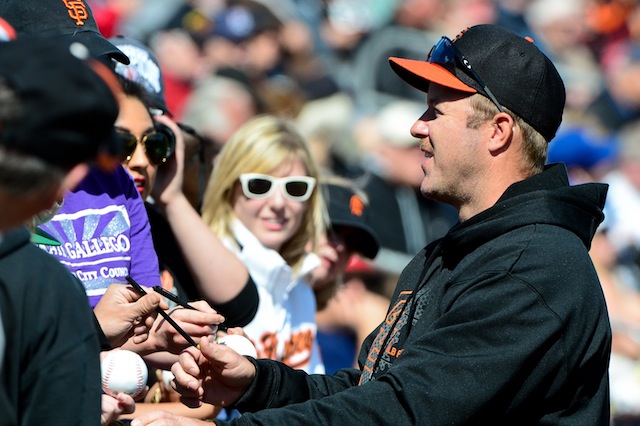 Hall of Fame cases: Luis Gonzalez | Moises Alou | Lee Smith | Fred McGriff | Don Mattingly | Jack Morris | Rafael Palmeiro | Sammy Sosa | Edgar Martinez
Each day in this very space, we've been running down the "for" and "against" cases of every player on the Hall of Fame ballot for 2014 leading up to the Jan. 8 announcement of the voting results.
By way of reminder, we're not doing this in order to advance an opinion of each candidate; rather, we're merely laying out the best arguments on both sides. From there, it's up to you to decide whether the player in question is Cooperstown-worthy according to existing standards. 
Up this time around is Jeff Kent.
THE BARE ESSENTIALS
Across parts of 17 major-league seasons for the Blue Jays, Mets, Indians, Giants, Astros and Dodgers, Kent batted .290/.356/.500 with 2,461 hits; 377 home runs; 560 doubles; 1,518 RBI and 1,320 run scored. Of his 19,059 2/3 career defensive innings, 17,055 2/3 came at second base. Kent made the All-Star team five times, won four Silver Sluggers and was voted NL MVP in 2000. On three other occasions, he finished in the top 10 in the MVP balloting. 
THE CASE FOR INDUCTION
Kemp was very simply one of the top-hitting second basemen of the modern era. He owns a career OPS+ of 123, and, as implied above, spent 89.5 percent of his defensive innings at the premium position of second base. Broadly speaking, Kent hit like an All-Star first baseman but manned an up-the-middle spot. 
More broadly, Kent is presently in the top 100 all-time for home runs (68th place), total bases (64th), doubles (24th), RBI (49th), extra-base hits (39th) and sac flies (22nd). Of his 377 home runs, 351 came while Kent was playing second base, which is an all-time record by a comfortable margin. It's also worth noting that Kent's 9,537 plate appearances rank just outside the top 100 all-time, and that's despite his spending so much time at a position known for its injury and attrition rates. 
Also worth mentioning are Kent's strong career numbers in the postseason: .276/.340/.500 with nine home runs in 49 games. Three of those home runs came in the 2002 World Series, during which he slugged .621. 
THE CASE AGAINST INDUCTION 
To muster a case against Kent, you'd most likely turn to his suspect defense and the prevailing offensive environment in which he played.
Kent, while solid in his prime at the keystone, was on balance a defensive liability according to reputation, the eyeball test and the Total Zone metric. As well, Kent's outstanding in-a-vacuum offensive numbers are made to look a little less impressive by the era in which he played. Run scoring vaulted in 1993, not long after Kent made his debut, and ranged from 4.60 runs per game (rpg) to 5.14 rpg over the span of his career. To put this in context, last season MLB teams averaged 4.17 rpg. In other words, Kent was hitting, but so were lots of others. 
Beyond all of that, Kent was widely known as a difficult personality throughout his career. He famously clashed with Giants teammate Barry Bonds, and he -- also famously -- lied to the Giants about the source of his March 2002 wrist injury. Most damningly of all, he once said Vin Scully talked too much. The extent to which any of that affected his on-field value is up for debate, of course. 
Insofar as 2014 is concerned, a voter who thinks Kent is worthy can still plausibly ask whether he's one of the ten best candidates on the ballot. After all, thanks to the PED-era logjam and the BBWAA's tortured approach to suspected users, we have more worthy candidates than available spots on the ballot. It also doesn't help that another second baseman on the ballot -- Craig Biggio -- is generally considered to be the stronger candidate. 
Friday: The cases for and against Alan Trammell
CBS Sports HQ Daily Newsletter
Get the best highlights and stories - yeah, just the good stuff handpicked by our team to start your day.
Please check the opt-in box to acknowledge that you would like to subscribe.
Thanks for signing up!
Keep an eye on your inbox for the latest sports news.
Sorry!
There was an error processing your subscription.
Hernandez also said the Dodgers lost because they 'sucked'

The slick-fielding shortstop has been an offensive weapon for the last six weeks

Jhoulys Chacin shut the Dodgers down for 5 2/3 innings in Game 3
The postseason is underway and the World Series starts Oct. 23

The NLCS starts Oct. 12 in Milwaukee

It's been a postseason to forget for the Dodgers' catcher