Expect disappointment with this Hall of Fame class
There are lots of worthy candidates for the Hall of Fame, including four who shouldn't even cause the blink of an eye. History tells us no more than three are getting in, though, and it might not even be three players from the aforementioned should-be surefire four.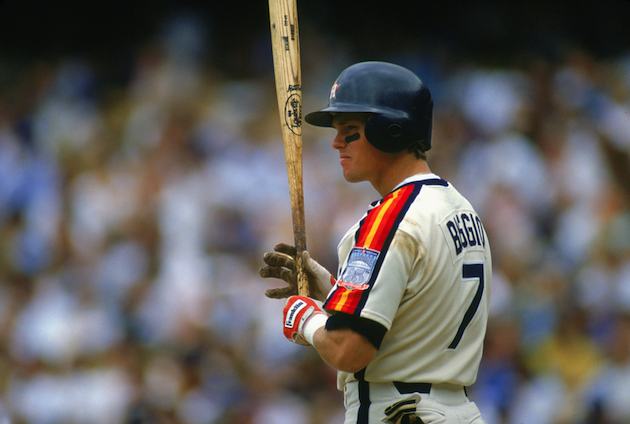 2014 Hall of Fame ballot revealed | Analyzing the crowded ballot
In looking at the 2014 BBWAA Hall of Fame ballot, it's hard for me to mount significant arguments about many of the top candidates. It's absolutely loaded.
Now, yes, this is the time that a few certain types of people crawl out of the woodwork.
1. The PED dissenters. I'm not gonna touch this. I disagree, but there's no reason in having the argument again for the billionth time now when I plan to do so multiple times in December and January.
2. The people who reinvent history. No, the Hall of Fame isn't "becoming watered down." That's a false argument made up because of an ulterior motive -- i.e. trying to prove someone obvious like Craig Biggio doesn't belong in the Hall. Last winter, I made a team of Hall of Famers to illustrate as much -- and the hardest part was eliminating guys from the list of what I considered borderline, not finding guys to fill it out. Even if you disagree with some of the selections, you have to admit there are some very questionable Hall of Famers and upwards of a dozen players on the ballot this year are better than the majority of that list.
If you're in the latter group and think the standards need to change, we disagree, but at least admit you want the standards to change. Don't try and argue against someone like Jeff Kent -- one of the 10 best offensive second basemen in baseball history -- with the "watered down" argument. Going by historical standards of the Hall, he qualifies as an enshrinee.
Then again, all the dissenters are going to be happy come January.
The voting history of the BBWAA paints a dire picture for people like myself who believe at least 12 of these guys are deserving.
Consider the following:
Derek Jeter (active), Rafael Palmeiro (failed drug test) and Biggio (?). The best guess is some voters decided that he didn't deserve "first ballot" consideration, but all that does is further strain the ballot moving into this season. 
•Since 2005, multiple players have been selected in only three of the seven votes.
•The last time more than two players made the Hall of Fame in a given vote was 1999, when it was no-doubters Nolan Ryan, George Brett and Robin Yount. Since 1955, the BBWAA has elected a three-man Hall of Fame class just four times. So of the Biggio, Greg Maddux, Tom Glavine and Frank Thomas group, history says at least one guy -- if not two or even three -- is going to be left out. For me, those four are slam-dunk, no-doubt, you're-biased-if-you-disagree Hall of Famers.
•To compound on the above point, Jack Morris is going to be rallied for by the old-school voters like you wouldn't believe. It's his final attempt and last year his vote jumped from 52.2 percent to 67.7 percent. In his 15th and final go-round, the campaign from his supporters is going to be overzealous and it may work. If it does, that means only one or two of the much more deserving Biggio-Maddux-Glavine-Thomas group makes it -- again, unless the BBWAA voting body takes a massive turn in voting history. 
•Aside from the original class of inductees, the BBWAA has elected a four-man class twice. In 1955, Dazzy Vance, Ted Lyons, Gabby Hartnett and Joe DiMaggio made it while Carl Hubbell, Lefty Grove, Frankie Frisch and Mickey Cochrane were inducted in 1947. Those were in the first 20 years of voting and the voting body has completely changed, so that really has no bearing on this year's ballot.

Basically, in looking at this season's ballot, people who believe the Hall of Fame should keep standards similar to how it always has are going to be very disappointed. Even if history is made and Biggio, Maddux, Glavine, Thomas and Morris get in, there are several other very worthy men on this ballot being left out. We'll get to those type arguments in the next couple months with copious amounts of coverage.
But guess what? History won't be made in terms of five guys being inducted. There won't be more than three. That will equal lots of unhappy fans. Again.
Keep tabs on the top 50 free agents right here

Your one-stop shop for all things MLB Winter Meetings-related

The Angels knew about the first-degree sprain and still wanted to sign the potential ace, of...
The run on relievers continues with two more signings

The Yankees added Giancarlo Stanton in a blockbuster trade, though they now have openings at...

Smyly is currently on the mend from Tommy John surgery