'Experienced,' fun-loving Orioles force Game 5 (and it's only must-win for the Yankees)
The Orioles played their most stressful game of the year last week, in the wild-card play-in game in Texas. They won it. They know they're playing with house money now, even as they head back into winner-take-all territory, in Game 5 Friday afternoon in New York. They want to win, they expect to win, but it's only must-win for the team feeling the stress on the other side of the field.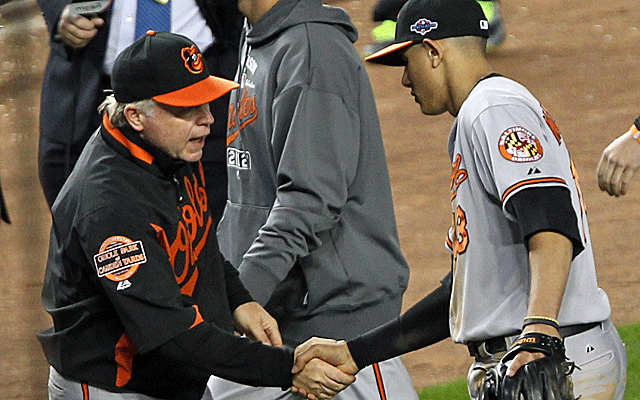 The fun-loving Orioles are playing carefree baseball.
(US Presswire)
NEW YORK -- No matter what they say, Thursday wasn't a must-win game for the Orioles.

Friday isn't, either, no matter what they say.

They want to win. They even expect to win, no matter what anyone else might say about Game 5 Friday afternoon in the Bronx.

But this isn't must-win, not for them. They did that last week in Texas.

"I tell you what, that play-in, there's no more stressful game than that," Darren O'Day said. "We've been there. I think it's to our advantage."
More on Orioles-Yankees
Who wins World Series?
Whoever thought the Orioles would be the team citing postseason experience as being in their favor in a series against the Yankees? But whoever thought the Orioles would be in a postseason series against the Yankees, let alone forcing them to Game 5 with a 2-1, 13-inning win in Thursday night's Game 4?

"They thought we'd be making tee times by now," O'Day said.

Instead of laughing on the golf course, they're laughing in the clubhouse, fully enjoying a series that sometimes seems filled with nothing but stress for the guys on the other side.

There's no debate about $29 million cheerleaders here, and not just because there are no $29 million players here. There's no one getting booed.

The Orioles play with the free spirit of a team with nothing to lose, because really, they have nothing to lose.

A loss Friday, and the Yankees spend the rest of the winter dissecting another first-round disaster (and lamenting the five years and $114 remaining on Alex Rodriguez's contract). A loss Friday, and the Orioles get an early start adding up the memories of what has already been a great season.

None of this is to suggest that the Orioles want this any less than the Yankees do. They just know they're playing with house money, and have been for this entire series.

"Just look where we came from," O'Day said.

Yes, just look.

Their third baseman was a just-turned-20 Double-A shortstop when August began. Now Manny Machado is the only third baseman who has homered in this year's American League playoffs, one of three 20-year-olds who has ever homered in a postseason game (along with Mickey Mantle and Miguel Cabrera). He's also the only one with a 13th-inning leadoff double, the one that led to the Orioles' winning run in Game 4.

"I'm not sure he's 20," said J.J. Hardy, whose double drove Manny Machado home with that winning run.

"I know it's tough to believe," said Nate McLouth. "But some of the stuff he says, you know he's 20."

The Orioles say things like that. They also say things like this:

"I kind of try to imagine myself in that position as a 20-year-old," McLouth said. "I mean, I'd have to wear a diaper."

If the Orioles win Friday, get ready for McLouth to become one of the pre-series stories of the ALCS. He grew up in western Michigan as a Tiger fan.

He's also a typical 2012 Oriole, in that his back-story is amazing. He began the year with the Pirates, where he hit .140 and got released. He went to Triple-A with the Orioles, batted just .244, and still got called up.

He was the third-place hitter, and then Nick Markakis got hurt, and McLouth became the leadoff hitter. And in the fifth inning Thursday, it was McLouth's home run that gave the Orioles a 1-0 lead.

The Orioles do have some true stars, but Adam Jones and Matt Wieters have been mostly silent in this series. You don't hear as much about them as you do about A-Rod and Curtis Granderson, and no one is suggesting that Orioles manager Buck Showalter bench them for Game 5, as plenty are suggesting that Yankees manager Joe Girardi do with A-Rod (and maybe with Granderson, too).

The A-Rod story hangs over this series, and it hangs over this Yankee team. He was booed loudly again Thursday. He was also pinch-hit for in the ninth inning again, although it says quite a bit about his decline that this time the decision to hit for him created no stir at all.

With the Orioles starting right-hander Jason Hammel in Game 5, and with A-Rod 0 for 12 with nine strikeouts against right-handers in this series, Girardi's next move has to be to bench him for Game 5. With Derek Jeter possibly limited to designated hitter duty again because of a bruised foot, the Yankees could be playing a winner-take-all game with Jayson Nix and Eric Chavez on the left side of the infield.

The Yankees last played a winner-take-all game at the end of last year's Division Series against the Tigers. They lost that one.

In fact, the Yankees haven't won a winner-take-all game since the Aaron Boone game against the Red Sox in 2003. Manny Machado was 11 years old back then.

The Orioles? They won their winner-take-all game just last week.

That was the game with pressure. That was the game with stress. Lose that game, and they'd go home without ever really celebrating, without ever playing a home game in the playoffs, without ever really feeling like they were in the playoffs.

That was the tough one. This one's the fun one.

And fun is perfect for this group.

"I've never been on a team that's this much fun," said O'Day, who was with three other big-league organizations before he was fortunate enough to land with the Orioles.

They're fun, and they're a great story.

For weeks, we've been asking whether they're the best story. When the A's ended the regular-season with the three dramatic wins to take the AL West title, they seemed to wrap up the "best story" title along with it.

But now the A's are done. They're done with nothing to be ashamed of, but they are done.

The Orioles aren't. Not yet, and maybe not for a while.

They don't need another win to prove themselves. But they fully believe they're going to get one, anyway.
The Red Sox and Cardinals are expected to make trade offers next

The free agent first baseman may be a fit in St. Louis

The front office changes in Atlanta continue
The Marlins are more likely than you think on our list

Judge finished a distant second in the balloting and he paid respect to the winner

Stanton just won the 2017 NL MVP award but could wind up being dealt this offseason