Extension is a great deal for Kershaw, necessary deal for Dodgers
The Dodgers agreed to make Clayton Kershaw the wealthiest pitcher in baseball history on Wednesday. It was a deal they had to make.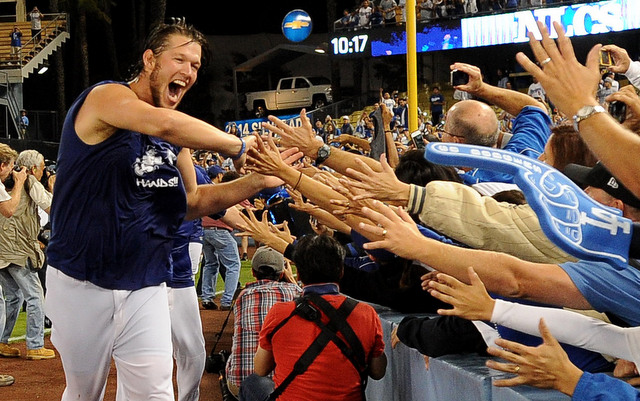 MORE: FA tracker: position players | FA tracker: pitchers
For all intents and purposes, the Dodgers have agreed to pay Clayton Kershaw $1 million per start for the next half-decade. The left-hander's record seven-year, $215 million contract extension comes with a $30.7 million average annual value as well an opt-out clause after the fifth year. He can still become a free agent at the age of 30.
Everyone would be happy with $215 million, but there's a chance Kershaw actually left money on the table with the extension. He is only 25 and he's the best pitcher in the world, leading baseball in ERA in each of the last three years with two Cy Youngs to show for it. He was also scheduled to hit free agency next winter, when a bidding war could have broken out between the Dodgers, Yankees, Red Sox, Tigers ... pretty much every team. Kershaw could have easily wound up with $250+ million on the open market.
That said, this is a great deal for the southpaw. Obviously. His family is financially set for generations and, thanks to the opt-out, he will still have the opportunity to test the free agent waters at a relatively young age. This might be just his first $200+ million deal. Kershaw also gets to say he landed the largest pitching contract in history (by $35 million) and the largest contract in history overall in terms of average annual value (by $3.2 million). He's young, he's wealthy and he's on a World Series caliber team. It's not a win-win, it's win-win-win.
For the Dodgers, on the other hand, the extension is both great and very necessary. They secured what should be Kershaw's prime years from age 25-30 without being saddled with too many potential decline years. Even if things go wrong, he gets hurt or declines or whatever, the deal will still be off the books when he is only 32 and not 35 or 37. The two sides had been talking about a 10-year, $300 million deal at one point, a contract that would have been far riskier than the one they agreed upon. It's hard to think of it this way, but this pact is a bargain for Los Angeles.
At the same time, the deal was very necessary for the team. Since taking over the team two years ago, the Magic Johnson-led ownership group has poured hundreds of millions of dollars into the Dodgers to make them a contender. They made huge trades (Adrian Gonzalez, Hanley Ramirez) and signed big name free agents (Zack Greinke), but at the core of it all was their homegrown ace. Kershaw is the face of the franchise and letting him hit free agency next winter was almost a non-option for the team. Losing him would have hurt more than any single player addition can help.
The Dodgers have made it very clear these last few seasons that they are all-in. They got their big television contract last year and they have taken the whole "you have to spend money to make money" approach to the extreme. Re-signing Kershaw was about more than retaining the best pitcher in the world. It was about retaining a popular player who does incredible work in the community and is a great ambassador for both the team and MLB. They need him to win on the field and, just as importantly, they need him off the field because the Dodgers' brand is built around him. Kershaw is the very definition of a franchise player and he will now be paid accordingly.
The soon-to-be 43-year-old Dickey said he wants to spend more time with his family

Plus the Indians are now 27-1 in their last 28 games. Here is everything you need to know from...

The two NL Central rivals opened a four-game series at Miller Park on Thursday night
The ballparks in Cincinnati, San Diego and Seattle will have expanded netting in place by Opening...

Mondesi spent six years as the mayor of San Cristobal in the Dominican Republic after reti...

The veteran skipper has been Mets manager since the start of the 2011 season