Eye on 2013 Awards: How we would vote for NL/AL MVP
Here it is. The great MVP debates. Here's how the three Eye on Baseball writers would have voted, 1-10, for the American League and National League Most Valuable Player.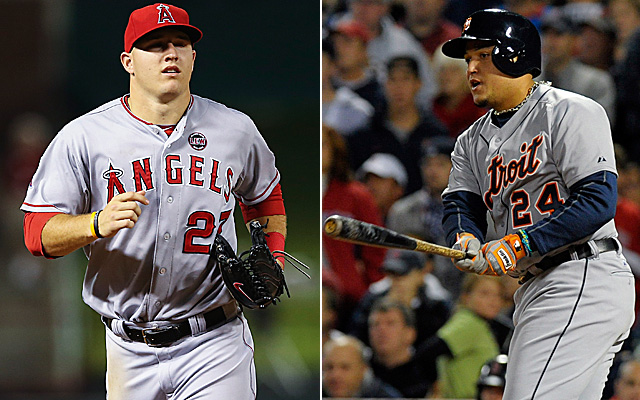 Awards: Fernandez NL ROY | Myers AL ROY | Hurdle NL MGR | Francona AL MGR | Scherzer AL Cy Young | Kershaw NL Cy Young
We're almost done with seeing the individual hardware handed out for the 2013 Major League Baseball season. The last one standing is the most prestigious by far. It's the Most Valuable Player for each league, and the winners will be revealed during a one-hour special on MLB Network beginning at 6 p.m. ET.
Voting for the MVP was conducted by select members of the Baseball Writers Association of America (BBWAA). For this award, each individual voter ranked a top 10. The points awarded (corresponding to 1-2-3-4-5-6-7-8-9-10 on the ballots) are: 14-9-8-7-6-5-4-3-2-1.
Now, a few things before we reveal how we would have voted:
1. This is a regular-season award. Ballots are turned in before the playoffs start, so you can't count the playoffs.
2. Here are the specific rules given to voters:
Dear Voter:

There is no clear-cut definition of what Most Valuable means. It is up to the individual voter to decide who was the Most Valuable Player in each league to his team. The MVP need not come from a division winner or other playoff qualifier.

The rules of the voting remain the same as they were written on the first ballot in 1931:

1.  Actual value of a player to his team, that is, strength of offense and defense.

2.  Number of games played.

3.  General character, disposition, loyalty and effort.

4.  Former winners are eligible.

5.  Members of the committee may vote for more than one member of a team.

You are also urged to give serious consideration to all your selections, from 1 to 10. A 10th-place vote can influence the outcome of an election. You must fill in all 10 places on your ballot. Only regular-season performances are to be taken into consideration.

Keep in mind that all players are eligible for MVP, including pitchers and designated hitters.
Thus, this vote is subjective in that the word "valuable" is open to interpretation. That means your opinion on what makes someone valuable is just that: An opinion. It's not a fact. I have no doubt, however, that it won't stop many from screaming at each other in the comments section. Respectful disagreement? Bah, that's for the birds ...
Anywho, here's how we would have voted:
National League
Matt Snyder
1. Andrew McCutchen, Pirates
2. Yadier Molina, Cardinals
3. Paul Goldschmidt, Diamondbacks
4. Clayton Kershaw, Dodgers
5. Joey Votto, Reds
6. Matt Carpenter, Cardinals
7. Freddie Freeman, Braves
8. Carlos Gomez, Brewers
9. Jayson Werth, Nationals
10. Russell Martin, Pirates
The McCutchen vs. Molina pick was a real tough one. There are great arguments for both, but McCutchen has the edge all-around offensively (baserunning, getting on base, hitting home runs, etc.) enough for me to make up for the gap in defense. I can see eyebrows raised over the Martin pick, but there isn't really a number or figure we can put on what he did for that Pirates pitching staff. I believe he deserves some love for that, as it was a major part of what they accomplished this season. He also led the majors in throwing out 36 would-be base stealers (second most was 28).
Dayn Perry
1. McCutchen
2. Molina
3. Kershaw
4. Goldschmidt
5. Carpenter
6. Votto
7. Gomez
8. Werth
9. Andrelton Simmons, Braves
10. Hanley Ramirez, Dodgers
Because I value catcher defense so much, this was a tough call for me. And if Molina had not hit the DL for two weeks, I may have flip-flopped spots one and two. Things as they are, though, McCutchen gets the nod for his broad-based excellence. Simmons is on there solely for his superlative defense, and Ramirez gets a spot at the back end for making the absolute most of his 336 plate appearances. The NL ballot was a crazy one to sort out, in a good way. Another day, and I would probably make entirely different down-ballot selections.
Mike Axisa
1. McCutchen
2. Kershaw
3. Molina
4. Goldschmidt
5. Carpenter
6. Gomez
7. Shin-Soo Choo, Reds
8. Freeman
9. Adam Wainwright, Cardinals
10. Votto
The NL MVP field is really deep -- I think there are legitimate cases that any of the top five players on my ballot deserve the award. McCutchen was the best of the best though, a true five-tool monster who was dominant in all phases of the game. Kershaw's season was bordering on historic, and as long as the voting rules say pitchers are eligible, I'll give them a fair shake. Goldschmidt, Carpenter and Gomez all had ridiculously great breakout years both at the plate and in the field. They were a joy to watch.
American League
Snyder
1. Mike Trout, Angels
2. Miguel Cabrera, Tigers
3. Chris Davis, Orioles
4. Josh Donaldson, Athletics
5. Evan Longoria, Rays
6. Robinson Cano, Yankees
7. Max Scherzer, Tigers
8. Dustin Pedroia, Red Sox
9. Manny Machado, Orioles
10, Jacoby Ellsbury, Red Sox
I would have voted for Cabrera last year out of respect for the Triple Crown and I would have done so again this year out of respect for back-to-back Triple Crowns, had he pulled it off. Even though I don't believe those three categories are the best judge of players, I respect the history of the game that much. Without the historical component, however, I'm back to where I usually am: Who is the best player? I don't care about how teammates perform. Thus, I don't care about the team's record or if it made the playoffs. This is an individual award. If you really, honestly, believe the Tigers with Trout and not Cabrera this season miss the playoffs while the Angels with Cabrera and without Trout make the playoffs, you have an argument. If not, to me, you really don't. Not a good one, at least.
I will say this, though, Cabrera supporters: Before you get angry, just realize Miggy's gonna win this thing. Probably with ease. So you still have the majority on your side.
Perry
1. Trout
2. Cabrera
3. Davis
4. Cano
5. Donaldson
6. Longoria
7. Jason Kipnis, Indians
8. Adrian Beltre, Rangers
9. Carlos Santana, Indians
10. Machado
I'm not a BBWAA voter, but per the ballot instructions, it is up to the individual voter to decide who was the Most Valuable Player in each league to his team. Given that latitude, I define "most valuable" as "best." Some years, the voting body -- speaking in general terms here -- decides that "most valuable" means best, or best on the best team, or best on the second- or third-best team, or best on a team that narrowly made the playoffs, or best on a team that narrowly missed the playoffs. Or just best. I go with "just best," and that's why I go with Trout, who, once you consider all phases of the game and their relative value, was better than Cabrera this season. It's a close call, though.
Axisa
1. Trout
2. Cabrera
3. Davis
4. Donaldson
5. Cano
6. Longoria
7. Machado
8. Pedroia
9. Scherzer
10. Kipnis
Trout over Cabrera was not a difficult decision for me and I don't think anything would have changed had Miggy been healthy in September either. He's the better hitter, sure, but Trout is the far better all-around player. The kid can really hit too, you know. I'm a simple man -- the best player was the most valuable. Cabrera's teammates being better than Trout's (and helping the Tigers to the postseason) is irrelevant in my opinion. Davis, Donaldson, Machado and Kipnis are the "newcomers" here after breakout seasons. There's an overwhelming amount of exciting young talent in baseball these days. It's awesome.
J.D. Martinez is reportedly headed to Boston on a free-agent contract

Keep tabs on the top 50 free agents on the market right here

Arizona didn't waste much time turning to its fallback option following Martinez's deal with...
The former AL MVP has been one of baseball's best players in recent years

The free-agent slugger will join the Red Sox after all

Harper would prefer if reporters respect his wishes