Eye on 2013 Awards: How we'd vote for Cy Young
The winners of each respective Cy Young award will be announced Wednesday evening. Here's how your Eye On Baseball writers would have voted, 1-5, in each league.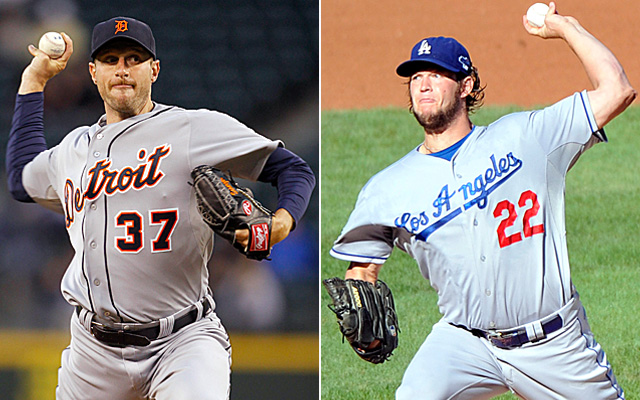 Awards: Fernandez NL ROY | Myers AL ROY | Hurdle NL MGR | Francona AL MGR
With the Rookies of the Year and Managers of the Year in the rearview mirror, it's time to concentrate on the two most prestigious BBWAA awards for the 2013 season. The MVP of each respective league will be named Thursday, so for Wednesday it's the Cy Young. The winners will be revealed in a one-hour special on MLB Network, beginning at 6 p.m. ET.
The Cy Young Award has been given to the best pitcher in each respective league since 1967. From 1956-66, it was awarded to the single best pitcher in all of baseball -- named after Hall of Famer Cy Young, who died in 1955.
For the Cy Young voting each year, selected BBWAA voters will list five pitchers in order, with the votes being worth 7-4-3-2-1 points -- corresponding to 1-2-3-4-5 on the ballot.
Here's how us three Eye On Baseball writers would have voted.
A friendly reminder: This is a regular season award and votes were tallied before the playoffs. So if you want to argue against Clayton Kershaw, you must do so without including the postseason. Good luck with that.
AMERICAN LEAGUE

Matt Snyder
1. Max Scherzer, Tigers
2. Yu Darvish, Rangers
3. Chris Sale, White Sox
4. Anibal Sanchez, Tigers
5. Hisashi Iwakuma, Mariners
I'll be interested to see how the vote falls when it comes to Sale, because everything about him says top five except record. Darvish, Sanchez, Iwakuma and Sale could all be ordered in different ways and I wouldn't argue, but Scherzer is the pick here regardless of record. He was top five in bWAR, fWAR (1st), ERA, WHIP (1st), H/9, K/9, IP, strikeouts, K/BB, ERA+ and lots of other advanced measures. He was the best pitcher in the league, without question.
Dayn Perry
1. Scherzer
2. Sale
3. Darvish
4. Iwakuma
5. Sanchez
My selection of Scherzer has nothing to do with his win-loss record. He's (narrowly) at the top of this list because he missed bats and kept runs off the board despite playing in front of a generally terrible defense. Sale pulls in second thanks to strong run-prevention numbers, exceptional command and a tough docket of opposing hitters. As for Darvish, he has the best swing-and-miss results of any starter in baseball.
Mike Axisa
1. Scherzer
2. Sale
3. Darvish
4. Iwakuma
5. Sanchez
Scherzer is very deserving of the award even when you look beyond his win-loss record, as Matt noted above. Sale ranked among the AL top three in WAR, WHIP and K/BB, but was sabotaged by a brutal White Sox team that didn't score runs and kinda stunk of defense. That he still managed to win 11 games was a testament to his greatness. In most years the ERA king would rank higher than fifth, but Sanchez missed time due to injury and his 182 innings were 30 or so behind his peers.
NATIONAL LEAGUE
Snyder
1. Clayton Kershaw, Dodgers
2. Adam Wainwright, Cardinals
3. Jose Fernandez, Marlins
4. Matt Harvey, Mets
5. Jhoulys Chacin, Rockies
Kershaw's a no-brainer (remember, voting happens before the playoffs, so please don't bring up Game 6). The next three seemed pretty easy to me, too. On Chacin, here's my rationale: If we're going to hold hitting in Coors Field's thin air against hitters, shouldn't we credit pitchers? Chacin is on several top 10 leaderboards, and he had a 2.44 ERA in 13 road starts against a 4.18 ERA in 18 home starts. Coors is killing his rate stats. So he gets the slight nod over Cliff Lee.
Perry
1. Kershaw
2. Wainwright
3. Fernandez
4. Harvey
5. Chacin
Kershaw should absolutely be a unanimous choice for this award, and there's no debate to be had. Wainwright gets the very narrow nod over Fernandez because of innings, his K/BB and his knack for keeping the ball on the ground. Hard to leave Cliff Lee off, but Harvey's exceptional command indicators and Chacin's success despite having pitched the large majority of his innings in Coors Field win out.
Axisa
1. Kershaw
2. Wainwright
3. Fernandez
4. Cliff Lee, Phillies
5. Harvey
The top three were fairly obvious to me. Fernandez actually had a higher WAR (according to Baseball-Reference) than Wainwright, plus his rate stats were dynamite across the board, but the Cardinals' ace threw 69 (!!!) more innings. That's not Fernandez's fault -- the team shut him down to control his workload at such a young age -- but it does work against him. Harvey would have ranked higher had he not gotten hurt and Lee … well he's so been so incredibly good for so long that he's boring. That doesn't mean he should be overlooked, though.
Does the Jackson signing mean the Giants are out on Lorenzo Cain?

Acuna edged out Shohei Ohtani and Vladimir Guerrero Jr.

There's no reason to run over the cases for and against Bonds, so let's have fun instead
The coveted right-hander would certainly be a fit in Milwaukee

We rate the best mustaches from random baseball cards because, why not?

Colon wants to break a Dennis Martinez record