Eye on 2013 Awards: How we'd vote for Manager of the Year
The BBWAA AL and NL manager of the year winners are to be revealed Tuesday. Here's how us three Eye On Baseball writers would have voted.
by

Eye on Baseball staff

• 3 min read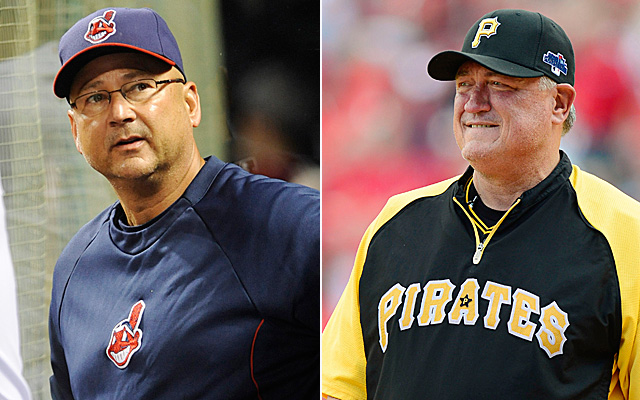 MORE: Major awards finalists | Predicting the finish | Myers AL ROY | Fernandez NL ROY
The Baseball Writers Association of America (BBWAA) is set to reveal the second of the four major awards Tuesday evening on MLB Network. The Jackie Robinson Rookie of the Year award for each respective league was named Monday, and Tuesday it'll be the Manager of the Year award for both the National and American Leagues.
Each winner will be named during a one-hour special on MLB Network, beginning at 6 p.m. ET.
The finalists in the American League are John Farrell of the World Series champion Red Sox, Bob Melvin of the AL West champion Athletics and Terry Francona of the wild-card Indians.
Over in the NL, the finalists are Fredi Gonzalez of the NL East champion Braves, Don Mattingly of the NL West champion Dodgers and Clint Hurdle of the streak-breaking, wild-card winning Pirates.
Please note voting is concluded before the postseason even begins, so those results are irrelevant for this award. It's a regular-season award.
How's how we would have voted.
AMERICAN LEAGUE
Matt Snyder
1. Francona
2. Melvin
3. Farrell
I'm much more impressed by winning with less talent and I believe both Melvin and Francona got a lot more out of less than Farrell did. This is no knock against Farrell, because that team needed cleaning up, but there was a lot of talent held over from the team Bobby Valentine ruined. I'm just more impressed by the jobs done in two different places. With Francona having performed a huge turnaround in his first year on the job, he gets the nod over Melvin, who repeated as AL West champ.
Dayn Perry
1. Francona
2. Melvin
3. Farrell
All three managers above did tremendous jobs in 2013, but I'm going with Francona. I love the job Farrell did, but I see the high payroll, and I see the talent baseline closer to what was in place in 2011, when they won 90 games, than 2012. Francona wrung a playoff berth out of what felt like at best a .500 team coming into the season. As for Melvin, no manager made better use of his roster in terms of mixing and matching.
Mike Axisa
1. Francona
2. Melvin
3. Farrell
Managers are hard to evaluate because so much of their job happens behind the scenes. This award has morphed into the "manager of the team that most exceeded expectations" award, and for me that's Francona's Indians. I didn't think they had enough pitching or a diverse enough lineup to contend in a deep AL playoff race, but they qualified for the postseason as the first wild-card team. That's good enough for me.
NATIONAL LEAGUE
Snyder
1. Hurdle
2. Mike Matheny, Cardinals
3. Mattingly
Mattingly's inclusion here is due to the underwhelming crop of NL managers this season in terms of teams playing to their ceiling. The Braves ran away with the NL East, but it's hard to give a ton of credit to Fredi Gonzalez when his team was supremely talented. The Dodgers were too, but Mattingly does have to get at least a little credit with the turnaround, so he gets the nod over Gonzalez. The winner is a no-brainer here. As for Matheny, let's not forget how many injuries the Cardinals rotation suffered, how many young players came on to contribute and that he had to change closers multiple times.
Perry
1. Hurdle
2. Gonzalez
3. Matheny
In my opinion, Hurdle as NL Manager of the Year is most the most inarguable of any award, save for NL Cy Young. He took the Pirates to the postseason, and with that the defense rests. Gonzalez is here because his Braves overcame a ridiculous run of injuries and still managed to win the NL East by 10 full games. Matheny gets consideration for winning top NL seed in a division that yielded three playoff teams and despite heavy in-season turnover in the rotation. Mattingly, in my opinion, is such a bad tactical manager that I can't justify including him.
Axisa
1. Hurdle
2. Mattingly
3. Matheny
Hurdle is a no-brainer. I went Mattingly over Matheny for the second spot because I felt he dealt with far more adversity over the course of the summer, including nearly being fired following the team's slow start. Playing up to expectations is not easy, but Mattingly and Dodgers managed to do that despite the chaos.
Marcell Ozuna figures to be the next Marlins star on the move

Several relievers have signed in the last two days

Several teams are interested in the switch-hitting first baseman
Neshek and the Phillies are closing on a two-year contract

And the team that first drafted Cole is interested

This scout was SUPER into Jeter