Eye on 2013 Awards: How we'd vote for Rookie of the Year
Baseball's four major awards will be announced this week, but first we here at EOB need to reveal our ballots. Here are our Rookies of the Year.
by

Eye on Baseball staff

• 2 min read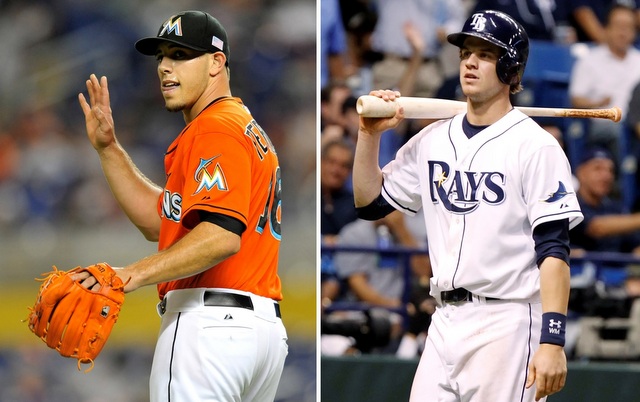 MORE: Major awards finalists | Predicting the finish
The Baseball Writers Association of America (BBWAA) is set to reveal the winners of the traditional Major League Baseball awards this coming week, starting today with the AL/NL Jackie Robinson Rookie of the Year. Each of the awards will have a live hour-long show on MLB Network, beginning at 6 p.m. ET.
On the morning prior to the announcement of each award, your three generally handsome, mostly inane Eye on Baseball bloggers will present their individual ballots. The Rookie of the Year ballot only has three spots, but some of the other awards have more. Here is how the three of us would vote for the AL and NL Rookies of the Year.
AMERICAN LEAGUE
Matt Snyder
Chris Archer, Rays
Iglesias gets the nod over Archer because he impacted two playoff teams in a positive way during the same season, but Myers' offensive impact on the Rays lineup in their playoff push was greater, posting a 132 OPS+.
Dayn Perry
Myers
Iglesias
Archer
There's no obvious answer in a weak year for AL rookies. Myers gets the nod thanks to his rate-based production across 88 games with the Rays. Iglesias pulls in second thanks to his (narrowly) above-average bat to go with more than 500 innings of plus defense at shortstop.  
Mike Axisa
Myers
Iglesias
Archer
Same ballot as Matt and Dayn, which has more to do with the poor AL rookie crop than our like-mindedness. I'm an offense-first guy, which is why I prefer Myers' big bat over Iglesias excellent defense even though they had an essentially identical WAR. Archer is a distant third for me.
NATIONAL LEAGUE
Snyder
Hyun-Jin Ryu, Dodgers
Due to playing for the laughingstock of the National League, Fernandez was actually far underappreciated this season. The season he had at his age was incredible and overall better than Puig's, in my opinion. Ryu isn't a finalist here probably due to most West Coast voters giving Yasiel Puig more love, but he overall had a better season than Shelby Miller by most standards.
Perry
Fernandez
Puig
Ryu
I've previously written that Fernandez's rookie season was historically great, as rookie pitching seasons go, so he's my choice here. A 176 ERA+ in a qualifying number of innings and in front of a lacking defense? Puig was outstanding, but for me Fernandez was on another level. Like Matt, I'm going with Ryu over the actual finalist Shelby Miller. Ryu threw more innings, had slightly better underlying numbers, prevented unearned runs at a better rate and out-did Miller at the plate.
Axisa
Fernandez
Puig
Shelby Miller, Cardinals
Fernandez is the runaway winner. My ballot is more like Fernandez (huge gap) Puig (small gap) Miller (small gap) Ryu (small gap) Julio Teheran (small gap). The Marlins right-hander had a historic rookie season and we should be focusing more on his place in the Cy Young race than Rookie of the Year. As for the third spot, the short version is that Miller and Ryu had an identical WAR, but Miller did it in 18 2/3 fewer innings. He was the more effective pitcher on a rate basis.
Get 15 percent off any order of more than $75 at CBS Sports Shop

Get your sports fans something that they'll wear all year

No, you're not imagining things. This MLB offseason has been very slow compared to the last...
Francesa will retire from radio next month, so he'll have plenty of free time next summer

The Twins need help in the rotation, and they may look to the trade market to find arms

Here are the bullet-points of what went down Tuesday regarding MLB and the Braves' punishm...