Eye on Baseball Divisional All-Stars: AL Central
Here are our AL Central All-Stars, led by Miguel Cabrera, Jason Kipnis, Joe Mauer, Chris Sale and Alex Gordon.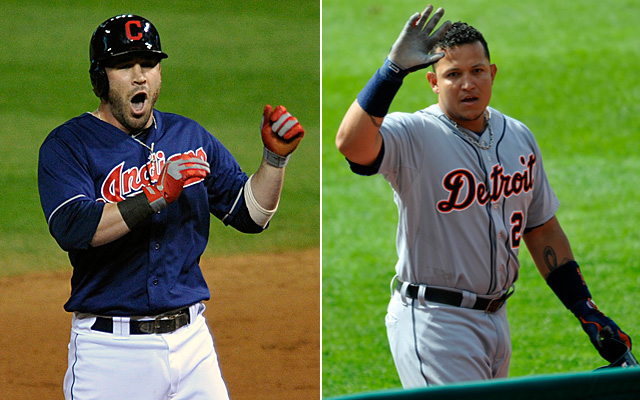 EOB Divisional All-Stars: AL West | NL West | NL Central
As we continue our stroll through the Eye on Baseball divisional All-Star teams -- for the purposes of fun and comparison -- we stumble upon a team dominated by Tigers. It sometimes happens that way when building the type of quick little team we're making. The 25-man Tigers are 3 1/2 games better than the Indians right now. On this list, the Tigers have seven players and the Indians have one.
That's just the way everything fell. The only place I even really thought about putting an Indians player over a Tigers player was in center field, but Austin Jackson leads Micheal Bourn in batting average, on-base percentage, slugging percentage, doubles, home runs, RBI and runs. He also walks more and strikes out less. Bourn covers more ground in center and is a better base-stealer, but that isn't enough in my opinion to trump everything else.
Very good division for catchers, with Carlos Santana and Salvador Perez, but Mauer remains the gold standard of AL catchers. He's hitting .309/.391/.461 right now.
First base: Prince Fielder, Tigers
A down year for Prince, but he's still the pick over the likes of Nick Swisher, Eric Hosmer, Justin Morneau and a clearly-in-decline Paul Konerko.
Second base: Jason Kipnis, Indians
Breakout year for the budding star. He was hitting .189/.265/.270 after a May 1 loss. His line is now .295/.379/.517 to go with 22 doubles, three triples, 13 homers and 20 steals.
Third base: Miguel Cabrera, Tigers
Do I really need to type an explanation? No. No I don't.
Shortstop: Jhonny Peralta, Tigers
Far superior offensive numbers to the likes of Alexei Ramirez and Alcides Escobar.
Left field: Alex Gordon, Royals
Still a pretty underrated all-around player, Gordon is hitting .293/.360/.436 with 16 doubles, two triples, nine homers, good baserunning and quality defense. Michael Brantley of the Indians represents his best competition here, but Gordon is the better player.
Center field: Austin Jackson, Tigers
See explanation in the introduction.
Right field: Torii Hunter, Tigers
Inching closer to age 40, Hunter is hitting .304 this season. Sure, part of it is likely due to a cushy lineup spot -- in front of Cabrera and Fielder -- but he still has to produce.
Designated hitter: Billy Butler, Royals
Mark Reynolds needs more than 15 homers to justify the awful batting average and on-base percentage. Which brings us to Adam Dunn, whose 23 homers look real nice. But the difference between Butler and Dunn in OBP is 70 points. That is, he makes outs 7 percent less often. That's a lot. We're going with Country Breakfast.
Our lineup:
Kipnis
Mauer
Cabrera
Fielder
Gordon
Butler
Jackson
Peralta
Hunter
Right-handed starting pitcher: Max Scherzer, Tigers
The 13-0 record obviously includes some degree of good fortune in terms of run support, but a bad pitcher can't get that far. Scherzer has also been excellent on several fronts. He's struck out 146 batters against just 29 walks in 123 2/3 innings. That's an average of nearly seven innings per start, taking pressure off the bullpen.
Left-handed starting pitcher: Chris Sale, White Sox
On the flip-side of the record spectrum is Sale, who has a better ERA (2.78 to 3.06) than Scherzer but sits at 5-8. Still, Sale is a dominant pitcher on an awful team. He has a 0.96 WHIP and 123 strikeouts in 113 1/3 innings.
Setup man: Drew Smyly, Tigers
He's worked his way backward due to performing so beautifully. He was initally a long man, and now he's the Tigers' eighth-inning guy when the situation calls for it. In 53 innings, he's struck out 55 while allowing only 12 earned runs (2.04 ERA).
Closer: Greg Holland, Royals
With all due respect here to Glen Perkins of the Twins -- who has been exceptional -- Holland was a relatively easy choice. He's struck out 59 batters in 34 innings, an insane rate of 15.6 K/9, while converting 21 of his 23 save chances.
The reliever had a very good 2017 season with the NL Central champs

We don't need to discuss Chipper's Hall of Fame case, so let's have fun instead

Dioner Navarro still hopes to return someday
Christian Yelich's agent says his client's relationship with Marlins is 'irretrievably bro...

The free-agent market has been slow and one player is bracing for an even longer wait

The Mets didn't want to trade a young outfielder for an older one