Eye On Baseball Divisional All-Stars: AL East
The AL East All-Star Team has a little bit of everything -- youth and experience, power and speed, righties, lefties and switch-hitters.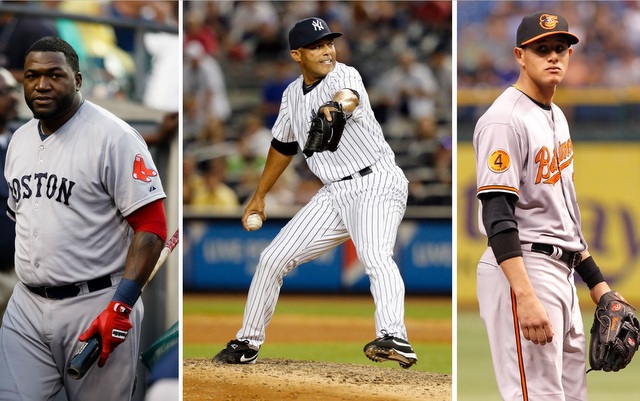 EOB Divisional All-Stars: AL West | NL West | AL Central | NL Central | NL East
The final entry into our Divisional All-Stars series is the AL East, a division flush with high-end star power. It's pretty ridiculous. I'm not sure another division has as much talent from top to bottom. Here's the best of the best from the AL East, with one team surprisingly not represented at all:
Catcher: Matt Wieters, Orioles
The AL East isn't exactly deep in catchers. Wieters is hitting just .231/.289/.418 (90 OPS+) with a dozen home runs, but his elite defense alone is enough to get him the nod. Catching is the division's one real weakness.
First Base: Chris Davis, Orioles
There's no contest here. Davis has been slumping of late and he's still hitting .313/.390/.696 (187 OPS+) with an MLB-best 33 homers. The guy's a monster.
Second Base: Robinson Cano, Yankees
You certainly couldn't go wrong with Dustin Pedroia here, but I'm a power guy so I'll take Cano's 20 homers and 143 OPS+ over Pedroia's six homers and 128 OPS+. No-lose situation.
Shortstop: J.J. Hardy, Orioles
Derek Jeter is reportedly very close to coming off the DL, but Hardy gets the nod in his absence. He's hit .254/.293/.431 (94 OPS+) with 15 homers this season, the second most dingers among all shortstops.
Third Base: Manny Machado, Orioles
This is another no-lose situation thanks to Machado and the Rays' Evan Longoria. Machado is hitting .315/.343/.478 (120 OPS+) with 39 doubles, giving him a chance to break the single-season doubles record (67 by Earl Webb in 1931). Longoria has been outstanding as well (143 OPS+), but I'll give the nod to the youngster for his total body of work.
Left Field: Daniel Nava, Red Sox
Very quietly, the former independent league player has hit .295/.377/.445 (121 OPS+) with 10 home runs. Nava has been stellar for Boston.
Center Field: Jacoby Ellsbury, Red Sox
I don't think Ellsbury will ever hit 32 home runs again like he did in 2011 -- he's hit two homers this year -- but he hits for average (.301), he gets on base (.364 OBP), he steals bases (league-leading 36) and he plays top-notch defense. The AL East has five borderline (at worst) All-Star caliber center fielders, but Ellsbury has been the best in my book.
Right Field: Jose Bautista, Blue Jays
There isn't much competition here as Bautista has put last year's wrist injury behind him and hit .261/.360/.506 (132 OPS+) with 20 homers. His defense is very underrated as well.
Designated Hitter: David Ortiz, Red Sox
You weren't expecting someone else, were you? I didn't even bother to look up how the other AL East DHs are hitting this year; Ortiz is the obvious choice. He's hitting a ridiculous .327/.411/.621 (173 OPS+) with 18 homers after missing a few weeks with heel problems.
Here's the lineup I would send out there given this squad. Considering the quality of these hitters, splitting up the lefties is a low priority:
Ellsbury
Cano
Ortiz
Davis
Bautista
Machado
Nava
Wieters
Hardy
Right-Handed Starter: Clay Buchholz, Red Sox
Buchholz has been so good this year (9-0, 1.71 ERA) that he's missed close to a month with a neck problem and is still the top righty in the division by a comfortable margin. Hiroki Kuroda and teammate John Lackey get honorable mentions.
Left-Handed Starter: CC Sabathia, Yankees
It's a down year for AL East southpaws, with Jon Lester (94 ERA+) getting knocked around and reigning AL Cy Young Award winner David Price missing a month with a triceps injury. Sabathia has been good but not great (9-7, 3.99 ERA) as he adjusts to life with a low-90s fastball rather than a mid-90s fastball. Certainly a fine choice based on career accomplishments.
Setup Man: Steve Delabar, Blue Jays
There are five relievers on the AL Final Vote ballot, and three come from the AL East. Delabar has been the best of the three -- David Robertson and Koji Uehara are the others -- because he's a workhorse (41 innings) who misses bats (12.5 K/9) and is tough to hit (6.4 H/9). An AL East-only bullpen would be very, very deep.
Closer: Mariano Rivera, Yankees
I hope you aren't surprised. The Sandman has been as good as ever at age 43, going 29-for-31 in save chances with a 1.89 ERA in 33 1/3 innings. A total no-brainer, my specialty.
The coveted right-hander would certainly be a fit in Milwaukee

We rate the best mustaches from random baseball cards because, why not?

Colon wants to break a Dennis Martinez record
The Twins have been rumored to be interested in Darvish all winter

Rolen is one of the best third basemen of all time, but you wouldn't know it based on this...

Neither Josh Donaldson nor Brian Dozier have talked about a new contract extension