Eye on Baseball Divisional All-Stars: NL West
Just for fun -- and purposes of measuring against other divisions -- here's an NL West All-Star team.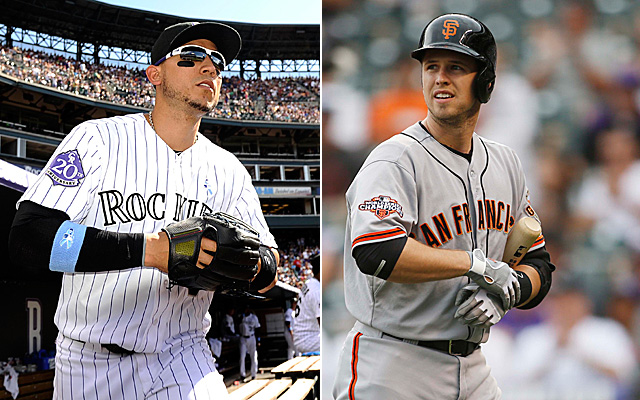 More All-Star Game: AL and NL Rosters | All-Snub Teams | Final Vote Player Profiles
With the real All-Star teams having been named, this week the Eye on Baseball crew will name a divisional All-Star team for each of the six MLB divisions. It's just a quick, fun exercise we can use for comparison's sake -- i.e. "who would win in a round-robin format tournament" -- or for you to claim we're stupid and/or biased. Whatever. To each his or her own.
Catcher: Buster Posey, Giants
The reigning MVP is an absolute no-brainer here.
First base: Paul Goldschmidt, Diamondbacks
Not only does he carry a line .308/.388/.564 with 21 homers and 74 RBI into Monday, but he's also a plus defender and baserunner. The Diamondbacks have themselves a budding star here. Adrian Gonzalez merits mention, but Goldschmidt is superior this season.
Second base: Marco Scutaro, Giants
The Aaron Hill injury freed up a spot that should have been easily filled, and Scutaro gets the nod here by a nose over Jedd Gyorko.
Third base: Nolan Arenado, Rockies
With Chase Headley and Pablo Sandoval underachieving, the offensive options aren't enticing at all, so we're going with the slick rookie defender.
Shortstop: Everth Cabrera, Padres
What a division for shortstops. Troy Tulowitzki would be the obvious pick here, but he's hurt. Hanley Ramirez is killing the ball right now, Didi Gregorius is having an excellent rookie campaign and Brandon Crawford is an outstanding defender having a somewhat productive season with the bat. But Cabrera's the pick here. He's an outstanding defender who is hitting .294/.370/.401 while leading the NL with 31 stolen bases. He'll make a nice leadoff man for us.
Left field: Carlos Gonzalez, Rockies
No question.
Center field: Dexter Fowler, Rockies
Very tough choice between Gerardo Parra and Fowler, but most of Parra's work in the field has come on the corners this season. I've used that as my tiebreaker.
Right field: Yasiel Puig, Dodgers
OMG, one month! Blah blah blah. We aren't talking about a good month. We aren't even talking about a great month. We're talking about the greatest statistical debut in the history of baseball since Joe DiMaggio. Don't discount the impact he's had on the Dodgers since arriving on the scene either. I also considered Michael Cuddyer, but he lost out for three reasons. First of all, Puig's rate stats are better. Secondly, hitting streaks of less than 30 games have very little impact on my thinking. And finally, Cuddyer belongs at first base with his limited outfield range.
I also need a designated hitter, since we're gonna compare these teams to the other five divisions, so I'm going with Adrian Gonzalez. Here's our order:
Cabrera
Puig
Posey
Carlos Gonzalez
Goldschmidt
Adrian Gonzalez
Parra
Arenado
Scutaro
Right-Handed Starter: Jhoulys Chacin

Most of the good starting pitchers in this division this season are southpaws. Chacin is having himself a quality season, though. He's 8-3 with a 3.74 ERA and leads the majors with 0.3 home runs allowed per nine innings -- and this comes with 11 of his 16 starts in the hitter's paradise that is Coors Field.
Left-Handed Starter: Clayton Kershaw, Dodgers
If either Kershaw or Patrick Corbin were right-handed, we'd have a rather easy choice for each starter. As it is, I had to choose. Kershaw is better everywhere other than win-loss record, which is more the fault of his offense and bullpen than his own. If you look at ERA, innings pitched, strikeout rate, walk rate, WHIP, etc., Kershaw is either superior or dead even to Corbin. Kershaw is also my current answer to the question, "Who is the best pitcher in baseball?" So Corbin gets the snub.
As for only having one Diamondbacks player here, despite them being in first place -- well, that's kind of how they wanted to do things, no? Remember, they traded Justin Upton to be more a sum of their own parts than attempting to win with star power. It seems to me D-Backs fans should bask in the glory of being a true "team."
Setup Man: Rex Brothers, Rockies
The 25-year-old has only blown one lead for his team in 39 appearances while boasting a 0.99 ERA, 1.18 WHIP and 38 strikeouts in 36 1/3 innings.
Closer: Sergio Romo, Giants
It's been a relatively rough year for closers in this division. I considered Rafael Betancourt and Kenley Jansen, but they haven't been at the helm all season like Romo has. Romo has been far from spotless, but he's still converted 20 of 23 save chances with 37 strikeouts in 32 2/3 innings.
Get 15 percent off any order of more than $75 at CBS Sports Shop

Get your sports fans something that they'll wear all year

No, you're not imagining things. This MLB offseason has been very slow compared to the last...
Francesa will retire from radio next month, so he'll have plenty of free time next summer

The Twins need help in the rotation, and they may look to the trade market to find arms

Here are the bullet-points of what went down Tuesday regarding MLB and the Braves' punishm...