Eye on Baseball Virtual GM Draft: Intro and rounds 1-5
In our newest series, Jon Heyman and our three Eye on Baseball bloggers conducted a fantasy draft and built teams with the sole purpose of winning in 2014.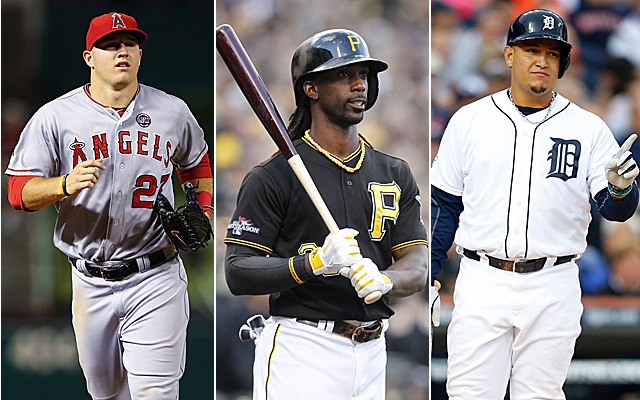 With spring training just getting underway, it's a natural time to ponder some fun hypotheticals. Among our favorite is the old, "if you could start your franchise with one player, who would it be?" question.
It's also fun to rank the players -- something like a top 100 -- or to ponder who is more valuable between two star players.
At the intersection of these two points, the CBSSports.com baseball writers decided to have what we ended up calling a virtual GM draft. Each of us four -- Jon Heyman, Dayn Perry, Mike Axisa and myself -- got together and drafted a team from scratch.
Now, there are myriad caveats here. First and foremost is the fact that we were only drafting four total teams. Obviously, our teams will be pretty star-laden and comparing any of the four to a real team would be folly.
Secondly, we ignored salaries. This was simply an in-a-vacuum, what player would you rather have scenario in building our respective 25-man rosters.
As far as age concerns, we decided to draft as if we were putting together our teams for the 2014 season and only the 2014 season. Thus, we aren't worried about long-term viability of the roster; only the 2014 performance. Considering that, we also have to keep injuries in mind. Matt Harvey, for example, would be taken if healthy and instead he'll be left undrafted. Manny Machado, for example, will be taken far later than he normally would have due to concerns to begin the season. We do need to mention, though, that we drafted last week -- before hearing about issues for Cole Hamels and Hisashi Iwakuma, for example.
Given that our rosters are blank, we drafted in "snake" format (1-4, 4-1, 1-4, etc.) and random drawing gave Heyman the first pick, followed by Axisa, myself and Perry, respectively.
Here's how the first five rounds of our virtual GM draft unfolded.
Round 1
Heyman - Mike Trout
Axisa - Andrew McCutchen
Snyder - Clayton Kershaw
Perry - Miguel Cabrera
We already have an upset. The two-time defending AL MVP wasn't selected until the fourth overall pick. Not that going behind those three is a huge slap in the face, but it at least warrants a mention.
Round 2
Perry - Buster Posey
Snyder - Paul Goldschmidt
Axisa - Troy Tulowitzki
Heyman - Robinson Cano
Is Buster Posey a top-five player in baseball? He is in this draft.
Round 3
Heyman - Yadier Molina
Axisa - Matt Carpenter
Snyder - Dustin Pedroia
Perry - Joey Votto
Looks like Perry is using either Votto or Cabrera at DH (unless Miggy is moved back to 3B). And, really, both of those guys fell into his lap.
Round 4
Perry - Yu Darvish
Snyder - Chris Davis
Axisa - Cliff Lee
Heyman -Adrian Beltre
The start of a pitcher run? Also, Lee being selected ahead of the likes of Max Scherzer, Felix Hernandez and Adam Wainwright could be called a surprise.
Round 5
Heyman - Hanley Ramirez
Axisa - Evan Longoria
Snyder - Bryce Harper
Perry - David Wright
Too early for Harper? I have no doubt I'll be hearing that sentiment. Of particular note thus far might be Heyman filling in his up-the-middle spots (C, 2B, SS, CF) with four of his top five picks -- a sound strategy.
---
Tuesday: Rounds 6-15
Wednesday: Rounds 16-25
Thursday: Our lineups and rationale behind the picks
The Nats will host the All-Star Game in 2018

The Orioles are looking to trade Machado heading into his walk year

The Cardinals have been linked for a while to the Baltimore star
Gallardo spent the first eight years of his career in Milwaukee

MLB revenues are at a record high right now, but teams aren't spending it on players

Chicago added Tyler Chatwood earlier this offseason but might not be done adding to the ro...