Eye On Baseball Virtual GM Draft: Rounds 16-25
Let's put the finishing touches on our four imaginary teams with the final rounds of the EOB 'virtual GM draft.'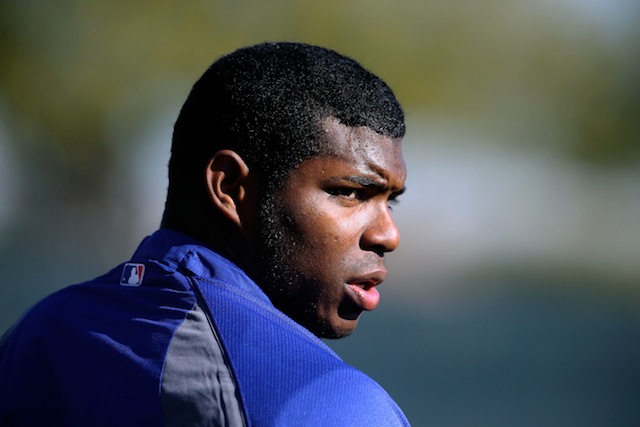 MORE: EOB virtual GM Draft Part 1 | Part 2
As noted in this space, we four CBSSports.com baseball writers -- Jon Heyman, Matt Snyder, Michael Axisa and lowliest I -- are in the final stages of a "virtual GM" draft. By way of reminder, here are some specifics about what we're doing ...
First and foremost is the fact that we were only drafting four total teams. Obviously, our teams will be pretty star-laden and comparing any of the four to a real team would be folly.

Secondly, we ignored salaries. This was simply an in-a-vacuum, what player would you rather have scenario in building our respective 25-man rosters.

As far as age concerns, we decided to draft as if we were putting together our teams for the 2014 season and only the 2014 season. Thus, we aren't worried about long-term viability of the roster; only the 2014 performance. Considering that, we also have to keep injuries in mind. Matt Harvey, for example, would be taken if healthy and instead he'll be left undrafted. Manny Machado, for example, will be taken far later than he normally would have due to concerns to begin the season. We do need to mention, though, that we drafted last week -- before hearing about issues for Cole Hamels and Hisashi Iwakuma, for example.

Given that our rosters are blank, we drafted in "snake" format (1-4, 4-1, 1-4, etc.) and random drawing gave Heyman the first pick, followed by Axisa, myself and Perry, respectively.
Let's emphasize a key point here: This is not a fantasy draft. We've been drafting these teams -- from scratch -- as though they're going to take the field and play each other over a full season of actual baseball. So, among other distinctions, defense matters to us. Now let's repeat another key takeaway, as well: We're drafting with 2014 and 2014 only in mind. That is, how a player figures to fare in 2015 or 2020 isn't of interest to us.
By way of reminder, here are rounds 1-5 and rounds 6-15. Now let's finalize our 25-man rosters ... 
Round 16
Perry - Dexter Fowler
Snyder - Jose Reyes
Axisa - Glen Perkins
Heyman - Yasiel Puig
Puig!
Round 17
Heyman - Manny Machado
Axisa - Alex Gordon
Snyder - Ian Desmond
Perry - Justin Upton
Now we're largely at the "fill out our bench" stage of the draft. 
Round 18
Perry - Jhonny Peralta
Snyder - Carlos Santana
Axisa - Jurickson Profar
Heyman - Prince Fielder
Santana is "catcher-eligible" in this league even though a move to third base is possible. 
Round 19
Heyman - Rex Brothers
Axisa - Jose Bautista
Snyder - Albert Pujols
Perry - Jason Castro
Yes, these rosters are so deep that Jose Bautista is a reserve. Meanwhile, Snyder's hoping for a bit of a rebound from Albert Pujols, whose foot may finally be healthy for the first time in years. 
Round 20
Perry - Allen Craig
Snyder - Salvador Perez
Axisa - Jonathan Lucroy
Heyman - Matt Wieters
Three back-up catchers go in round 20. 
Round 21
Heyman - Michael Wacha
Axisa - Billy Hamilton
Snyder - Sergio Romo
Perry - Mark Melancon
Hamilton will fill the Herb Washington/designated runner role for Axisa's team. 
Round 22
Perry - Kelvin Herrera
Snyder - Sean Doolittle
Axisa - Tyler Clippard
Heyman - Tony Cingrani
Relievers abound!
Round 23
Heyman - Edwin Encarnacion
Axisa - Jake McGee
Snyder - Drew Smyly
Perry - Kevin Siegrist
Not bad to have a slugger like Encarnacion lurking on the pine. 
Round 24
Perry - Carlos Martinez
Snyder - Tim Lincecum
Axisa - Brett Anderson
Heyman - Steve Cishek
Snyder intends to use Lincecum as a high-workload reliever, which is the role Lincecum filled for much of the 2012 postseason.  
Round 25
Heyman - Xander Bogaerts
Axisa - Ryan Cook
Snyder - Grant Balfour
Perry - Shelby Miller
Heyman, by drafting Bogaerts, opts to go with the deeper bench but more shallow bullpen. 
And with that, the draft is done. Here's a look at our final rosters ... 
Virtual GM rosters
Position
Heyman
Axisa
Snyder
Perry
C
Y. Molina (3rd rd.)
B. McCann (10)
C. Santana (18)
B. Posey (2)
1B
P. Fielder (18)
J. Mauer (8)
P. Goldschmidt (2)
J. Votto (3)
2B
R. Cano (2)
M. Carpenter (3)
D. Pedroia (3)
J. Kipnis (13)
SS
H. Ramirez (5)
T. Tulowitzki (2)
J. Reyes (16)
A. Simmons (10)
3B
A. Beltre (4)
E. Longoria (5)
J. Donaldson (12)
D. Wright (5)
LF
M. Trout (1)
A. Gordon (17)
R. Braun (8)
M. Holliday (15)
CF
A. Jones (8)
A. McCutchen (1)
J. Ellsbury (7)
D. Fowler (16)
RF
G. Stanton (9)
B. Zobrist (9)
B. Harper (5)
C. Gonzalez (9)
DH
S. Choo (15)
D. Ortiz (12)
C. Davis (4)
M. Cabrera (1)
Bench
Y. Puig (16)
J. Profar (18)
C. Gomez (15)
J. Upton (17)
Bench
M. Machado (17)
J. Bautista (19)
I. Desmond (17)
J. Peralta (18)
Bench
M. Wieters (20)
J. Lucroy (20)
A. Pujols (19)
J. Castro (19)
Bench
E. Encarnacion (23)
B. Hamilton (21)
S. Perez (20)
A. Craig (20)
Bench
X. Bogaerts (25)
-
-
-
SP 1
M. Scherzer (6)
C. Lee (4)
C. Kershaw (1)
Y. Darvish (4)
SP 2
J. Fernandez (7)
C. Sale (6)
F. Hernandez (6)
S. Strasburg (6)
SP 3
J. Weaver (10)
A. Wainwright (7)
C. Hamels (9)
D. Price (7)
SP 4
J. Lester (11)
D. Fister (11)
J. Shields (10)
J. Verlander (8)
SP 5
M. Tanaka (12)
M. Bumgarner (14)
A. Sanchez (11)
Z. Greinke (14)
Closer
K. Uehara (13)
G. Holland (13)
K. Jansen (13)
C. Kimbrel (11)
RP
T. Rosenthal (14)
D. Robertson (15)
J. Nathan (14)
A. Chapman (12)
RP
R. Brothers (19)
G. Perkins (16)
S. Romo (21)
M. Melancon (21)
RP
M. Wacha (21)
T. Clippard (22)
S. Doolittle (22)
K. Herrera (22)
RP
T. Cingrani (22)
J. McGee (23)
D. Smyly (23)
K. Siegrist (23)
RP
S. Cishek (24)
B. Anderson (24)
T. Lincecum (24)
C. Martinez (24)
RP
-
R. Cook (25)
G. Balfour (25)
S. Miller (25)
So who looks the best on paper as we head into the 2014 season? 
On Thursday, we'll each post our lineups and talk about our draft strategies. 
The Twins have already fortified the bullpen with Addison Reed, and now they want to address...

The Orioles likely want pitching, and the Indians have plenty of it

Halladay died in a November plane crash off the coast of Florida
The power-hitting outfielder is headed to Toronto

Martinez could add some power to a Boston lineup void of it

It's almost that time of the year again, time for the Tebow madness to return