Eye on Baseball Weekly Predictions: The A's take back the AL West
This week's edition of Eye on Baseball's predictions have the Athletics reclaiming the AL West lead and Mike Trout doing something that hasn't happened in decade.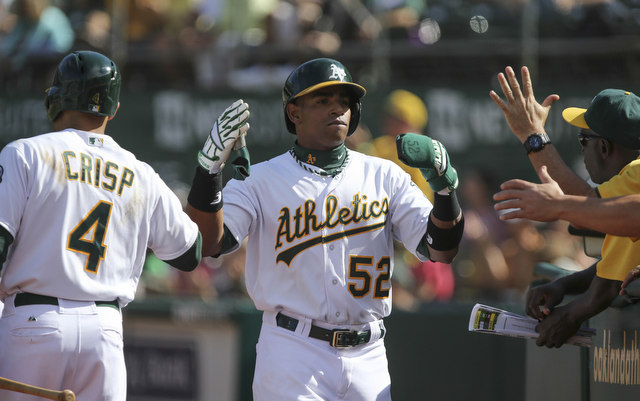 More MLB: Scoreboard | Standings | Probable Pitchers | Sortable Stats | Odds
It's time for a special Labor Day edition of our sure-to-be-wrong weekly predictions, which, weirdly, look exactly like the predictions we make every week. Here is what we see happening over the next seven days:
1. The Athletics end the week back in first place in the AL West.
The surging A's have won three straight and six of their last seven games, all against playoff-caliber opponents (Rays and Tigers). They've climbed back to within one game of the first place Rangers, who just lost two of three to the Twins and are heading to Oakland for a three-game set starting Monday. The Athletics play three games against the lowly Astros after the series with Texas -- the Rangers get the slightly more competent Angels next weekend -- and are set up to take back the AL West lead.
2. Jim Johnson will blow his tenth save.
Johnson, who established himself as an elite closer by being an All-Star and leading MLB with 51 saves last season, currently leads the AL with 41 saves. He also leads all of baseball with nine blown saves. The Orioles play three games against the Indians and seven games against the White Sox this week, and at some point Johnson will blow that tenth save. He'll become the first full-time closer to blow 10 saves in a season since Carlos Marmol and Jordan Walden in 2011.
3. The Red Sox will be the first team to score 700 runs.
Boston has scored 698 runs this year, so getting to 700 this week is a foregone conclusion. However, the Tigers lead baseball with 699 runs at the moment. The two teams meet for three games in Fenway Park starting Monday, so this is essentially a bet that the Red Sox will score two runs before the Tigers score one even though they have the disadvantage of batting second in the game. In case you're wondering, the third highest scoring team in baseball is the Cardinals with 653 runs. Boston and Detroit are way ahead of the pack.
4. Mike Trout cracks 10.0 WAR.
Thanks to an unmatched combination of offense, defense and base-running, Trout comes into Monday leading all of baseball with 9.2 WAR according to FanGraphs. Picking up 0.8 WAR in a week's time -- the Angels do play a full seven games this week, they don't have an off-day -- is hard to do, but I have faith in Trout. Whenever he does get over the hump, he'll be the first player with back-to-back 10.0 WAR seasons since Barry Bonds from 2001-04. Unlike Bonds, Trout will wind up with zero MVP awards for his work.
EOB Predictions Tally: Dayn Perry went just 1-for-5 last week, and that's only because a tie for first place is still technically first place. Our season total sits at 32-for-70 (.457). That ain't half bad.
Keep tabs on the top 50 free agents right here

Your one-stop shop for all things MLB Winter Meetings-related

The Angels knew about the first-degree sprain and still wanted to sign the potential ace, of...
The run on relievers continues with two more signings

The Yankees added Giancarlo Stanton in a blockbuster trade, though they now have openings at...

Smyly is currently on the mend from Tommy John surgery